During each offseason we go in depth on the players returning to the IU basketball program to assess their career to date performance and what to expect next. 
For 2023-24 the Hoosiers have just six players coming back due to a combination of the NBA Draft, eligibility, and the transfer portal.
Next up in the series is sophomore guard C.J. Gunn
———————————–
THE 2022-23 NUMBERS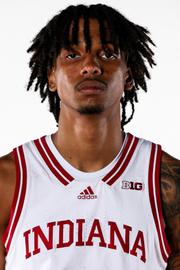 The 6-foot-6 Gunn entered his freshman season at IU not expected to take on a major role in the rotation, and for the most part that's how things played out.
Gunn saw action in 20 games for Indiana in 2022-23.  He averaged 2.0 points, 0.6 rebounds, 0.5 steals and 0.4 assists in 7.5 minutes per contest.  He shot 30.9 percent from the field overall, including 48.4 percent from two and .083 percent (2-of-24) from three.  Gunn made 4-of-5 from the free throw line.
WHAT WENT WELL
There were flashes.  Gunn scored a season high 11 points and added three assists and two steals in a December game against Elon.  He also had five points, two steals and two assists in a win over Miami (Ohio).
For a freshman, Gunn was typically solid on the defensive end, and he has the length, foot speed and athleticism to be more impactful on that end in the coming years.
With just five turnovers in 150 minutes, Gunn took care of the basketball.  He had the lowest turnover rate on the team in what was obviously a limited sample size.  Also, his 4.0 percent steal percentage was tops on the team.
QUOTABLE
Gunn on expanding his role in 2023-24:
"I didn't come here to be comfortable.  I came here to be pushed outside my element, and to get used to being comfortable with being uncomfortable."
Gunn after his top performance as a freshman against Elon:
"It's a different level of ball. I've just got to adjust to the game, and it comes with practicing hard and meshing with the guys, and that's how I look at it."
Indiana's CJ Gunn is set for a breakout sophomore season.📈 The 6'6 SG is a good athlete with great shooting potential. (@CJ_Gunn22)

Improving his handle and overall shooting consistency. Pushed himself hard.

Workout out in Atlanta with @coach_rob10. pic.twitter.com/CQ23TigZUu

— GREENLIGHT MEDIA (@atlgreenlight) May 26, 2023
OFFSEASON DEVELOPMENTAL NEEDS
1. Become a true three level scorer.  Indiana fans will focus on Gunn's poor shooting from 3-point range as a freshman, and that's understandable.  He's the first to say it wasn't anywhere near close to what he's capable of.  But taking a step back, Gunn has the prototypical frame and skillset to be a true three-level scoring wing in the college game.  Beyond the obvious of starting to make threes around or above 35 percent, Gunn needs to excel in the mid-range when defenses begin to run him off the arc.  At 6-foot-6 with his ability to elevate on his jumper, Gunn's mid-range game can be a real weapon.  And one thing we haven't seen much of to this point is Gunn trusting his development enough to get all the way to the rim in half court situations.  Again, his length and athleticism can serve as a real weapon in the paint.
2. Add Big Ten weight.  Gunn was listed at just 186 pounds as a freshman, and that's a limitation in the physical Big Ten on both ends of the floor.  He's now shown at 194, and there should still be plenty of room for gains.  At similar heights, Miller Kopp and Kaleb Banks were both listed at 215 a year ago.  A stronger Gunn will be able to better stay in front of his man on defense, maintain block outs, get past his man on offense, and finish through contact — just to name a few areas where he could make strides via strength.
3. Get over the mental hump.  There's seemingly no doubt that after a while, the missed shots got in Gunn's head.  He showed something encouraging while going through that challenging stretch — he kept shooting.  Gunn's percentage of the team shots while on the floor was third highest behind Trayce Jackson-Davis and Jalen Hood-Schifino.  If he's going to be a successful shooting guard in the Big Ten, Gunn has to have a scoring mentality.  He appears to have that, but he has to solve the other variable in the equation, and regain his confidence that the shots are going to go in.  That's only going to come via the volume and quality of his reps during the offseason.
WHAT SUCCESS LOOK LIKE IN 2023-24
If there's one area IU seemingly did not fully address during the offseason, it was scoring production at the shooting guard position.  And with that, there's probably no one on the team with a bigger opportunity in front of them than Gunn.
Gunn can score.  As a senior at Lawrence North H.S. (Indianapolis, Ind.), he averaged 23.5 points, 5.5 rebounds, 1.5 steals per game while shooting 46.8% from the field and 37.4% from deep.  He's obviously not going to post those kind of numbers as a sophomore at IU, but they do signal he can be one of the primary scoring options on a good team.  He made a massive leap from 13.9 point per game as a junior.
Indiana wants to play faster this year, and one of the areas Gunn can thrive is probably where he's best as a scorer — in transition.  With a lot of attention on Xavier Johnson, Mackenzie Mgbako and Kel'el Ware, there will be plenty of downhill opportunities to exploit.
There is no reason to write off Gunn as a shooter.  He has a good looking shot, and we've seen recent IU shooting guards make major strides as shooters coming off early career struggles.  Armaan Franklin went from 26.6 percent as a freshman from three to 42.4 percent as a sophomore, Al Durham went from 28.6 to 34.8, and Trey Galloway went from 21.4 percent as a sophomore to 46.2.
With Mgbako and Galloway in the mix, Gunn will likely come off the bench to open the season.  But he can push several people for playing time and become a major asset as a regular in the rotation for the team in 2023-24, on his way to becoming a starter as an upperclassman.
PREVIOUSLY IN THE SERIES
---
The Daily Hoosier –"Where Indiana fans assemble when they're not at Assembly"