During each offseason we go in depth on the players returning to the IU basketball program to assess their career to date performance and what to expect next. 
For 2023-24 the Hoosiers have just six players coming back due to a combination of the NBA Draft, eligibility, and the transfer portal.
Next up in the series is Xavier Johnson.
———————————–
THE 2022-23 NUMBERS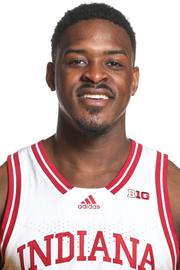 The 6-foot-3 Johnson appeared in 11 games during his fifth year of college basketball before suffering a season-ending foot injury on Dec. 17 at Kansas.
Prior to the injury, Johnson averaged 9.9 points, 3.6 rebounds, 4.9 assists, 2.8 turnovers and 1.2 steals per game.  He shot 41.5 percent from the field overall, including 43.6 percent from two, and 37 percent from three.  He made a career-best 79.5 percent from the free throw line.
In his first season with IU (2021-22), Johnson earned honorable mention All-Big Ten honors after averaging 12.1 points and finishing third in the conference in assists at 5.1 per game.
Johnson obtained a medical hardship waiver, which allows him to play a sixth season of college basketball.
WHAT WENT WELL
While there were some early-season challenges for Johnson playing alongside Jalen Hood-Schifino, he had some of his best games against Indiana's toughest competition.
He had a season-high 23 points in a win at Xavier, and added seven rebounds.  He had 20 points and eight rebounds against North Carolina, and Johnson added 11 points and 11 assists against Arizona.  In that latter contest, Indiana lost composure, and ultimately lost the game during a stretch when Johnson sat with foul trouble.
Johnson has proven to be a very good rebounding guard, and his 13.2 percent defensive rebounding rate before the injury was the best of his career.
In five games against Tier A and B competition, Johnson posted a 3.6 percent steal rate, also the best of his career against that caliber of opponent.
He continued to shoot threes above his career average, posting a second straight year of 37 percent or better.
QUOTABLE
"Losing Xavier Johnson was the biggest piece of the puzzle," IU coach Mike Woodson said in May.  "You have no idea."
"The intensity he brings, we always say he's the dog of our team, and we've missed that," Race Thompson said in early March of Johnson.  "He's somebody who leaves it all out on the court every second of the game."
""I know this year was challenging for him, but he brought a positive attitude every day and I believe he will bring a great deal to our team next season because of the adversity he has faced," Woodson said.
OFFSEASON DEVELOPMENTAL NEEDS
1. Become a more efficient scorer.  With so much production lost from last year's team, Johnson will be asked to take on a more significant scoring role.  After two years of a focus on finding Trayce Jackson-Davis on almost every possession, Johnson will orchestrate a much more balanced attack.  That means he'll likely need to take more than the 7.5 field goal attempts he hoisted a year ago.  And he'll need to be much better than his career 40.4 field goal percentage.  The potential is there.  Johnson made 50 percent of his twos during his 2020-21 campaign, and at IU he's made 38 percent from three (on 121 attempts) over his 45 games with the Hoosiers.
2. Embrace the veteran leadership role.  He knows the system well — Johnson is one of just three Indiana players who will play a third season under Woodson at IU.  He'll turn 24 in October, he's entering his sixth year in college, and Johnson spent two thirds of last season learning the game from a coach's standpoint.  After struggling at times in his first year under Woodson, and dealing with some off court issues as well, it's time for Johnson to pull everyone along and become the strong, vocal floor general and locker room leader this program will need.
3. Remain an elite on ball defender without fouling.  Johnson continued to get in foul trouble last season.  He had four fouls in key games against Xavier and Rutgers, and he had to sit with two first half fouls against Arizona.  That followed a 2021-22 season in which had four or more fouls in nine games, fouled out twice and spent multiple first halves sitting next to Woodson with two early fouls.  There is little doubt IU's perimeter on-ball defense dropped-off substantially last season when Johnson went down with his foot injury.  He should be the best perimeter defender on the team, but with Indiana light on depth at guard, things could go sideways in a hurry if he's on the bench with fouls.
WHAT SUCCESS LOOK LIKE IN 2023-24
Johnson averaged 15.5 points per game as a freshman, and 14.2 as a junior.  He may not need to go quite that high, but IU will need more than his 9.9 per contest of a year ago.  Again, the key is efficiency more so than whether he posts 12 or 14 a game.  He seems capable of 45/38/80 shooting splits, and those would be very good numbers for the Virginia native.
Johnson needs to be more secure with the ball.  His 25 percent turnover rate before he was injured was a career worst figure.  He's never had a 2-to-1 assist-to-turnover rate, but he's been close, and that doesn't seem out of reach.
Johnson needs to be a menace on the ball.  Woodson liked to have him pick up the ball full court and make life difficult for opponents as they try to get into their offense.  If he can get back to that while staying out of foul trouble, IU's defense could take a step forward after dropping from 24th in 2021-22 to 45th nationally in 2022-23 according to KenPom.
Finally, Johnson needs to be a positive presence who elevates and guides his teammates, both on and off the court.
PREVIOUSLY IN THE SERIES
---
The Daily Hoosier –"Where Indiana fans assemble when they're not at Assembly"