During each offseason we go in depth on the players returning to the IU basketball program to assess their career to date performance and what to expect next. 
For 2023-24 the Hoosiers have just six players coming back due to a combination of the NBA Draft, eligibility, and the transfer portal.
First up is Trey Galloway.
———————————–
THE 2022-23 NUMBERS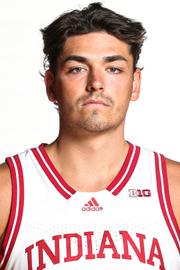 The 6-foot-4 Galloway started a career-high 25 games in 32 appearances for IU in 2023-24.  He played 27.5 minutes per contest.  The Culver, Ind. product averaged 6.7 points, 3.0 rebounds, 2.1 assists, and 1.0 steals per game.
He shot 47.2 percent (77-of-163) from the floor overall, including 46.2 percent (30-of-65) from the 3-point line.  Galloway made 64.4 percent (29-of-45) from the free throw line.
WHAT WENT WELL
First and foremost, after two seasons of frustration, Galloway stayed relatively healthy.  After missing 15 games as a sophomore, Galloway played in all but three contests in 2022-23, and he was available for all of IU's games against high major opponents.
Last year in this space, all of the talk with Galloway centered around improving his 3-point shooting — and he delivered.  After making just 12 threes over his first two seasons while shooting 19.6 percent, Galloway made a career-best 30 3-point field goals.  He credited practicing at game speed while making minor tweaks to his mechanics.  With the improvements, Galloway's effective field goal percentage rose to 56.4 percent, which came in at No. 193 in the country.
Galloway also significantly improved from a ball security standpoint.  And this came despite him becoming more of a primary ball handler role throughout much of his time on the court.  After posting a 22.8 percent turnover rate in each of his first two seasons, Galloway got that figure down to just 12.8 percent in his third year with the program, including just 10.8 percent in Big Ten games.
QUOTABLE
Trayce Jackson-Davis on Galloway:
"Trey brings so much energy to our team, especially on the defensive end of the floor. He just thrives off of it. He always guards their best guard. He's always in their head trying to get them to make mistakes. We call him Crazy Man because that's how he is on the defensive end of the floor.

"He really thrives off of that, getting steals, out in transition, running. He's a big play-maker."
OFFSEASON DEVELOPMENTAL NEEDS
Galloway had offseason groin surgery a year ago and still made meaningful improvements.  This time around he'll have a full summer to further develop his game.
1. Add more volume to the scoring punch.  Galloway can be a primary scorer on a team.  He averaged 21 a game in his final year of high school, and 16 a game in his final AAU summer.   No one is asking for that kind of production or expecting it, but as a senior with a big role, and with major scoring voids to fill, Galloway has to produce more than he has to this point (career 5.4 ppg).
This will be the year to test whether his improvement as a 3-point shooter can withstand a lot more volume.  No longer playing through Trayce Jackson-Davis, and playing alongside a facilitator like Xavier Johnson, Galloway needs to put up much more than the two 3-point attempts he averaged per game last season.  That means he'll have to expand the type of shots he takes from distance.  To this point his long range attempts have primarily been via the stationary catch-a-shoot variety.  Can he make threes off the bounce, coming off screens, and in transition?  That's where the additional volume will need to come from, especially with Jackson-Davis gone and thus likely less passes coming out of the post.
With his physical and aggressive style, Galloway needs to get to the free throw line more too.  And he needs to make more than 64 percent.
2. Develop a mid-range shot.  Galloway made 55.7 percent at the rim, and 46.7 percent from three last season.  Those are the spots where you generally want most shots attempted, and he was efficient in both areas.  But on 2-pointers away from the rim, Galloway made just 35.1 percent.  He relies heavily on a floater that did not go in at a high rate last season.  The scout on Galloway will be to run him off the arc and force him into the mid-range.  This may be the offseason to add a pull-up jumper to the arsenal to attack that available space.
3. Become a consistently impactful defender.  Galloway is already a good defender.  He really bothered Purdue's young guards when IU swept the Boilermakers.  Three of his last 13 games were multi-steal efforts, including five in the season-ending loss to Miami.  The assumption going in to next season is Xavier Johnson will draw the most difficult perimeter assignment, and that sets up well for Galloway.  In most situations he should be able to lock up his man.  The Johnson-Galloway perimeter defensive duo will be physical, aggressive, tough-minded and savvy.  It should be one of the league's best, but Galloway will need to continue to improve with his technique on the ball, as foul trouble has been an issue at times.
WHAT SUCCESS LOOK LIKE IN 2023-24
In each of his first three seasons at IU, Galloway opened the season coming off the bench, and eventually earned a starting job, at least at times.  This year, Galloway has to convince the staff he's a starter from day one.  With the current roster, that seems like a safe bet, unless C.J. Gunn makes a major second-year jump.
If all goes well for Galloway in 2023-24, he should be sniffing 10 points per game, and he can get there without a massive drop-off in efficiency.  He already had nine games in double figures last year, and he won't need to force anything. With Jackson-Davis and Jalen Hood-Schifino gone, this should be a much more balanced offensive attack, and Galloway should naturally elevate his production through the flow of the offense.
And coming into this season healthy, it isn't unreasonable to think Galloway could eventually at least have his name in the conversation for the Big Ten's All-Defensive team.
---
The Daily Hoosier –"Where Indiana fans assemble when they're not at Assembly"