During each offseason we go in depth on the players returning to the IU basketball program to assess their career to date performance and what to expect next. 
For 2023-24 the Hoosiers have just six players coming back due to a combination of the NBA Draft, eligibility, and the transfer portal.
Next up in the series is sophomore forward Kaleb Banks.
———————————–
THE 2022-23 NUMBERS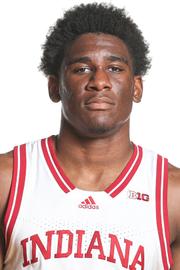 The 6-foot-7 Banks played in 24 games as a freshman at Indiana, all off the bench.  He averaged 2.0 points and 0.9 rebounds in 5.6 minutes per contest.  He had nine turnovers against eight assists for the season.
Banks made 58.3 percent of his 2-pointeres (on 24 attempts) and 40 percent from three (on five attempts).  From the stripe Banks made 53.6 percent on 29 attempts.
WHAT WENT WELL
Banks wasn't expected to have a big role in year one, but he showed flashes as a freshman.  He played double-digit minutes in five games, including three Big Ten contests.
He was a difference maker in a Jan. 28 home win vs. Ohio State, when Banks scored five points and added seven rebounds in 12 minutes against the Buckeyes.  Jordan Geronimo was not available on that day, so Banks stepped up when called upon.  He also had four points and three rebounds in six minutes in a home win over Purdue, another game when Geronimo did not play.
In limited minutes, Banks had the second best effective field goal percentage on the team at 58.6 percent.
Again, it's hard to know if there's much to it on the small sample size, but Banks showed a unique knack for drawing fouls and getting to the stripe.  His 5.9 fouls drawn per-40 minutes tied first team All-American Trayce Jackson-Davis for best on the team.  TJD ranked 52nd in the nation on that metric.  Banks' free throw rate (FTA/FGA) was easily the highest on the team at 96.5 percent — more than double anyone else.
QUOTABLE
Coach Mike Woodson after Banks' performance against Ohio State:
"He's been patient with me. He's been very in tune to what we're doing in practice, in shootaround, walk-throughs. I thought it was time to give him an opportunity, and I thought he came out and played well for us. He shined tonight. It's kinda nice to see. Sometimes when players haven't played, they can easily go the other way, and he didn't. His stat line was pretty good for the 12 minutes that he played.

"I feel good about putting him in the game. I don't know if my staff did, but I call the shots when it comes to that, but I played him, and he responded. I'm going to go in there and pat him on the butt again because I thought he played his butt off."
OFFSEASON DEVELOPMENTAL NEEDS
1. Become a volume perimeter shooter.  Indiana is loaded in the front court next season, with Kel'el Ware, Malik Reneau and Mackenzie Mgbako all expected to have major roles.  What IU doesn't have any degree of certainty on next season is who can make 3-pointers at a high volume.  In many respects, Banks is in the same situation Geronimo was in a year ago, hovering between the three and four spots.  It may not ultimately matter which of those spots he plays, but his ticket to taking minutes from the aforementioned three will be significantly enhanced if he becomes a trusted 3-point shooter.  Banks shot 40 percent from three in high school, so the potential is there.
2. Become a high energy guy.  That Ohio State game highlighted who Banks can be.  In 12 minutes, he was everywhere, with three of his rebounds coming on the offensive end.  He also had three offensive rebounds against Purdue.  With his length and athleticism, Banks can be that guy who is a pest, with deflections, steals and blocks, locks up talented wing scorers, and outworks people.  His rebounding production in his two marquee Big Ten games needs to become closer to the norm.
3. Become a lock-down defender.  Defensive versatility is a premium skill in Woodson's switching defense.  Banks needs to be able to hold his own against high major wings and traditional big men. Part of what will make it work is if Banks can add some size and strength during the offseason.  He was listed at 215 last season, and that's not a lot when it comes to banging down low in the Big Ten.  Moreover, in year two under Woodson, Banks needs to be reliable when it comes to executing the game plan, and reading and reacting on the court.
WHAT SUCCESS LOOK LIKE IN 2023-24
There's no way around it — Banks is in a competition with 5-star freshman Mackenzie Mgbako for playing time.  That roster addition, along with Miami transfer Anthony Walker, has created a significant challenge for Banks.  There likely won't be enough minutes for all three to have significant roles.
Banks is starting from a better place than many sophomores.  He saw shots go down a year ago, and he had the games like Ohio State and Purdue where he proved to himself he belonged on the floor athletically.  Now it's time to start connecting the dots and build from that foundation.
If Banks can make threes, defend, and rebound at a high level, he'll no doubt get more opportunities than he had as a freshman.  With his length and raw abilities, Banks has the profile of a player who Woodson wants to utilize in a more modern and up-tempo style.
Irrespective of his minutes, Banks simply needs to build on the promise he showed as a freshman, and set himself up for two big years as an upperclassman.
PREVIOUSLY IN THE SERIES
---
The Daily Hoosier –"Where Indiana fans assemble when they're not at Assembly"