During each offseason we go in depth on the players returning to the IU basketball program to assess their career to date performance and what to expect next. 
For 2023-24 the Hoosiers have just six players coming back due to a combination of the NBA Draft, eligibility, and the transfer portal.
Next up in the series is sophomore forward Malik Reneau.
———————————–
THE 2022-23 NUMBERS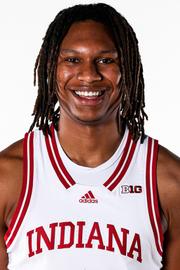 The Miami, Fla. product was just one of three Hoosiers to play in all 35 games in 2022-23. He averaged 6.1 points and 3.7 rebounds in 14.9 minutes while shooting 55.3 percent from the field as a freshman.
The 6-foot-9 and 233-pound Reneau shot 71.4 percent from the free throw line (on 49 attempts), and made 2-of-8 from three.  He had 27 assists against 48 turnovers, and added nine blocks and 16 steals.
WHAT WENT WELL
Reneau got off to a fast start in November.  He scored in double figures in four of his first five games, including a still tied for a career best 15 points in the season opener, and a crucial 12 point, six rebound game at Xavier.  Like most freshmen, his season had ebbs and flows, but Reneau delivered another big game in January, with 15 points and eight rebounds in a home win over Ohio State.
He also had a massive game off the bench in the Big Ten Tournament opener against Maryland.  IU probably loses that game without his eight point and 11 rebound performance, combined with a gritty defensive effort.
There was enough in those performances against quality competition to demonstrate Reneau has the foundation to be a highly productive player in the years to come.
QUOTABLE
Mike Woodson on Reneau's Big Ten Tournament game vs. Maryland —
"I thought Malik, being a freshman, he played up. I was proud of him. He did a lot of wonderful things."
Woodson in December after Reneau was in a bit of a slump —
"I think he's still searching, and trying to find himself, and I've been on him a lot lately because I tell young guys this all the time, there's always another level.  He's a talented kid that can do a lot of things on the floor, but I've gotta get his motor going a little bit higher than where it is right now."
OFFSEASON DEVELOPMENTAL NEEDS
1. Expand the offensive repertoire.  Reneau is well known for his impressive footwork on the block.  And he's thought to be one of the better passers on the team.  It's an interesting dynamic thinking about Reneau coupled with 7-footer Kel'el Ware on the floor.  Woodson doesn't want Race and Trayce Buddy Ball 2.0.  Although Ware is taller, he may be the pick-and-pop guy, and more of a stretch-four on the offensive end.  But Reneau can shoot threes better than what he showed last season.  In a perfect world, both Ware and Reneau would play in and out interchangeably, based on exploitable matchups.  Reneau could also start initiating the break like Jackson-Davis did, play more of a face up game, and knock down shots in the mid-range as well.
2. Achieve peak conditioning and athleticism.  On the defensive end it seems fairly clear Ware is the rim protector Woodson needs in a defensive scheme that discourages over helping.   That means Reneau will need to be able to guard more on the perimeter, which will lead to him getting switched into some challenging matchups.  Reneau is aware of this, and working on it.  "I need to improve defending on the perimeter. I've been in the gym working on defense, working on guarding smaller guys when I switch on to them."  Reneau will need to be in top shape to handle a lot more minutes, running the floor, and guarding the perimeter.  Improved conditioning could help him cut back on turnovers.  Reneau's 23.2 percent turnover rate was the second highest on the team and the highest among non-guards.  And perhaps it will also allow him to improve as a shot blocker.
3. Stay on the floor.  With 6.8 fouls called against him every 40 minutes, Reneau was the most foul prone player on the team a season ago.  He had 11 games with four or more fouls and fouled out twice despite a relatively limited role.  He believes putting two hands on the opposition played a role.  Conditioning and awareness may have also been contributing factors.  Reneau seemed to figure things out late in the season.  He only averaged 1.5 fouls per game over the last six contests.  But he'll likely start and be asked to play 25 minutes a game this year — so he'll need to be sound over a longer span in order to be a factor at the end of games.
WHAT SUCCESS LOOK LIKE IN 2023-24
When Reneau was at his best as a freshman, there were times when he seemed to be involved in every sequence on the court.  A rebound, a wall up, a put back, running the floor, high energy, you name it.  With a completely new frontcourt, the opportunity is there for Reneau to push 30 minutes a game and have his top games from his freshman season become more of the norm.  A simple doubling of his numbers to 30 minutes, 12 points and seven rebounds per contest seems attainable on what should be a very balanced team.
PREVIOUSLY IN THE SERIES
---
The Daily Hoosier –"Where Indiana fans assemble when they're not at Assembly"