Indiana completed a hectic week of official visits with Virginia-based guard DeShawn Harris-Smith, who arrived on Thursday evening in Bloomington and left on Saturday.
The Hoosiers just offered the 6-foot-5 guard a few weeks ago and were able to bring him on campus for a junior year official.
The Daily Hoosier caught up with Harris-Smith to recap his time on the IU campus.  You can read our full Q&A below.
See also:  Arrinten Page post-visit Q&A | Jamie Kaiser post-visit Q&A
---
TDH:  Indiana obviously started recruiting you just very recently.  Tell us what you already knew about the program before you arrived on campus?
DHS — I just knew it was a historic college basketball program.  They've done a lot of winning back in the day, so like almost a blue blood.  That's really all I knew.
TDH:  Did you know any of the coaches or current players on the team before you arrived?
DHS — I've known Xavier (Johnson) because we're from the same place and when he comes home we workout together.
(Note:  Johnson and Harris-Smith are from the same AAU program — Team Takeover on the Nike EYBL circuit.)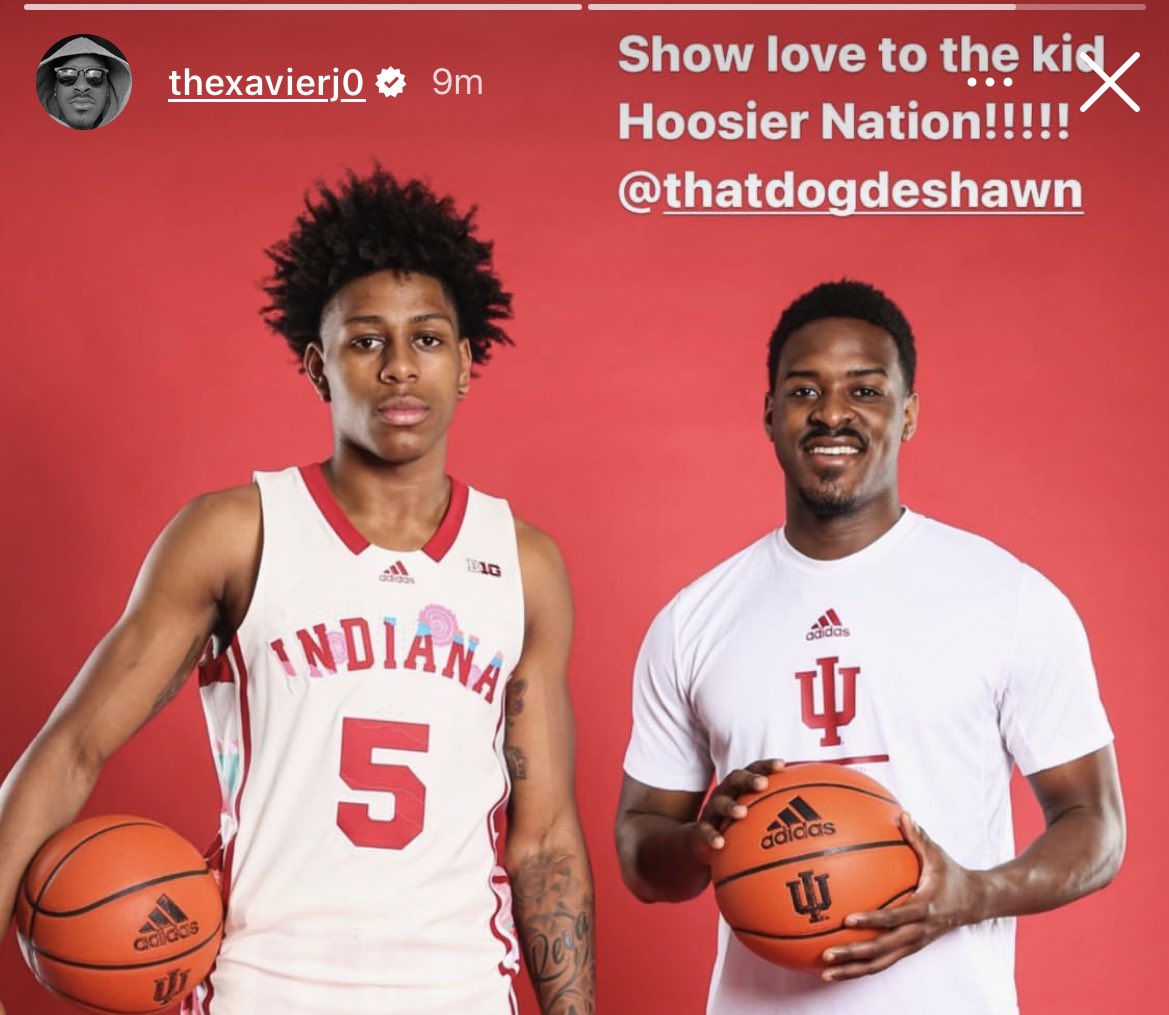 TDH:  What are one or two things that really stood out to you while you were in Bloomington?
DHS — One thing that was really impressive to me was how everybody was talking about how the people of Indiana are so great and wide, it helps them (the players) be better at what they have to do.  They were just saying that the relationships that they've built will last a lifetime, and the people are really great and everybody just wants to see each other do well.
Something else that was really impressive, I met a bunch of people on campus, not just like people that help with basketball, but I met the athletic director, and a whole bunch of people that you don't normally meet on visits.
TDH:  Is there anyone outside of the program you met who really stood out to you?
DHS — Yeah, the athletic director (Scott Dolson) stood out, just how much he cared about the basketball program.  When he was finding a new coach he wanted someone who would help Indiana have a label of being a great team, with great people on the team, and help the team become men, and stuff like that.  He wasn't just all about basketball, and he seemed like he really did care about the basketball program even though he has oversight over everything, he seemed like he was really invested into the basketball program.  He used to be a manager (at IU), and he still loves basketball, and you could tell the program holds a special place in his heart.
TDH:  First time sitting down in depth with IU head coach Mike Woodson, what was your impression of him?
DHS — He's just a very genuine guy.  Everybody on campus was just praising how nice of a guy he is.  He doesn't hold himself over anybody there.  All the assistants there were making fun of him, cracking jokes.  He doesn't hold himself to some type of celebrity status, he just thinks of himself like everybody else and treats everybody fair.
TDH:  Does his NBA background as both a player and a coach mean something to you?
DHS — Definitely having spent 34 years in the NBA as a player or a coach it means a lot to me because that's where I want to go also.  That's my end goal is to make it to the NBA, so someone who has seen it as a player and a coach, seen a lot of great players, a lot of people in the shoes that I'm trying to fill, definitely it's great being coached by someone like that.
TDH:  Did the coaching staff sit down and watch film with you?  And what are they telling you about how they see you fitting into their system?
DHS — They broke down some of their stuff, with their playing style.  There was a bunch of coaches there when they did that.  They want to play fast, and I feel like I'm best in transition, getting my teammates the ball.  And he (Woodson) likes big guards, and with Jalen (Hood-Schifino) there, they feel like I can come in and play a similar role as him, like a combo that can play on or off the ball, make ball screen reads.
And then I think my biggest asset will be defending.  He likes people that can switch, and I feel like that's my best asset, being able to guard one through four in high school, and I feel like I can guard one through three, maybe one through four at the next level.
TDH:  Staying on your game for a minute, watching you down in Georgia last week, your ability to rebound from the guard position really stood out.  What makes you want to be so aggressive on the boards?
DHS — I just feel like that's always been built into me.  Like just taking charges, doing whatever it takes to win.  I know my team was lacking on rebounds, so I try to rebound.  And that's just a way that I get going in games, if I have a good game rebounding wise, the points come, the assists come, everything else follows.  At the beginning of the game I'm just reminding myself 'just go get a ball' and get rebounds, and that's a way to get me going.  Every time I had 10-plus rebounds at Peach Jam, I had 10-plus points, so it all correlates.
TDH:  Was there something about the campus, or academics or facilities that left an impression?
DHS — The campus was huge, one of the biggest I've been to.  Most of the other schools I've been to are small, so Indiana would give me a good college experience.  It's definitely a college town.  The campus was great, it was great seeing all of the fraternity and sorority houses, they were huge.  The football stadium right next door, and having basketball and decent football team is great and could give like an actual full college experience.
TDH:  What did Xavier Johnson tell you about Indiana?
DHS — He said he thinks it's a great place for me because he feels like Coach Woodson preaches the same thing that Team Takeover preaches, like pushing the ball and playing defense, and he knows that I excel with that because I've been excelling at that at Takeover, so if the program is doing the same thing, I feel like I can do that in college.
TDH:  Has your mom gone with you on your other visits, and what was her reaction to this one?
DHS — She has been on every visit with me, and after Indiana she was saying that she definitely feels like she could drop me off there, and feel like I'm being taken care of.  She said she could sleep easily knowing that I'm at Indiana, because she knows that the people there really care about you and want to see you succeed both on and off the court.
TDH:  Does the proximity of a school to your hometown matter to you in your recruitment?
DHS — It did at first, but with NIL and the opportunities I'm going to have at the next level, I'll be able to take care of my mom, bring her to games.  So if that is going right then it doesn't really matter about the distance, I just want to be able to bring her to games, so if I can afford to bring her back and forth that would be perfect.
TDH:  Do you have any other visits planned, and what is the timing of when you'd like to make a decision?
DHS — I don't have any other visits planned, and I'd like to be done by the end of August.
TDH:  Is there a main group of schools recruiting you right now?
DHS — The five recruiting me the most are Penn State, Xavier, Villanova, Maryland and Indiana.
TDH:  And you've now been to all five of those schools, right?  Is it fair to say you are now in decision-making mode?
DHS — Yes, I've now been to all five, and yes, that's fair to say.
View this post on Instagram
---
The Daily Hoosier –"Where Indiana fans assemble when they're not at Assembly"