The wait is over, and history can be made tonight in Jacksonville.
A nine win season?  That has only happened twice in Indiana's program history, and not since 1967.
A bowl win?  That has not happened since 1991.
Both accomplishments have been out of reach for decades.  And both are on the table on Thursday night at The Gator Bowl.
With its first eight win season and above .500 record in the Big Ten since 1993, the 2019 campaign has already been a special one.
But with a win over a historic and proud SEC program like Tennessee, a special season can become one of the all-time great Indiana football campaigns.
INDIANA (8-4, 5-4) vs TENNESSEE (7-5, 5-3) – The Gator Bowl
Kickoff:  7 p.m. ET
Location:  TIAA Bank Field (67,164), Jacksonville, Florida
Television:  ESPN, Dave O'Brien, Tim Hasselbeck, and Katie George (Stream on WatchESPN)
Series:  Tennessee leads the series 1-0.
Odds:  Tennessee is a 2.5 point favorite
Weather at kickoff:  66 degrees, wind 7 mph, 5% chance of precipitation.
Tom Allen is 18-19 and now in his third full season as the head coach at Indiana.
Jeremy Pruitt is 12-12 in his second season as Tennessee head coach. Pruitt served as the defensive coordinator at Alabama (2016-17), Georgia (2014-15) and Florida State (2013) prior to his arrival in Knoxville.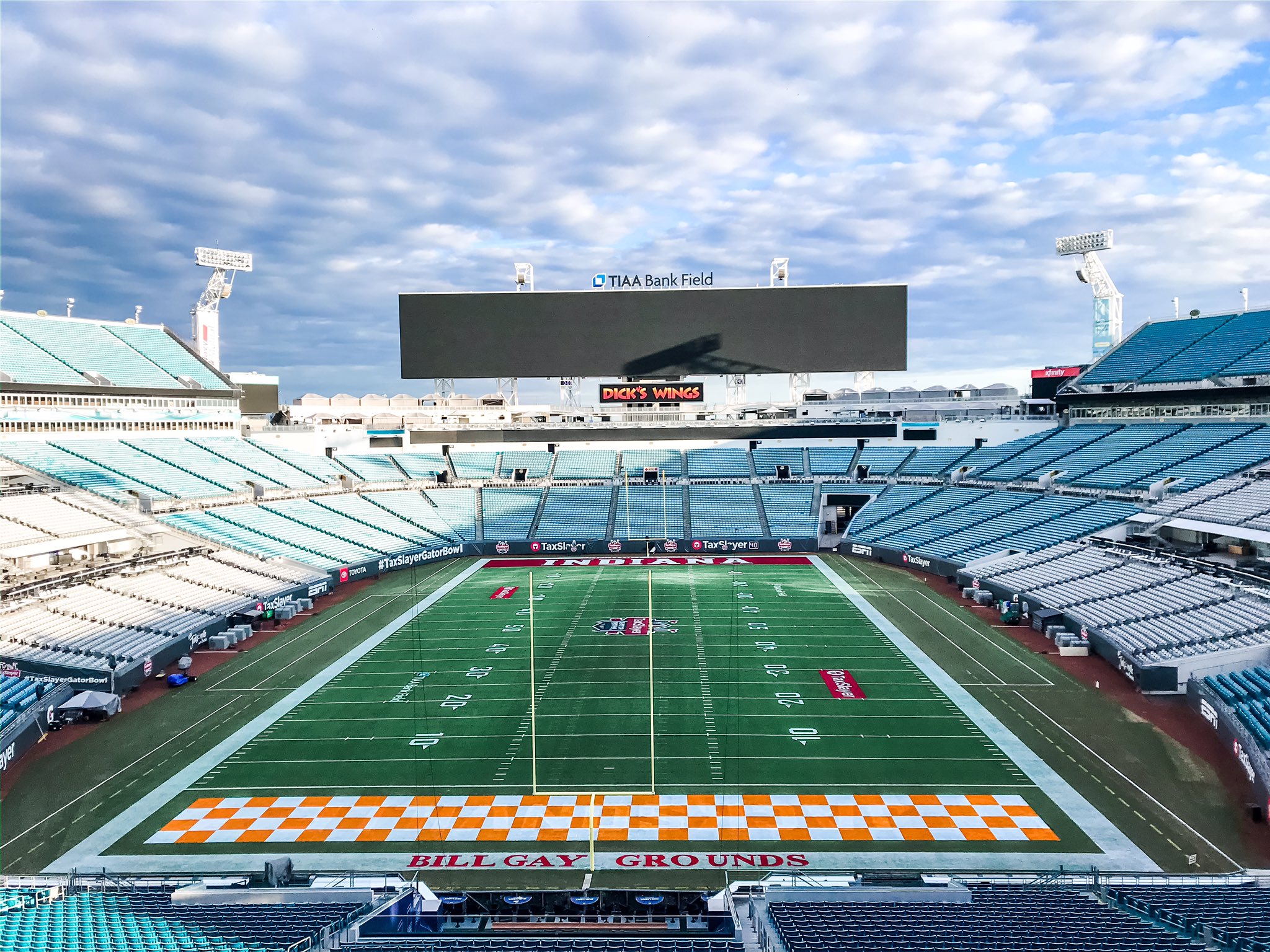 ---
See Also:
---
TALE OF THE TAPE 
---
TICKETS
You can support The Daily Hoosier at no additional cost to you by purchasing tickets to the game (or any IU football or basketball game) via our affiliate links with Seat Geek.
---
Nothing is given. It's all earned.

It has to be taken. pic.twitter.com/kopuFjcdib

— Indiana Football (@IndianaFootball) January 2, 2020
WHEN TENNESSEE HAS THE FOOTBALL
While no juggernaut, Tennessee's offense showed improvement over the course of the 2019 campaign.
On the season the Volunteer offense ranks eighth in the SEC in passing (220.0), 11th in scoring (24.3), and 12th in rushing (144.8) and total yards (364.8).
First-team All-SEC guard Trey Smith anchors a line that has helped the Vols produce a balanced attack when it comes to running and throwing the football.
Starting quarterback Jarrett Guarantano has completed 59.3 percent of his 134 pass attempts this year for 1,937 yards, 16 touchdowns and six interceptions.  Running with the football has not been a big part of the 6-foot-4 junior's game.
Guarantano's 415 passing yards against Missouri's sixth-ranked pass defense on Nov. 23 to help the Vols gain bowl eligibility.
Guarantano has a big and physical set of wide receivers that can create matchup problems.
Redshirt senior wide receiver Jauan Jennings led the Vols with 942 receiving yards, which rank fifth in the SEC, 57 receptions, eighth-most in the conference, and eight touchdowns, tied for fifth in the league.  The 6-foot-3, 207 pound Jennings will have to sit out the first half due to an incident in Tennessee's final game of the regular season.
Senior wideout Marquez Callaway had his best season offensively, setting career highs with 616 receiving yards, six touchdown catches, and four 100-yard receiving games. The 6-foot-2 and 204 pound second-team All-SEC member also leads the league in yards per catch at 21.2.
The Vols rush attack is by committee as Ty Chandler (124 carries, 620 yards), Eric Gray (87 carries, 453 yards) and Tim Jordan (102 carries, 424 yards) are all ranked among the SEC's top 30 rushers.
The Hoosiers were ninth in the Big Ten in points allowed (24.5), total defense (350.4) and in stopping the run (138.9), while rating 10th in defending the pass (211.7).
Indiana is young on the defensive side of the football.  Sophomore defensive tackle Demarcus Elliott, sophomore linebacker Micah McFadden and true freshman cornerback Tiawan Mullen earned All-Big Ten honorable-mention recognition.
Elliott owns 32 tackles, 26 solo, five for loss, with three sacks and one forced fumble in 12 games, while McFadden tops the team with 56 tackles, 39 solos and nine for loss, in addition to 1.5 sacks, one interception, four quarterback hurries and one pass breakup.
Mullen has recently been named a Freshman All-American by multiple outlets, after a successful first year in which he shares the league lead and ranks 15th nationally with 12 pass breakups.  He also has 25 stops, 22 solo, with 3.5 tackles for a loss and a team-high-tying two forced fumbles and two fumble recoveries to his credit.
WHEN INDIANA HAS THE FOOTBALL
It will be strength against strength when IU has the ball, especially in the passing game.
Indiana's offense ranks second in the Big Ten in passing (308.7) and total yards (443.6), sixth in scoring (32.6), and 11th in rushing (134.9).
The Hoosier offense made big strides under first-year and outgoing offensive coordinator Kaleb DeBoer, who is set to become the head coach of Fresno State after this game.  DeBoer's system produced a school-record nine 30-point games this season.
The offense featured a pair of second-team All-Big Ten standouts in junior wide receiver Whop Philyor and sophomore running back Stevie Scott III. Senior offensive guard Simon Stepaniak and sophomore tight end Peyton Hendershot were third-team selections.
Philyor is second in the Big Ten and 22nd nationally with 6.3 receptions per game and third in the league with 91.0 yards per game.
Scott, who is questionable for the game, ranks among the Big Ten's top-five rushers this season with 845 yards on 178 carries with 10 rushing touchdowns and per-carry and per-game averages of 4.7 and 76.8, respectively.
Stepaniak, who is also questionable, anchors an offensive line that has allowed just 1.92 sacks per game despite using five combinations and three different left tackles.  Hendershot is second on the team with both 46 receptions and 555 yards.
The story of the Indiana offense this year was the play of quarterback Peyton Ramsey, who lost his starting role to Michael Penix prior to the season, and then filled in on multiple occasions until Penix was lost for the season due to injury.  Ramsey has started six times this year and is 184-of-266 passing for 2,227 yards, 13 touchdowns and four interceptions.  His completion percentage of 69.2 is ninth nationally and his 152.62 pass-efficiency rating is 22nd.
Tennessee's defense ranks fourth in the SEC in defending the pass (191.3), seventh in total yards allowed (337.1), eighth in scoring (21.7) and ninth against the rush (145.8).
Nigel Warrior leads the Volunteer secondary and was tied for the league lead with four interceptions.. The All-SEC senior safety is second on the team with 68 tackles and also leads the Vols with seven pass breakups.
All-SEC defender Daniel Bituli had three games with double-digit stops, including a 19-tackle effort in a road win at Kentucky. His 8.2 stops per game rank fourth in the conference.
Linebacker Darrell Taylor is sixth in the SEC with 7.0 sacks on the year, and also has a forced fumble and recovery to his credit.
Henry To'o To'o is a freshman All-American and he has been a day-one starter at linebacker.  He finished third on the team with 64 tackles and added five tackles for loss, three quarterback hurries, one pass breakup, one fumble recovery, and a half a sack.
PREDICTION
Both teams are happy to be here and motivated to finish the season with a win.  That should make for a highly competitive game that is full of emotions.  Nerves, mistakes and penalties could play a role.
The story of the game would appear to be Indiana's passing attack vs. Tennessee's pass defense.  The Hoosiers have been able to move the football against everyone not named Ohio State and Michigan.  The Vols haven't allowed a 200 yard passing game in any of their last four contests, and only two opponents (South Carolina and Florida) eclipsed the 300 yard mark through the air.
A big wild card is Indiana kicker Logan Justus, who started the season 14-of-14 on field goals but missed all three of his kicks in the season finale against Purdue.  Volunteer kicker Brent Cimaglia posted one of the best seasons in program history, going 20-of-24 on field goal attempts while connecting on all 33 of his extra points.
It looks like a good evenly matched contest on paper that could go either way.
INDIANA 24
TENNESSEE 27
---
You can follow us on Twitter:  @daily_hoosier
Find us on Facebook:  thedailyhoosier
The Daily Hoosier –"Where Indiana fans assemble when they're not at Assembly"
Seven ways to support completely free IU coverage at no additional cost to you.