From the program's all-time completion percentage leader — to the bench.  That isn't a common path for a college football quarterback, and there hasn't been anything normal about Peyton Ramsey's 2019 season at Indiana.
Martin Luther King, Jr. once said that the ultimate measure of a man is not where he stands in moments of comfort and convenience, but where he stands at times of challenge and controversy.
We're just talking about a game here, and of course all of this pales in comparison to the trials and tribulations faced by King.  But in the context of football, there is no doubt that Ramsey has been through one hell of a ride this season.
The challenges began in fall camp, with a quarterback competition, and a decision by his head coach.
"His character was able to be revealed through adversity — that I created for him," IU head coach Tom Allen said this week referring to his decision to start Michael Penix, Jr. over Ramsey to open the 2019 season.
On the surface, there aren't many parallels between legendary NFL quarterback and Tennessee alumnus Peyton Manning and Ramsey.
Manning was never benched.  His prototypical quarterback size and big arm helped to ensure that.
For Ramsey, questions have persisted about his size and arm strength throughout his time in Bloomington.  Ultimately, those variables led to the difficult but consensus decision to start Penix.
"I felt like I had a good fall camp, continued to get better as it went on, and Mike did too," Ramsey said on BTN's The Journey.
"It wasn't what Peyton didn't do.  It was really close," Allen said of the decision to start Penix.  "Peyton, he never really flinched,"
While Manning and Ramsey may not have the same physical gifts, they do have plenty in common when you start to peel back the layers.
Both have earned reputations as being tireless workers and the consummate teammate.  For Ramsey, those attributes were about to be seriously tested as he dealt with the disappointment of being told he wasn't good enough for the first time in his life.
Ramsey's parents didn't name their son after Manning because they thought he would become the next legendary NFL quarterback named Peyton.  But they did like the name.  And they did appreciate quarterbacks that went about things the right way.
"Kind of funny, when I was about to be born, Peyton Manning was still at Tennessee and my parents were just sitting down watching the game," Ramsey said on Wednesday at the Gator Bowl press conference.  "They just liked the name. Wasn't really because they wanted me to grow up and gain the skill-set after Peyton Manning. It was just kind of my mom liked the name. My dad liked the quarterback, so I guess those two things kind of went together, and here I am."
There was no thought that their son might be the next Peyton Manning one day.  Probably no thought that he might compete against Manning's alma mater in a bowl game either.
Ramsey's dad is a football coach, his family, a football family.  Like a lot of things at the Ramsey house, naming their son Peyton was just a football decision.
Peyton isn't the only one.  His older brother, Montana "Tanner," is named after Joe Montana and his younger brother, Drew, is named after Drew Bledsoe.
"It just kind of exudes the family that he comes from. They love football. It's a big part of their family. They obviously talk about it a lot and watch it a lot and it's been manifested in the names that they have for their kids." Allen said. "That's pretty cool."
Even after growing up in a football family, Ramsey has had to learn new lessons about the game this season.
Difficult lessons, that started when Allen told him that Penix had won the job.
"That day was hard for sure, something that I didn't necessarily expect," Ramsey said.  "It was a conversation that I've never had before.  The past couple years I was on the other side of that conversation."
Lesson number one — don't give up.
"I think I've learned that I'm a fighter and that just continuing to fight through adversity is the biggest thing, Ramsey said.  "I didn't really know how I was going to respond. It was hard initially. It was a roller coaster ride of emotions, but I just learned that I'm a fighter and that tough guys win, and as long as you're a tough guy and you keep fighting, then good things are going to happen."
Good things did ultimately happen for Ramsey — but it took some bad things for others to get there.  That's football after all.
"There's going to be a time when we call upon you," Allen told Ramsey after naming Penix the week one starter.  "I didn't realize at the time how much it was going to be."
Penix suffered an injury in week two against Eastern Illinois that forced him to miss the remainder of that game.  As you would expect, Ramsey performed well against the FCS school when he filled in late in the second quarter.
But it was the next week that would really test Ramsey's mettle.  The Ohio native would get his first start of the season against the Ohio State Buckeyes, and things didn't go well.  Not for Ramsey.  Not for anyone.  After a 19-of-33 performance throwing with an interception and just 162 yards, all of the doubts returned.  Does he have the arm strength?  Can he endure the beating?
Ramsey would shine the following week in a win over UConn before the next phase of his emotional journey arrived — his return to the bench.  Penix would return to face Rutgers, only to once again suffer a mid-game injury against Maryland the following week.  Penix returned a couple weeks later against Northwestern before leaving that game too.
Each time Penix returned, Ramsey had to relive the pain of being benched.
And each and every time Penix went down, Ramsey was not only ready — he was up to the challenge — and he delivered.
In a key road win over Maryland. Ramsey went 20-of-27 passing for 193 yards and a touchdown in just over a half.
A week later Ramsey delivered the signature performance of his career and Indiana's season, leading the Hoosiers to a 38-31 win over Nebraska in Lincoln.  Ramsey was 27-of-40 passing for 351 yards, with two touchdowns through the air and another on the ground as IU secured bowl eligibility in October.
Two weeks later Ramsey was exceptional on the road once again, this time going 31-of-41 passing at Penn State for 371 yards and three total touchdowns.
The 6-foot-2, 216 pound Ramsey was literally giving Indiana everything he had as the Hoosiers clinched a winning season for the first time since 2007.
There were times when it didn't look like Ramsey would be able to physically make it through the season.  He lie motionless on the field for what felt like more than a minute against Michigan.  But he didn't miss a play.  He spun through the air like a helicopter against Purdue.  But he popped right up.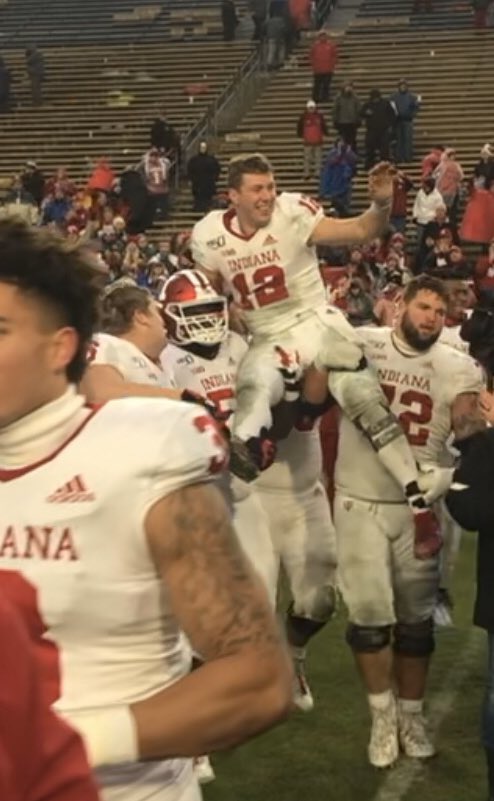 While he never missed a beat, there was one time that Ramsey was helped off the field.
When he delivered yet another road win for IU at rival Purdue in November, this time with 337 yards through the air while producing five more touchdowns including the game winner, his teammates made a statement.  After an exhilarating 44-41 double overtime victory over the Boilermakers, Ramsey's offensive lineman carried the player off the field that carried an entire team to their first eight win season since 1993.
And as if that storybook ending wasn't enough, now Ramsey gets to add one more chapter.
As the Hoosiers go for their first bowl win since 1991 and only the third nine win season in program history, Ramsey will face Tennessee.  Peyton Manning's alma mater, and the school his parents were watching when they picked a name for their son.
On Thursday night at The Gator Bowl, his parents will of course be watching Tennessee and Peyton once again.  It won't be Manning this time, who spent 14 seasons leading Indiana's NFL franchise and inspired the name of countless boys and girls in the Hoosier state.  Now it will be the Ohio boy that was named after Manning, from the football family, leading Indiana University — and perhaps inspiring the next generation.
"It's pretty fitting. It kind of summarizes this season for him," Allen said.  "There is a lot of things that have been fitting with the way he's allowed us to finish at some key times in really, really big games, and big wins.  All the way back to Maryland, and then to Nebraska, and then the Bucket win and he scores the game winning touchdown.
"It's a pretty cool story really."
---
You can follow us on Twitter:  @daily_hoosier
Find us on Facebook:  thedailyhoosier
The Daily Hoosier –"Where Indiana fans assemble when they're not at Assembly"
Seven ways to support completely free IU coverage at no additional cost to you.