The 1979 IU Holiday Bowl winning team will hold its 40-year reunion this weekend.  The Indiana football program will be doing several things to remember that Lee Corso led squad.
The team will be featured on the game program: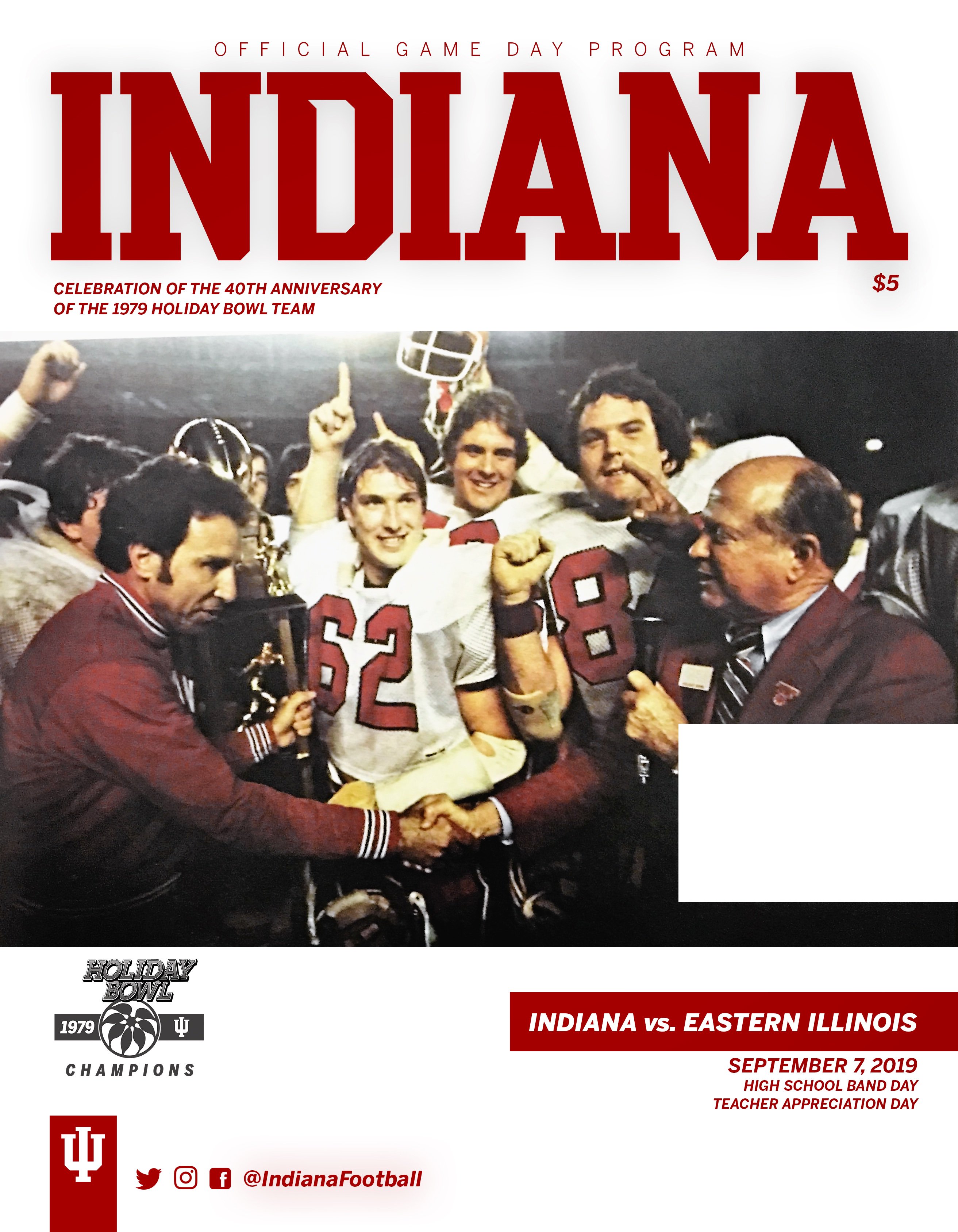 The honorary captains will also hail from the 1979 squad:
This week's honorary captains come from #IUFB's 1979 Holiday Bowl team. pic.twitter.com/CNbX0SkNAa

— Indiana Football (@IndianaFootball) September 4, 2019
Take a look back at that memorable season below.
---
Like many who have tried both before and after him, Lee Corso had his share of tough times as the head coach of the Indiana football program from 1973 to 1982.
But there were some good years, and Corso's pinnacle season in Bloomington came in 1979.
Corso didn't do himself any favors with the schedule that year.
Much like in 1991, the 1979 schedule was stacked top to bottom with a power five opponent every single week.
But there was something special about this team from the start, as Indiana overcame a 26-3 deficit on the road at Iowa and earned a 30-26 season opening win.
Subsequent home wins over Vanderbilt and Kentucky led to a 3-0 start for the Hoosiers.
Indiana dropped a tough home game to Colorado 17-16 before returning to the road and pulling off a bizarre 3-0 win at Wisconsin that included Corso going for it on his own 11 yard line in the fourth quarter.
A loss at Ohio State would the first of three Big Ten road losses against teams ranked in the top 12 or better.  Purdue and Michigan were the other two.
The loss at Ann Arbor was highly controversial.  With the game tied, a Michigan player threw the ball out of bounds with seconds remaining to save time.  The Wolverines scored on the next play, a 45-yard touchdown pass as time expired.
The Hoosiers took care of business with the rest of the league with dominant wins over Minnesota, Northwestern and Illinois.
IU finished the regular season with a 7-4 mark that included a 5-3 record and a fourth place finish in the Big Ten.
That performance earned the Hoosiers an invite to what would end up being a memorable Holiday Bowl.
Played in San Diego, that bowl game against top ten ranked and undefeated BYU was highly entertaining, with seven lead changes.  It came down to the final seven seconds when the Cougars kicker failed on a 27-yard attempt that went wide left.
IU cornerback Tim Wilbur had a third-quarter interception that the Hoosiers turned into a field goal, and then made an even bigger play in the fourth quarter when he returned a punt 62 yards for a touchdown that made the difference in the game.
With that bowl win, the program's first ever, IU finished the year with eight wins, a victory total that is tied for the third best ever in school history.  Indiana finished the season ranked No. 16 in the coaches poll.
Quarterback Tim Clifford was named the Big Ten's most valuable player.  He led a highly productive offense, going 160 for 288 through the air for 2,078 yards and 13 touchdowns.  Clifford added eight touchdowns on the ground.
---
See also:
---
You can follow us on Twitter:  @daily_hoosier
Find us on Facebook:  thedailyhoosier
The Daily Hoosier –"Where Indiana fans assemble when they're not at Assembly"
Seven ways to support completely free IU coverage at no additional cost to you.