For the third straight game to open the season, Indiana defeated a mid-major team by a single digit margin.
It looked like this might be the game where IU buried their opponent early.  They jumped on shorthanded Wright State 18-6 to start the game, and led by as much as 15 before halftime.  But the Raiders made six threes in the final ten minutes of the first half and got as close as 50-48 before the break.  After taking a five point lead into halftime, Indiana struggled to pull away in the second stanza.  Their biggest lead was 12 after the break.
Let's take a deeper look at how the Hoosiers won 89-80 with another edition of The Report Card.
Indiana (3-0) will next play UConn in New York on Sunday at 1 p.m. ET.
OFFENSE (B)
How did Indiana score 89 points despite a miserable 3-of-16 night shooting threes and only converting 62.5 percent from the foul line?  They were dominant from 2-point range, where they made 30-of-45 (67 percent).
That was all about the return of buddy ball, as Kel'el Ware and Malik Reneau combined for 38 points, 20 rebounds, and notably, seven assists.  The duo was 17-of-24 from the field, and a handful for the Raiders.
IU got off to a hot start offensively because they pushed the pace, look to score early in the shot clock whether off makes or misses.  The passes were crisper, as was the movement off the ball.
"It's a big priority that we set in practice, just trying to get flow and different movement and create different matchups and switches and angles that we can exploit when we come down the court," Reneau said.
Indiana didn't maintain the tempo throughout the game, however, and they ended up walking the ball up the floor often.  They looked gassed at times trying to play that fast.  Wright State also changed up their defense midway through the first half, going with a press to slow down IU.
3-point shooting is troubling right now.  Indiana is just 11-of-40 on the season from deep.
"The three ball has been a major concern," Woodson confessed.  "We haven't shot the three ball very well."
It didn't matter against Wright State, a team with poor defensive metrics coming into the game.  IU scored 54 points in the first half, the highest output in a first half since dropping 58 against Troy on Nov.16, 2019.
But what happens when Ware and Reneau's efficiency drops off against bigger and more athletic high majors?
DEFENSE (D)
We all see it.  Indiana's big lineup struggles to guard the 3-point arc.  And it isn't just the big men.  Everyone is having issues as the Hoosiers look undisciplined in a number of ways when it comes to perimeter defense.
Indiana tried to help in the post some early, a suspect decision given their size and strength advantage.   That opened the 3-point flood gates.  Indiana's gameplan appeared to be to try to dig the ball out of the post, despite Wright State's main two big men shooting 3-of-16 from the field over Kel'el Ware.  The numbers say IU's front court didn't need that help.
Woodson cited execution of switches and close-outs as the main factors to teams making 37-of-98 from three thus far on the season, including 11-of-26 by Wright State.  We'd add overhelping, overreacting to fakes, and miscommunication.  And the steady diet of 3-point attempts once again led to a wave of opposing offensive rebounds.  The Raiders snared 14 of their misses and scored 15 second chance points.
Woodson wants to see more rebounds from his guards.
"I can't have my starting guards play 26, 28 minutes and get one rebound apiece," he said.  "That just can't happen. Hell, I can get a rebound at 65 years of age probably, stumble into one. They've got to help rebound the ball."
The bottom line is Indiana is always going to have plenty of length on the floor, and they've got to learn to stick to shooters and trust their big men will take care of the rim protection.
MORE GAME COVERAGE
THE PLAYERS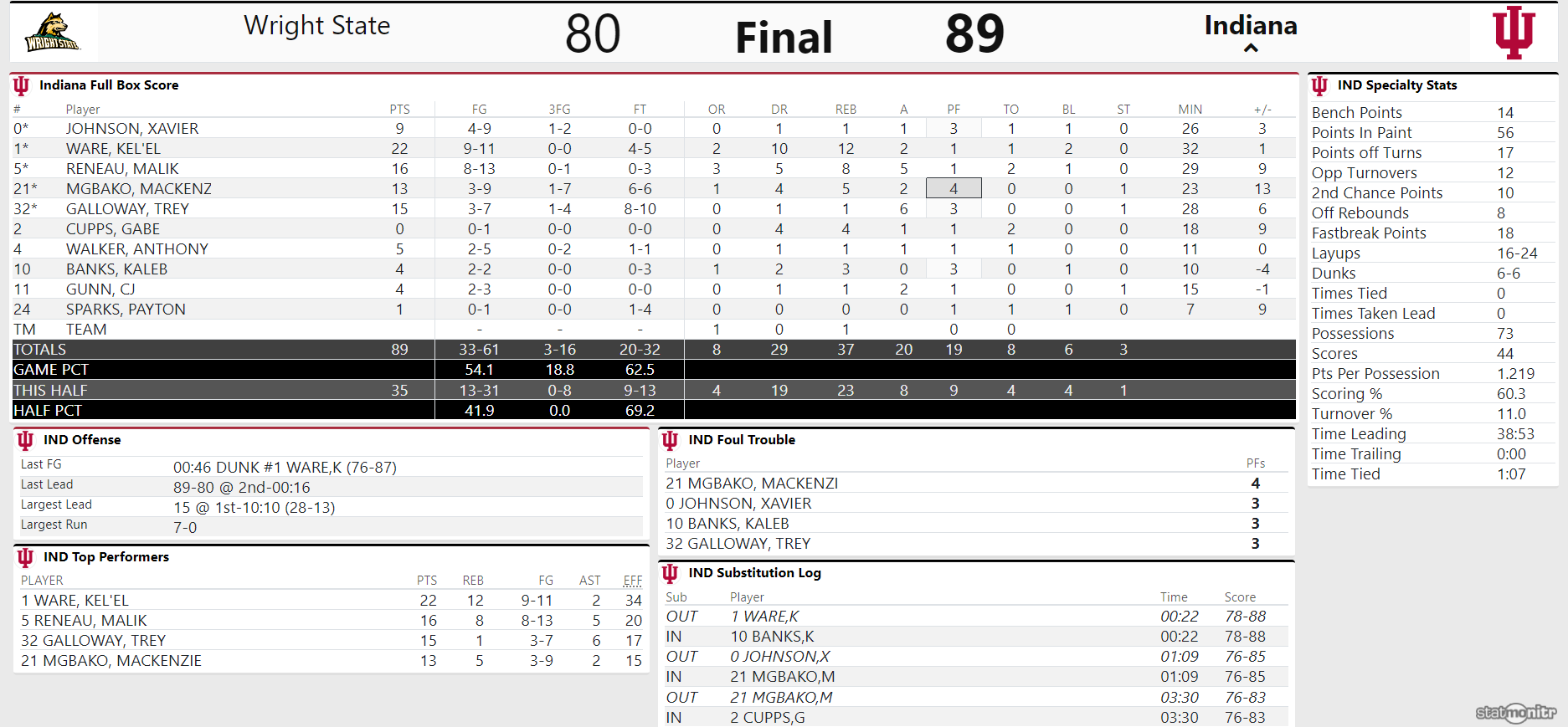 *Trey Galloway (B) Galloway played with an aggressive, attacking mentality on the offensive end, and that led to a career high 10 free throw attempts.  He also facilitated with a career-best six assists, and played through all of that without a turnover.  The concern right now is whether Galloway can make threes on a higher volume.
*Malik Reneau (B) Reneau did a great job not forcing the issue and looking for Kel'el Ware.  He ended up with five assists.  He's being asked to do a lot on the defensive end.  Effort is not the issue, but there are limitations when it comes to switching on guards.  But Reneau managed to limit fouls on this night.
*Kel'el Ware (A)  There were questions coming into the season about Ware's motor, but he's allayed those concerns.  He's efficient, doesn't force things, and Ware is running the floor.  Ware has also shown impressive skill as a passer.  He forced his man into a 1-of-11 shooting night, and probably bothered every shot.  If shots altered was a stat, he'd be keeping the statisticians busy.
*Xavier Johnson (B-) There were matchups he tried to take advantage of off the dribble, but IU's spacing was not optimal.  He needs to look to drive in transition more often, because he's got the speed to create breakdowns as he did on a couple occasions.  Johnson missed some block outs.  Of course all eyes are on his health after a late game leg injury.
*Mackenzie Mgbako (C)  There was no doubt progress made.  Mgbako was dialed in and aggressive on both ends.  He rebounded too, and didn't turn the ball over.  But when he started missing from three, his shoulders seemed to slump, and the defensive lapses returned.
Gabe Cupps (C)  The freshman guard didn't do a great job of maintaining the offensive tempo when he entered the game, and he had a couple turnovers.  The effort was there, but like Mgbako, this is a freshman, and there will be ups and downs.
C.J. Gunn (C+)  Gunn took a step forward, with some good defensive moments, good passes, and he stepped into a baseline jumper with confidence.  But he struggled with overhelping and losing his his man on defense.  The energy and effort was there.
Anthony Walker (D) Walker has not been a good 3-point shooter throughout his career.  He has very little arc on his shot, and the scout appears to sag off him, which will create spacing issues.
Kaleb Banks (C) Like Gunn and Mgbako, Banks seemed showed signs of improvement, although careless fouls limited his role.  He ran the floor well and rebounded.
Payton Sparks (C) Sparks showed he can be load to deal with when he catches the ball on the low block.  But he'll have to make free throws.
————————
Anthony Leal did not play.  Jakai Newton (knee) is out long-term.
---
The Daily Hoosier –"Where Indiana fans assemble when they're not at Assembly"