The Indiana basketball program held its annual media day on Tuesday afternoon.
Below are some of the more interesting news items and noteworthy comments from head coach Archie Miller and the players.
Watch:  Archie Miller Q&A | Scenes from practice and team photo shoot
Scheduling uncertainty remains
Indiana starts practice on Oct. 14 and the season begins on Nov. 25.
Beyond that, they still don't know a whole lot about the details of the 2020-21 season.
Only a first round Maui Invitational matchup against Providence has been disclosed to this point.
The schedule is typically put together over the summer and finalized in late August.  Instead, the program has seen their early plans crumble due to the pandemic.
"The control of our schedule left when the pandemic hit," Miller said.  "I think it was inevitable that there would be some setbacks once they changed the starting date."
If Miller knows the opening game opponent, he wasn't sharing.
For now, it is control what you can control.
"Right now, we are planning on starting practice tomorrow and we know we have to be ready for Nov. 25th," Miller said.  "If we have that game in stone on Nov. 25th, that is what we are getting ready for. We will let everything else fall into line the best we can.
"We will worry about the rest later."
Miller did confirm that he expects to play Butler at the Crossroads Classic, although it wasn't clear if the originally scheduled date of Dec. 19 would hold up.
Jerome Hunter ready to take the next step
Redshirt sophomore forward Jerome Hunter's lost freshman season is well documented, as is his gradual progression during the 2019-20 campaign.
With his surgery further in the back of his mind, along with the confidence gained by getting through a full season, Hunter appears ready to make a bigger impact.
"From a confidence perspective, he finished the year on a high," Miller said of Hunter's 2019-20 season.  "It was almost a sense of relief, like 'oh, wow, I did it. I got through it.' Now it is 'I am ready to take a bigger bite out of the apple.' I think that is where he is at."
What has Hunter been focused on during the offseason?
In short, developing a more versatile game while further readying for the physical rigors of Big Ten basketball.
"We talked a lot about his ballhandling, talked a lot about his physical conditioning and his ability to rehabilitate his body in the time off that he had," Miller said.  "He has to be bigger and stronger. We talked very early in the spring about being able to handle a more of a load, learning more in terms of being able to play inside and out. He embraced that, and since he has been back, he is back to being the old Jerome."
A good sign that Hunter is embracing the process?  His facial expression.
"He loves the game," Miller said.  "He has a smile on his face."
Jackson-Davis has higher expectation for himself, seeing same from teammates
Miller's words stuck with sophomore forward Trayce Jackson-Davis.  The Greenwood, Ind. product gave serious thought to entering the NBA Draft.
His head coach's advice?  Raise your game.
"If you come back, you're going to need to play at an All-American level," Jackson-Davis recalled Miller saying about their offseason discussions.
Jackson-Davis appears on course for a big second season.
He has received multiple preseason accolades, including third team All-American by the Blue Ribbon College Basketball yearbook.
Jackson-Davis believes Miller's words have helped position him to live up to the early hype.
"So I think him putting really high expectations on me has given me a lot of confidence to produce," Jackson-Davis added. "I mean, it's an honor to get those but at the same time I'm just here to win basketball games and the accolades can come with all of that."
The 6-foot-9 forward sees a higher standard from his teammates too.
"This year, if you're not in the gym on Saturday, it's weird," Jackson-Davis said. "It's a different vibe this year. Everyone's ready to go, especially with an unfinished season last year."
Junior point guard Rob Phinisee sees the same thing.
"I feel like everyone is holding everyone accountable," Phinisee said.  Everyone just wants to win."
Jordan Geronimo an "athletic freak"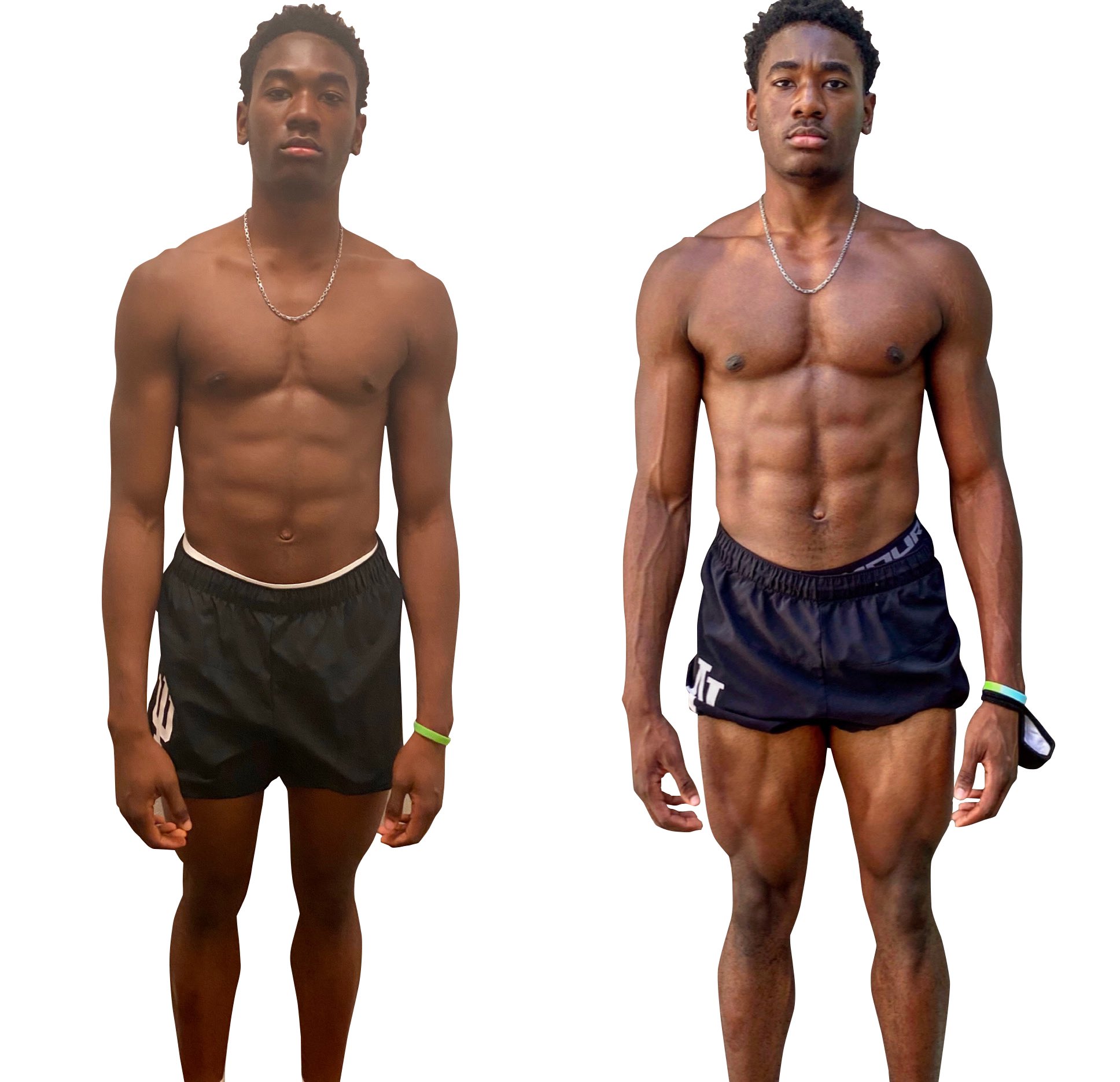 Freshman forward  Jordan Geronimo created some buzz when he released before and after photos illustrating his physical gains since he arrived in Bloomington.
How is that translating to the court?
Three different players described Geronimo as an "athletic freak" when asked about the New Jersey product.
Geronimo credits the IU training staff.
"Coach Clif (Marshall) obviously knows what he's doing," Geronimo said. "He's been doing this for years.  He put me on the right path, and guided me.  Physically, he put me where he wanted me to be."
Geronimo said his vertical jump has been measured at 40 inches.
The Trayce and Race show?
Miller recently labeled redshirt junior forward Race Thompson as the player who has "made the most strides" over the last six months.
Thompson was especially effective over the last third of the 2019-20 season, and that run of success has many believing that he should be playing more alongside Jackson-Davis.
Jackson-Davis notices a difference when he is paired with the Plymouth Minn. product.
And the duo combines to bring about the style of play that Miller is seeking this year.
"When I'm at the 5 and he's at the 4, I think we get out in transition a lot more," Jackson-Davis said of Thompson.  "I think our speed and tempo goes up tremendously and it's not as clogged.  I think we both move really well.  I think that's a big emphasis on my game, being able to have space to operate in the mid-post and post."
Thompson believes he knows the key to make it all come together for both players when they are on the court together.
"We've both been working on our perimeter games all summer," Thompson said.  "Being able to play inside and out with each other will be a big bonus."
---
Find us on Facebook:  thedailyhoosier

The Daily Hoosier –"Where Indiana fans assemble when they're not at Assembly"
Seven ways to support completely free IU coverage at no additional cost to you.