After beating Iowa twice and taking Florida State, Wisconsin, and Illinois into overtime, it felt like Indiana was good enough to hang with just about anyone.  And then along came a healthy dose of reality on Saturday afternoon in Columbus.
There is a top tier in the Big Ten in 2021, and it was that Indiana isn't on that level.  And really, not even close.
The Hoosiers toyed with the idea of hanging around with No. 4 Ohio State.  But too many familiar problems reared their heads, and IU was nowhere near capable of playing the kind of sustained high-level basketball needed to take out the Buckeyes.
Indiana (11-9, 6-7) will host Minnesota (13-7, 6-7) on Wednesday night at 9 p.m. ET at Simon Skjodt Assembly Hall in Bloomington.
OVERALL (D)
Al Durham hit a 3-pointer to put IU in front 6-2 very early at Value City Arena.  'Hey, what do we have here,' you might have thought.
What we had was an immediate 19-0 response by Ohio State to claim a 21-6 lead with 10:50 left in the first half.  Indiana's scoring drought would span 7:14 of game clock and force the Hoosiers into catch up mode for the rest of the day.  It was the third straight game that Indiana fell behind by 13 or more in the first half.
"We're mindful that our starts have been slow," Indiana coach Archie Miller said afterwards. "A lot of it has to do with easy baskets we're not converting. We have a couple of point-blank shots we have to make."
While Indiana was able to recover from big early holes and beat Northwestern and Iowa, Ohio State was a different beast.  The Hoosiers got back to within five, but never closer.
"When you get down like that, it's hard when you're playing a team this good," Miller said.
The Hoosiers actually had the game within reach at 45-40 with 14:11 remaining.  But not long after Trayce Jackson-Davis' stool collapsed on the sidelines, the Hoosiers collapsed on the court. OSU put things away with a 19-4 run fueled by Indiana turnovers.
The theme of the day coming from the Indiana side was Ohio State's superior physicality.
"They were getting to their spots on the floor, their guards were crashing big time, their post players were getting underneath position on us," Trayce Jackson-Davis said.
Beyond ten points from Jerome Hunter, Indiana got no scoring production from its bench as its four freshmen went 0 for 4 from the field.
OFFENSE (D)
Ohio State followed a familiar blueprint for defending Indiana's ball screen offense.  Hard high edges put the Hoosier guards in sideways or retreat mode, shooters were run off the line, and and time the ball reached the paint, the Buckeyes collapsed.  IU was just 11-of-28 on 2-point shots before things got out of hand as OSU's physicality impacted the Hoosiers' in the paint.
For the game, Indiana's .926 points per possession represents their third lowest mark of the season and least since a Dec. 26 loss at Illinois.
"We have to be more physical around the rim, score better there," Miller said.
Turnovers were a problem throughout the game for Indiana and they played a role in Ohio State's big runs.  IU coughed it up eight times in the first half, and seven more times after the break.  The Buckeyes capitalized with 21 points off those mistakes.
"When we drive, we have to be strong with the ball. We can't have it raked out," Miller said.  "When you play Ohio State, they are physical on the ball.  Our guards' inability to draw assists, pass it and share it on drives hurt us.
"We can't play with 15 turnovers."
Indiana was once again its own worst enemy at the foul line (12-of-22), but there weren't nearly enough missed opportunities at the stripe to bridge this gap.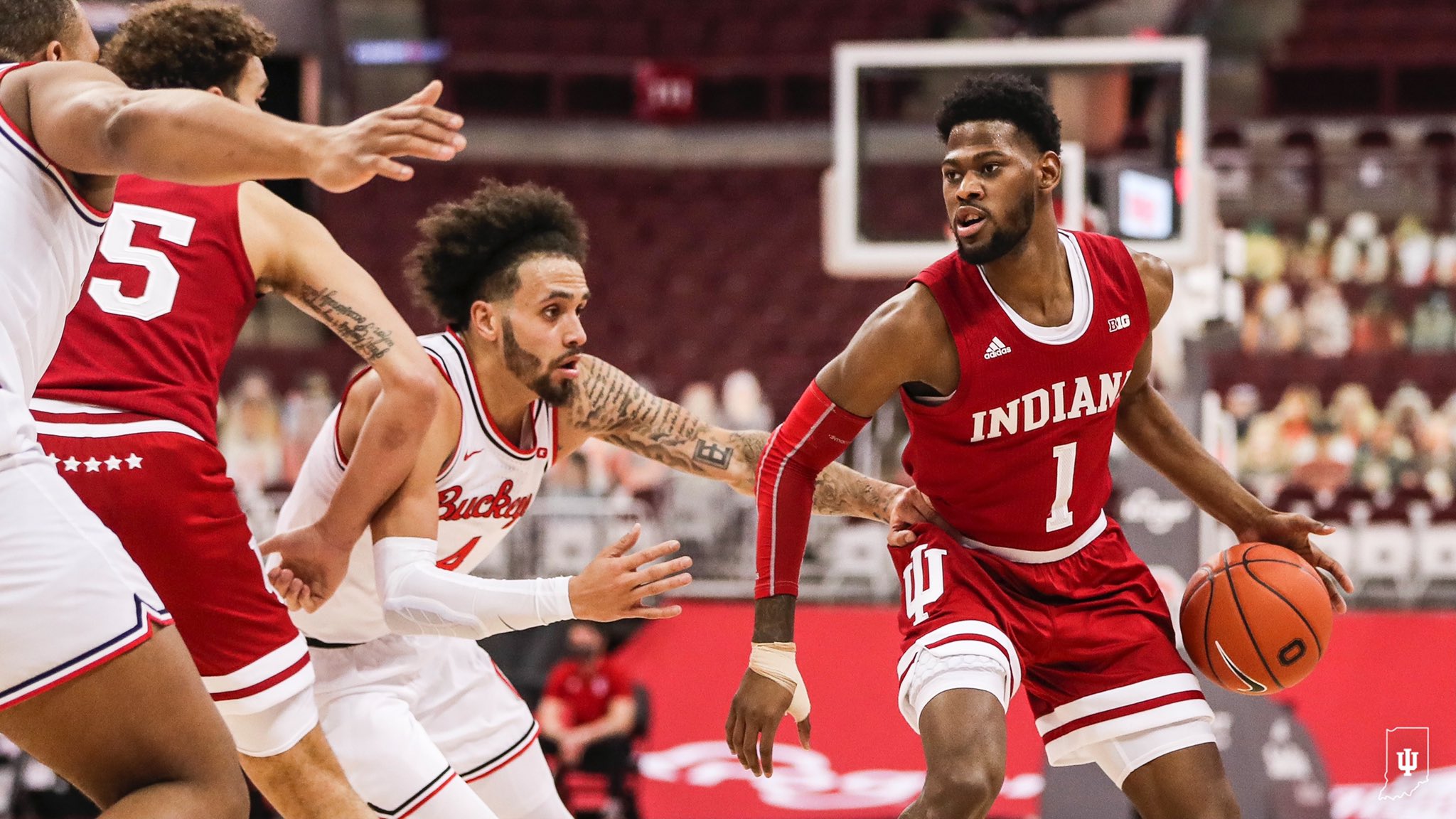 DEFENSE (D)
The marquee matchup of the afternoon was Indiana's defense against Ohio State's offense, and the Hoosiers delivered a dud.  The Buckeyes' 1.22 points per possession were the most IU has allowed all season.  They've allowed teams to have better shooting days, and forced fewer turnovers, but the backbreaker on this day were 12 Ohio State offensive rebounds that were converted to 20 second chance points.
"Our defense collapsed this game," Jackson-Davis said after the game.  To be more specific, Indiana's defense collapsed on the defensive backboards.
The Hoosiers probably could have survived Ohio State shooting 48.2 percent from the field, and the Buckeyes' ten turnovers created some scoring opportunities going the other way.  But highlighted by five offensive rebounds each from Justice Sueing and Zed Key, OSU beat Indiana on the boards all afternoon, whether by missed block-outs or missing effort.
Second chance points, along with a few turnovers that resulted in breakaways going the other direction were enough to keep Ohio State's lead at an insurmountable level, and ultimately blow the game open.
---
MORE GAME COVERAGE
---
THE PLAYERS
Trayce Jackson-Davis (C+ / player of the game) Jackson-Davis was sped up early on offense and admitted to a slow start but ultimately finished 10-of-14 from the field, although seven of his points came in garbage time.  It is worth noting that he doesn't have a blocked shot in either of the last two games.
Armaan Franklin (D) It is rare for Franklin to be a non-factor on both ends of the floor, but sophomore star had little going on in this one, including appearing to lose his man on multiple occasions.
Race Thompson (D+) Foul trouble took Thompson out of this game.  He scored four of his nine points in the final minutes, and hasn't been as impactful over the last two games.
Al Durham (D) It spells trouble when Durham isn't shooting well and he is turning it over.  Recently a red hot free throw shooter, he even missed those while playing with a taped right hand.
Rob Phinisee (D) His spinning drive and basket was everything you want to believe he can be, but there wasn't much more to his day as the perimeter shooting struggles continue.  Phinisee has made just three of his last 15 shots from long range, and that might be why he played just 19 minutes.
Jerome Hunter (C) Hunter provided a much needed scoring boost, but also drew a technical foul and had a couple turnovers as he made an unsteady entrance into the game.
Khristian Lander (D)  Lander continues to make exceptional passes, but his brief run of shooting success has faded, and he had a couple defensive lapses and four turnovers.
Trey Galloway (C) Had a nice sequence with a steal and well timed pass to Durham going the other way, but overall Galloway appears to be less than 100 percent, and it shows on both ends.
Jordan Geronimo and Anthony Leal also played in the game.
Player of the game tracker:  Jackson-Davis (7), Thompson (5), Phinisee (3), Franklin (3), Durham (2).
Player Notes:  Joey Brunk had back surgery and continues to be on an uncertain timeline.  Transfer Parker Stewart was at the game but on an uncertain timeline.
---
Find us on Facebook:  thedailyhoosier
The Daily Hoosier –"Where Indiana fans assemble when they're not at Assembly"
Seven ways to support completely free IU coverage at no additional cost to you.