After losing to Stanford in blowout fashion on Sunday, Indiana women's basketball got back on track.
The Hoosiers handled business against Murray State on Friday, coming away with a 112-79 win at Simon Skjodt Assembly Hall in Bloomington.
IU broke the game open early, closing the first period with a 27-12 lead. Murray State hung around and kept fighting in the second and third quarters, as Indiana's defense had some lapses at times and allowed the Racers some good offensive looks. But the Hoosiers went on a run in the middle of the third quarter and continued that momentum through the final period.
Indiana, as a team, went 7 for 19 from 3-point range Friday. The Hoosiers particularly struggled in that area in California on Sunday, when they shot 5 for 32 from beyond the arc.
The Hoosiers had six players score in double figures, with Sara Scalia leading the way. The fifth-year senior finished with 22 points on a 6-of-14 line, along with an 8-for-8 mark at the free-throw line. She went 2 for 6 from 3-point range.
Graduate student Mackenzie Holmes recorded her first double-double of the season, with 20 points and a team-high 10 rebounds. She shot 8 for 15 from the field.
Senior Chloe Moore-McNeil and sophomore Yarden Garzon both scored 14 points, and they tied with a team-high five assists.
Sophomores Lexus Bargesser and Lilly Meister each scored 12 points off the bench to set new career-highs. Meister did so on a 6-f0r-7 line, with seven rebounds. Bargesser shot 5 f0r 12 from the field.
IU is back in action on Sunday against Lipscomb.
1️⃣1️⃣2️⃣ points on our court.

Highlights from our win over Murray State. 🎥 pic.twitter.com/XKivhEWo0W

— Indiana Women's Basketball (@IndianaWBB) November 18, 2023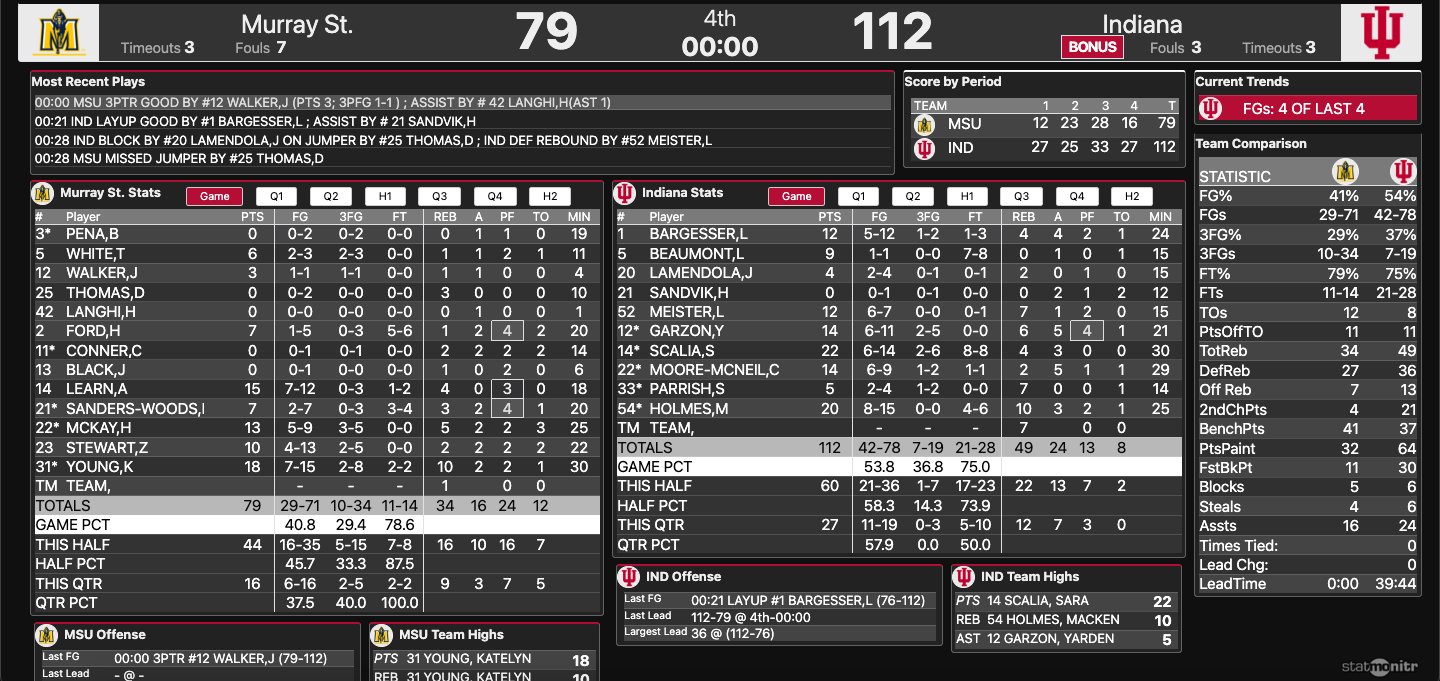 The Daily Hoosier –"Where Indiana fans assemble when they're not at Assembly"