If you haven't seen or heard a Tom Allen interview this week, you haven't been paying attention.
SportsCenter, CBS Sports, Stadium, multiple radio spots, interviews for print media — and there were several more.  We try to cover what Allen says publicly each week, but honestly, at some point, we last track.
Obviously the win over Penn State was a national story.  The late-game drama, the top-10 opponent, the generational victory — everyone wanted a piece of Allen this week, and he was all too happy to oblige.
IU of course has a game on Saturday.  Will the Hoosiers be prepared for Rutgers with their head coach so distracted?  That will no doubt be a talking point if Rutgers does indeed win on Saturday.
But according to Allen, his program has been planning for such a week.
The fourth year head coach gave up his defensive coordinator responsibilities going into the 2019 season.  One of the many reasons why that decision was made was to free up Allen to become more of a program ambassador.  Allen said as much when the decision was announced.
There is an expression in college athletics that recruiting never stops.  It wasn't enough to just beat No. 8 Penn State.  This week, it became Allen's job to capitalize on the moment, and keep the IU program at the forefront of the national conversation.
The media part has only part of the equation.  Behind the scenes, Allen is working just as hard with top recruiting targets.
"The bottom line is, this has been a huge opportunity for our program, a great opportunity to get recruits on the phone and parents on the phone," Allen said.  "Just talking to them, they all watched the game, they all are buzzing about how everything finished, the way we handled the finish, the way we were prepared for the finish, the way we executed everything at a at a very high level, at a very intense time and under a lot of difficult circumstances."
A meaningful part of Allen's recruiting pitch centers around the culture he has built in Bloomington.
To that end, the post-game locker room scenes were just as valuable as the results on the field.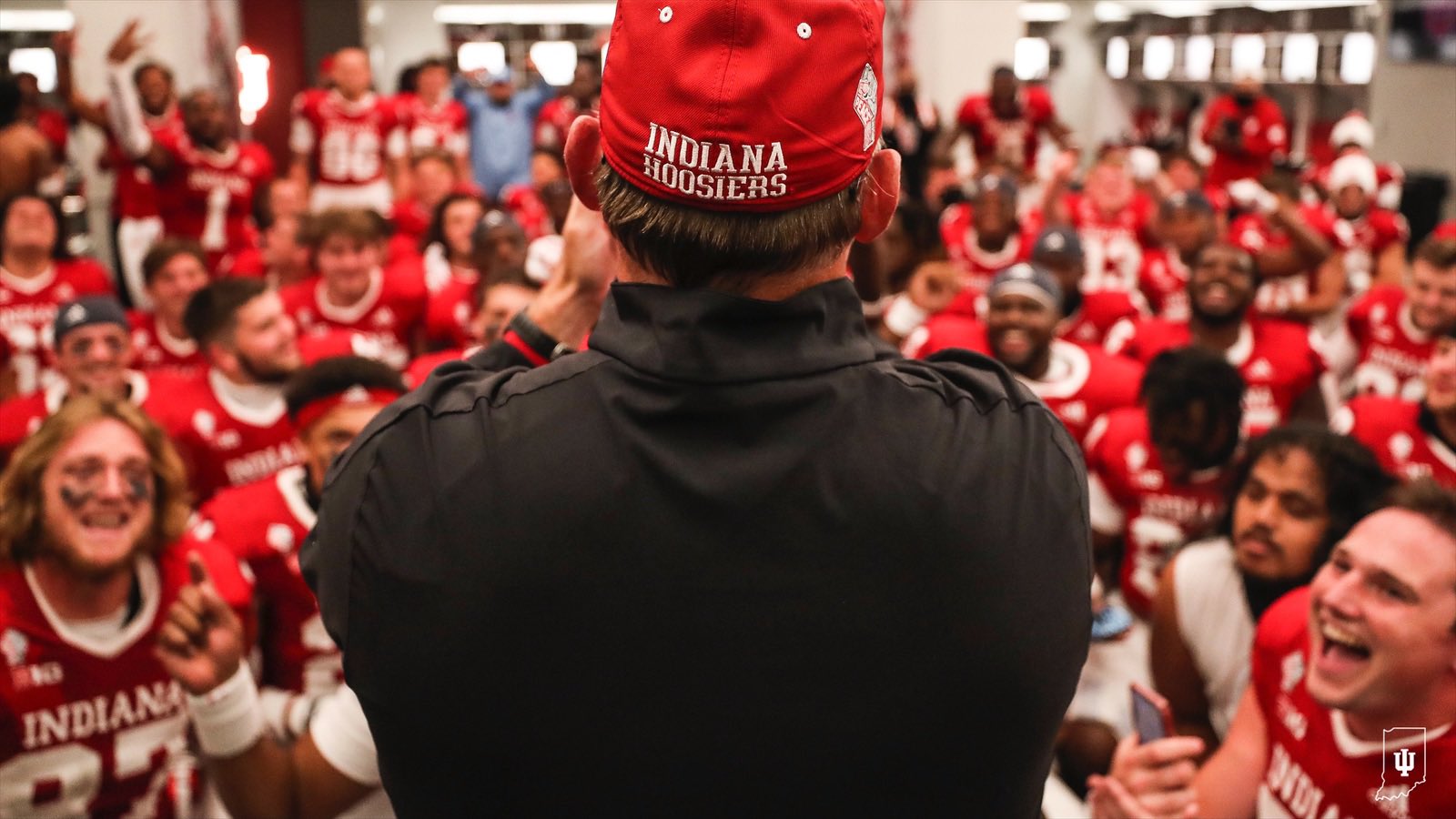 "You can talk all you want about culture, but all I had to do was send them the video of the locker room," Allen said.
If he hadn't given up the defensive play-calling duties to Kane Wommack, Allen would not have been fully prepared to take advantage of this moment.
"That is one advantage of me not calling the defense and being able to take that time to, obviously, leave the room and go take care of those interviews and things that we are doing to really help promote our program, which has been awesome, Allen said.
"The bottom line is, it is a great opportunity for us. We have a great staff. I delegate to these guys and I trust them."
Of course every minute of Allen's away from the game planning for Rutgers is a minute lost on that front, even with a staff he trusts.
If he isn't careful, this week's interviews with the Indiana coach could be next week's with Rutgers head coach Greg Schiano, whose team pulled off a stunning upset of their own last weekend against Michigan State.
Indiana defeated Rutgers 35-0 last year and has controlled the series lately.  No amount of rah rah speeches from Allen were going to cause his players to forget that.
But Rutgers' own big win last weekend might.
Allen believes Rutgers' 38-27 triumph in East Lansing will help sharpen his team's focus.
"I think it was huge," Allen said of Rutgers win.  "I was actually thankful for that in some ways, just being honest. You can say things a certain way, but if you put the film in and the film does not match, these guys are pretty smart guys. They know what the film means. When you put the film in, they are a completely different team than we played a year ago."
So his players won't be overlooking the Scarlet Knights.  That is good.  But the fact remains, Allen lost time for Rutgers this week due to his media blitz.
Or so it would seem.
Perhaps it wasn't as well thought out as the rest the plan, but Allen did take into account that there would be game planning and preparation time lost.
"Basically, I just got less sleep," he said.
And even for that, there is a strategy.
"That is a great problem to have at this point, so I will sleep when the season is over," Allen said.
---
Find us on Facebook:  thedailyhoosier

The Daily Hoosier –"Where Indiana fans assemble when they're not at Assembly"
Seven ways to support completely free IU coverage at no additional cost to you.