A Nigerian flag made waves during freshman forward Mackenzie Mgbako's official visit to IU.
Mgbako is of Nigerian descent, and he took photographs and videos while in Bloomington with the flag that the IU staff gave him on the visit.  People in his circle said the flag made a strong impression on Mgbako and his family.
Recruiting insider Andrew Slater posted a short video on Saturday from 2024 5-star Liam McNeeley's current visit to IU, and once again Indiana seems to be on top of its flag game.
Here's the video Slater posted to Twitter:
⭐️⭐️⭐️⭐️⭐️ Liam McNeeley'24 @liammcneeley30 of @MVABasketball & @fl_Rebels on his official visit to Indiana 👀#iubb 🎥📞 pic.twitter.com/WtNJnUn5Zu

— 𝒜𝓃𝒹𝓇ℯ𝓌 𝒮𝓁𝒶𝓉ℯ𝓇 (@Andrew__Slater) September 9, 2023
Did you catch that Whataburger flag?
Whataburger is a Texas based burger chain.
McNeeley, who lives in Richardson, Texas, said this summer in an interview Whataburger was a dream name, image and likeness deal for him.  He's also a big fan of the Dallas Mavericks, whose owner Mark Cuban is an IU alumnus and recently said he got engaged at a Whataburger — for whatever that's worth.
Both McNeeley's mother, Ashley Elsey and his uncle Chad Elsey took note of the Whataburger flag.
This kid loves @Whataburger and I'm feeling a potential marriage there.

— Chad Elsey (@juryverdicts) September 9, 2023
Slater also posted a video of McNeeley's Montverde Academy teammate Derik Queen, who is also on a visit in Bloomington this weekend.
No flags were noted this time, but much like McNeeley and Mgbako's videos, head coach Mike Woodson can be seen playfully engaging with the the top-10 prospect.
Woodson danced with Mgbako, imitated McNeeley's "call me" gesture, and appears to be boxing out the 6-foot-9 Queen.
⭐️⭐️⭐️⭐️⭐️ Derik Queen'24 @derikqueen1 of @MVABasketball & @TeamThrillUAA on his official visit to Indiana #iubb 🔴⚪️👑🔴⚪️ pic.twitter.com/I5yMVyc1LR

— 𝒜𝓃𝒹𝓇ℯ𝓌 𝒮𝓁𝒶𝓉ℯ𝓇 (@Andrew__Slater) September 10, 2023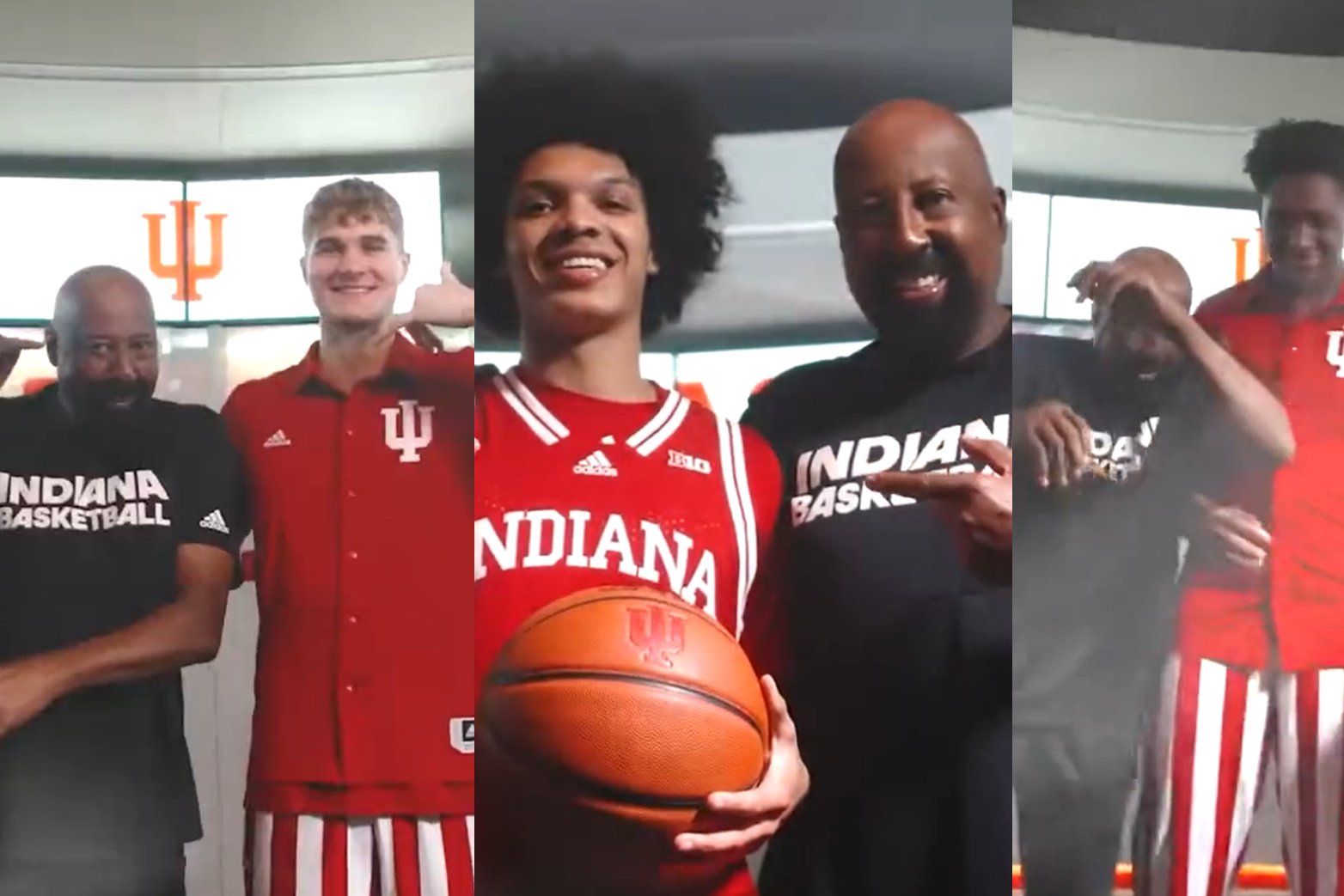 Slater also posted a video of Curtis Givens' IU visit, also this weekend.
Givens is a teammate of McNeeley and Queen and Montverde.
There was a clear heavy family influence on Givens' visit.
⭐️⭐️⭐️⭐️ Curtis Givens'24 @lilcurtis_3 of @MVABasketball & @MokanBasketball on his OV to Indiana 👀 #iubb 🔴⚪️🎯 pic.twitter.com/N7W3qQV7h3

— 𝒜𝓃𝒹𝓇ℯ𝓌 𝒮𝓁𝒶𝓉ℯ𝓇 (@Andrew__Slater) September 10, 2023
For more background on McNeeley, Queen and Givens, GO HERE:
"We deserve to sit at the table with the best players" — Massive IU basketball recruiting weekend on tap
The Daily Hoosier –"Where Indiana fans assemble when they're not at Assembly"