Indiana has joined the turnover prop craze that has swept through college football over the last decade.
And IU's foray into a trend that includes chains, thrones, sunglasses, chainsaws, even a seatbelt, stands alone because of a unique connection within the program.
And it's the real deal.
First of all, IU coach Tom Allen wants you to get the name right.
When it comes to his defense, there is no such thing as a turnover.  That's too passive.
"It's a takeaway belt," Allen said on Monday.  "That's the proper term."
The commitment to Indiana by a walk-on created national buzz in the spring of 2022.
Declan McMahon is no ordinary walk-on.  He's the son of WWE wrestler Shane McMahon, and the grandson of WWE founder Vince McMahon.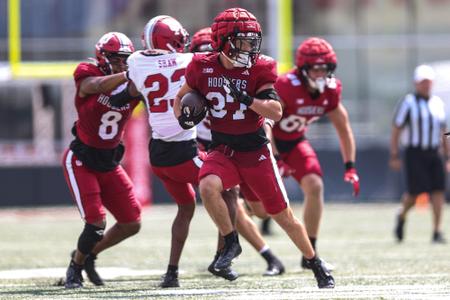 Declan has largely operated under the radar during his first year at IU, but when sixth-year defensive back Noah Pierre was looking for a unique way for IU to enter the mix, he knew where to turn.
"He (Pierre) got with Declan McMahon and obviously we've got the WWE connection with that. It's pretty cool," Allen said.
The belt Declan secured for the program looks very much like the ones you've seen WWE champions hoist above their heads through the years.
It's custom made with an IU logo and the program's "LEO" mantra, however.  And the first thing that stood out to Allen when he saw it — it was no ordinary prop.
"When they brought it to me, I was like, holy smokes, it's legit," Allen said.  "It's heavy. It's big."
When cornerback Nic Toomer secured an interception on Friday night against Indiana State, he said the belt was the first thing he looked for when he got to the sideline.  But it took a while for it to surface.
A WWE-like drama ensued.  Where is the belt?  Who was responsible for getting it to Toomer after his interception?
"We're gonna handle that," Toomer said playfully after the game.
Linebacker Jacob Mangum-Farrar said it isn't clear who gets to hold up the belt on a takeaway with multiple players involved, like a strip-sack, followed by a fumble recovery by another player.
It seems like all of the logistics of the belt still seemed to be worked out.
But one thing Allen knows for sure — he wants to see more of it.
"The guys love it. But more than anything, as you guys know since I've been here, it's a huge emphasis, takeaways on defense. That's how you win games," Allen said.  "We only got two. So not near enough.  They (Indiana State) didn't put the ball in harm's way Friday night but we've got to create more takeaways.
"That's just another way to have some fun with it. The guys enjoy it, without question, and it is a pretty cool little thing."
---
The Daily Hoosier –"Where Indiana fans assemble when they're not at Assembly"