The Big Ten Conference has a new leader.
The league announced on Wednesday that Tony Petitti will serve as its new commissioner, effective next month.
Petitti will replace Kevin Warren, who served in the role for nearly four years before taking an executive position with the Chicago Bears.
Here is the full release from the Big Ten on the new commissioner.
ROSEMONT, Ill. – The Big Ten Conference Council of Presidents and Chancellors (COP/C) announced today that Tony Petitti has been named the seventh commissioner of the Big Ten Conference. He will begin his tenure on May 15. He replaces Commissioner Kevin Warren, whose final day with the Big Ten Conference is Friday, April 14. Warren was named president and chief executive officer of the Chicago Bears.
Petitti is a proven leader who brings nearly four decades of sports, business and media industry acumen to the Big Ten Conference. He served as deputy commissioner and chief operating officer of Major League Baseball and president and chief executive officer of MLB Network.
A 14-time National Sports Emmy Award winner, Petitti has held senior executive roles at CBS Sports and ABC Sports overseeing rights acquisition deals for a variety of sports leagues and collegiate and professional sports events, including the NCAA Men's Basketball Tournament, regular season men's basketball, college football, NFL, PGA Tour, the Masters, U.S. Open Tennis Championships, and the Little League World Series, as well as leading in the creation of the Bowl Championship Series to determine college football's national champion.
The search for the seventh Big Ten Conference commissioner was led by the Big Ten Council of Presidents and Chancellors' Executive Search Committee. University of Maryland President Darryll J. Pines served as chair alongside University of Minnesota President Joan Gabel, The Ohio State University President Kristina M. Johnson, and Chair of the Council of Presidents and Chancellors and University of Illinois Chancellor Robert Jones.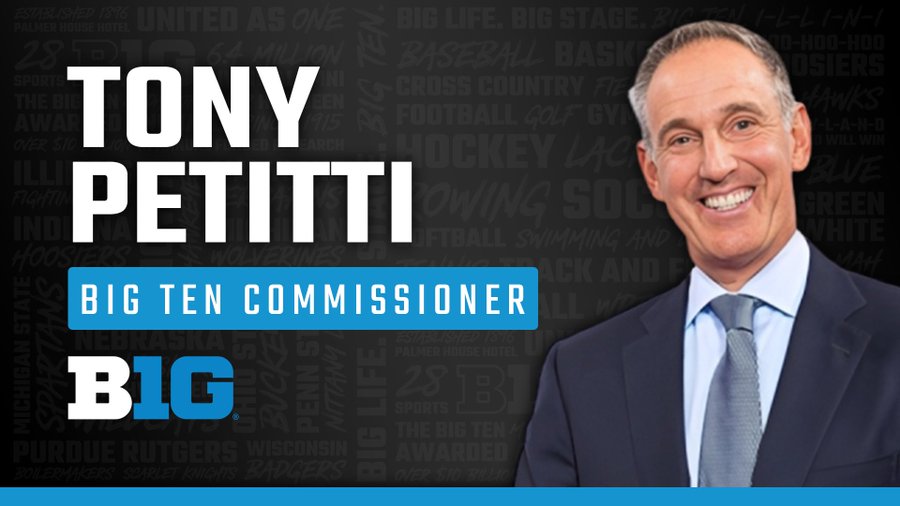 "I would like to thank all the candidates who spent time with us during the commissioner search process as each illustrated outstanding leadership qualities and a breadth of experience," President Pines said. "The Big Ten Conference is in an extraordinary position of strength. Tony's capabilities to navigate the complexities of changing marketplace environments, history as a collaborative leader, and passion for academics and collegiate athletics made him the right leader, at the right time, for the Big Ten Conference."
TurnkeyZRG, a leading talent recruitment firm in sports, entertainment, music, and media assisted the Big Ten Conference Council of Presidents and Chancellors. TurnkeyZRG conducted a comprehensive and inclusive recruitment process that delivered a diverse slate of potential candidates from within collegiate athletics, professional sports, media, government and more.
"We are at a time in collegiate athletics that we need leaders with innovative forethought, the highest principles, and a spirit of fairness and partnership," Chancellor Jones said. "Tony brings a dynamic style of leadership and impeccable integrity to the conference. The entire Council of Presidents and Chancellors is thrilled to have him serve as the seventh commissioner in Big Ten Conference history."
The 14 current Big Ten Conference member institutions, in addition to the two new members who will join the conference in 2024, participated in the interview process and the final selection of Petitti.
"At this important and transformational time in collegiate athletics, it is truly my great honor to be chosen by the Council of Presidents and Chancellors as the commissioner of the Big Ten Conference," Petitti said. "I am energized to work alongside the best athletics directors, coaches, conference staff and board in the country as – together – we continue to elevate the academic and athletic experiences and resources for our 14, soon-to-be 16, world-class universities with nearly 10,000 incredible student-athletes. Thank you to the extraordinary people and places that have led me to this next challenge in my career. I am ready to get to work for the Big Ten Conference community."
Most recently Petitti was recruited by Liberty Media and The Baupost Group to serve as an advisor to evaluate sports and media properties.
As Deputy Commissioner and Chief Operating Officer for Major League Baseball (2014-2020), Petitti was involved in all aspects of MLB including leading broadcast and digital media, special events (All-Star Game, Home Run Derby, MLB postseason scheduling and operations), MLB Network, MLB social media, consumer products and licensing, marketing, youth development, international, and security.
He closely collaborated with 30 MLB team owners and presidents, and key business and operational partners to incorporate ideas and feedback to improve the creation and execution of strategic initiatives. Petitti also participated on MLB's Competition Committee.
As President and Chief Executive Officer of MLB Network (2008-2014), Petitti led the imagination, creation, buildout and launch of MLB Network in 50 million homes which, at the time, was the largest launch of a cable network in history. Petitti's vision touched every aspect of content and operations including programming, on-air talent, production team, studio creation, and supporting facilities.
Prior to MLB, Petitti was the executive vice president of CBS Sports (2002-2008) and was an integral part of the network's NFL coverage. He led the sports programming division and had added responsibility as executive producer for all CBS Sports telecasts. Read full biography.
---
The Daily Hoosier –"Where Indiana fans assemble when they're not at Assembly"