BLOOMINGTON — In a battle of top-10 teams at Simon Skjodt Assembly Hall, it was Indiana who came away victorious.
The sixth-ranked Hoosiers outlasted the ninth-ranked Terrapins for a 68-61 win on Thursday.
Indiana (15-1, 5-1 Big Ten) took control of the game in the second quarter. The Terps (13-4, 4-2) scored just seven points in the period, the fewest points they've scored in any quarter all season. The Hoosiers led by 10 at multiple points in the second and third quarters, but missed some opportunities to really pull away with the game.
And the Terps — as good teams do — kept fighting. They tied the game at 50, briefly, in the fourth quarter. But Indiana didn't bat an eye. The Hoosiers responded with one of their most impressive runs of the season, quickly regaining momentum on a 57-50 run. Freshman Yarden Garzon hit a 3-pointer, perhaps the biggest shot of the night for IU, to take back the lead.
Garzon stepped up in the second half, with eight points, to finish with 11 on the night, with a 3 for 5 mark from 3-point range. She also grabbed six rebounds.
Both teams are normally good at avoiding turnovers, but that wasn't the case Thursday. Indiana committed 19 turnovers, while Maryland gave away 16. The game became very physical in the second half, which added to those miscues.
Sydney Parrish paced Indiana's offense, particularly in the first half. She went 3 for 5 from 3-point range in the half with 13 points, and finished with 18 points on the night. She played with her typical high motor and high energy, turning that into three steals and a block.
Mackenzie Holmes feasted in the paint when she had the opportunity to. Maryland played her very physically inside, and Indiana found an offensive rhythm through other players at times. But she remained IU's most consistent weapon on offense, with 15 points on a 7-of-10 line, and 10 rebounds.
Grace Berger played her first home game since returning from her knee injury, and though she didn't appear physically limited, her typically reliable mid-range jumper was off the mark more than usual. She shot 3 for 9 for 11 points, and added four rebounds, eight assists, and four steals.
Chloe Moore-McNeil had another big performance on both ends. She made multiple defensive plays in the fourth quarter with the game hanging in the balance, and finished with four steals and one block. She also put up eight points and seven rebounds.
The Hoosiers remain at home for their next game, as Wisconsin visits Bloomington on Sunday afternoon.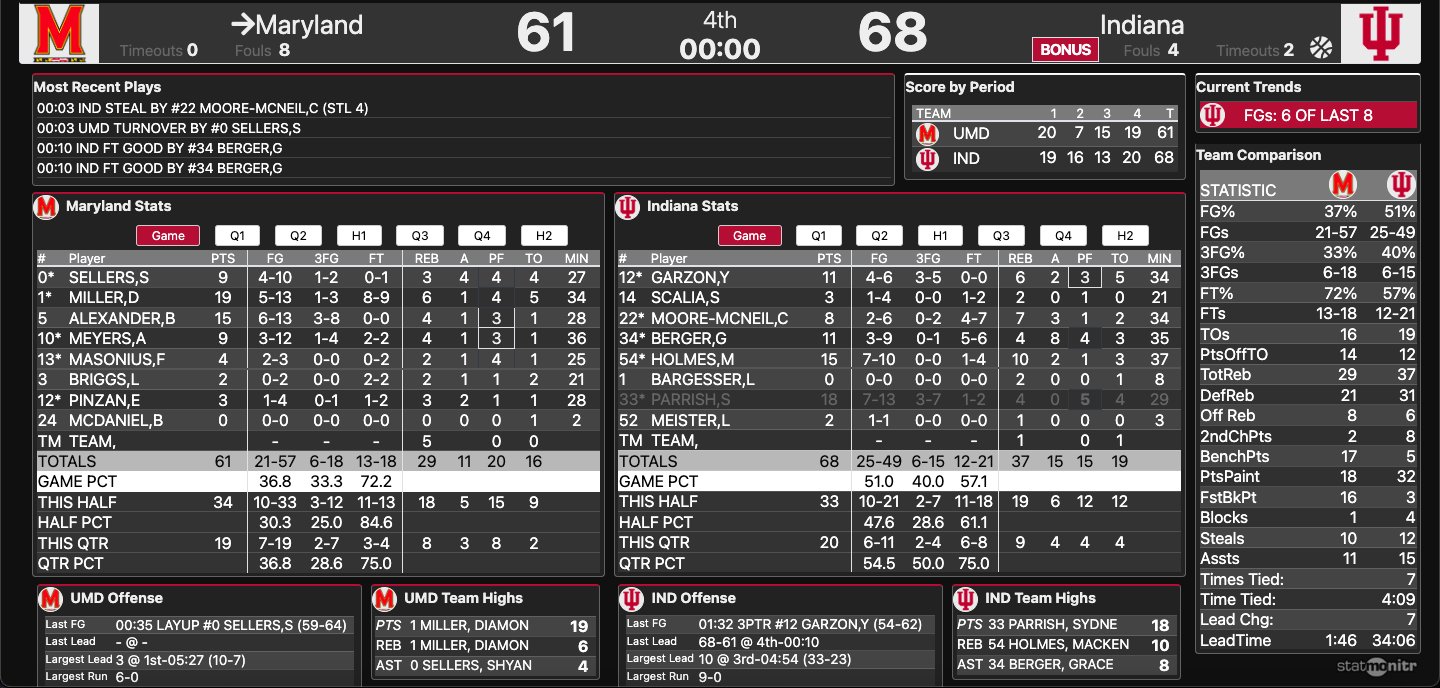 The Daily Hoosier –"Where Indiana fans assemble when they're not at Assembly"