With a sudden end of June decision timeline that arose soon after a Maryland visit, class of 2023 wing Jamie Kaiser looked like a pretty heavy lean to end up with the Terrapins.
And that may very well be where he lands.
But the end of June timing appears to be no longer, and IU head coach Mike Woodson may have played a role.
Woodson made Kaiser a priority on Friday night during the first day of a live recruiting period that allows college coaches to watch players in person.  The Indiana head coach flew out to the Washington D.C. area for an event at DeMatha High School to see Kaiser and his Bishop Ireton squad.
247Sports national recruiting analyst Dushawn London is reporting that Kaiser is in "no rush to make a decision" now and mentioned Woodson's presence on Friday evening.  The reporter for the Maryland 247Sports site had a similar message.
"(Kaiser) Had planned on deciding this month, but now look as if he'll continue evaluate options & newer schools coming into the fold," Colby Giacubeno wrote on Twitter.
Giacubeno reported Kaiser was having a massive weekend at the "DMV Live" event at DeMatha, averaging 30 points and 8 rebounds through three games.  His ability to score the basketball from all three levels is a major draw for Indiana as the Hoosiers seek the combination of perimeter shooting and length in the 2023 class.
Despite the fact that Kaiser cut his list down to nine schools, new suitors have continue to inquire, including most recently UCLA and Kentucky.  That also appears to have him rethinking his timeline.
Kaiser told The Daily Hoosier on June 7 he was working to set up a visit with Indiana.  The IU staff is still trying to get that visit set up.
A visit to Bloomington is obviously the key milestone to watch for, and what we'll continue to monitor.
Here is an interview with Kaiser from earlier in the day on Saturday.
Jamie Kaiser @J_Kaiser53 who's now averaging 29.5 over two games. pic.twitter.com/x8SfHUbHyc

— DMV Live (@DMVHoopsLive) June 18, 2022
You can see Woodson and assistant Yasir Rosemond sitting next to the Maryland staff in this photo, via Jack Herron on Twitter.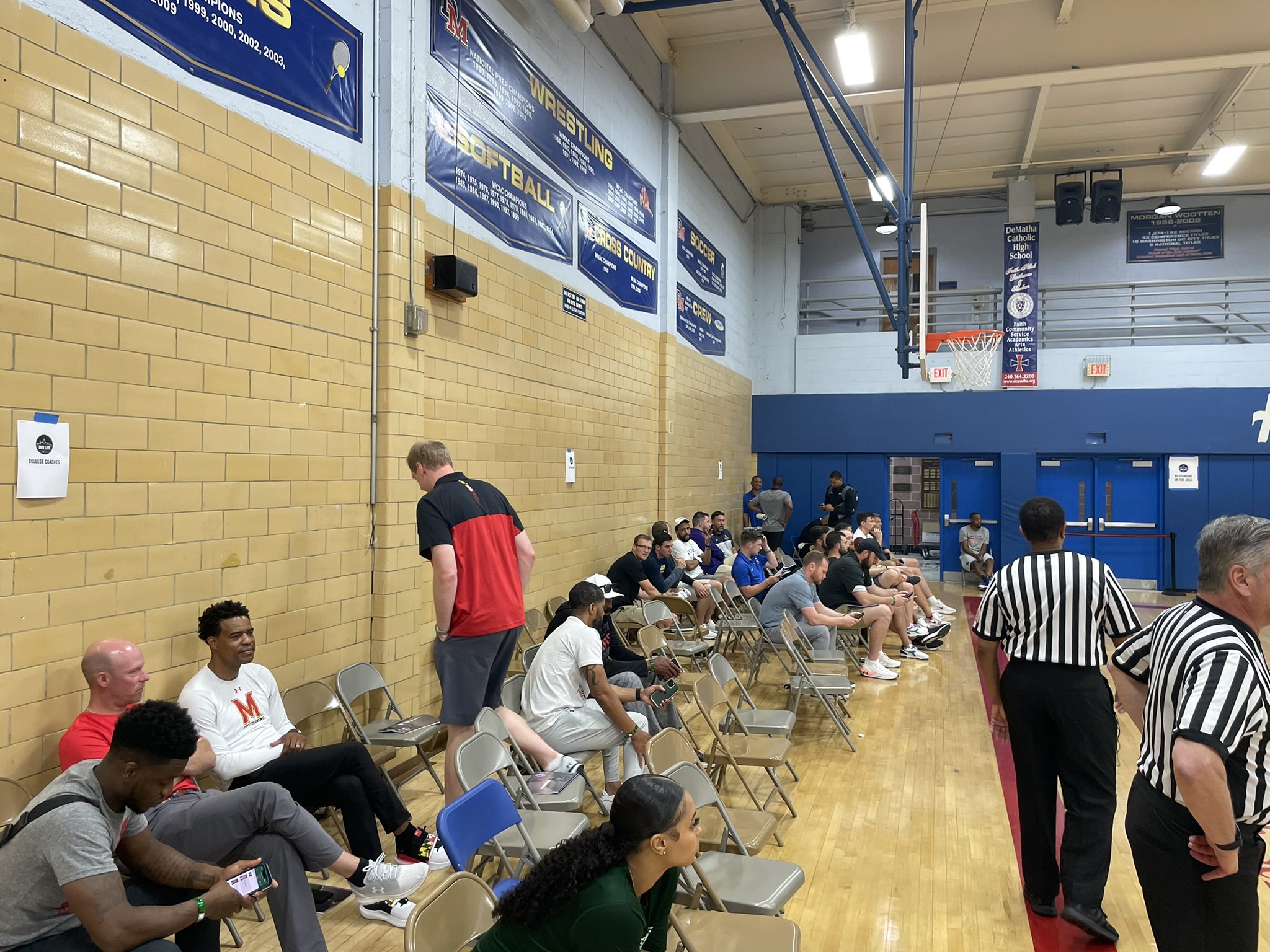 The Daily Hoosier –"Where Indiana fans assemble when they're not at Assembly"