Indiana Director of Athletics Scott Dolson sent an e-mail to Indiana fans on Tuesday in response to the decision by the BIg Ten to postpone all fall sports to the spring.
IU head football coach Tom Allen also released a statement.
The full letter from Dolson follows the statement from Allen.
See also:  Commissioner Warren discusses postponement of fall sports
---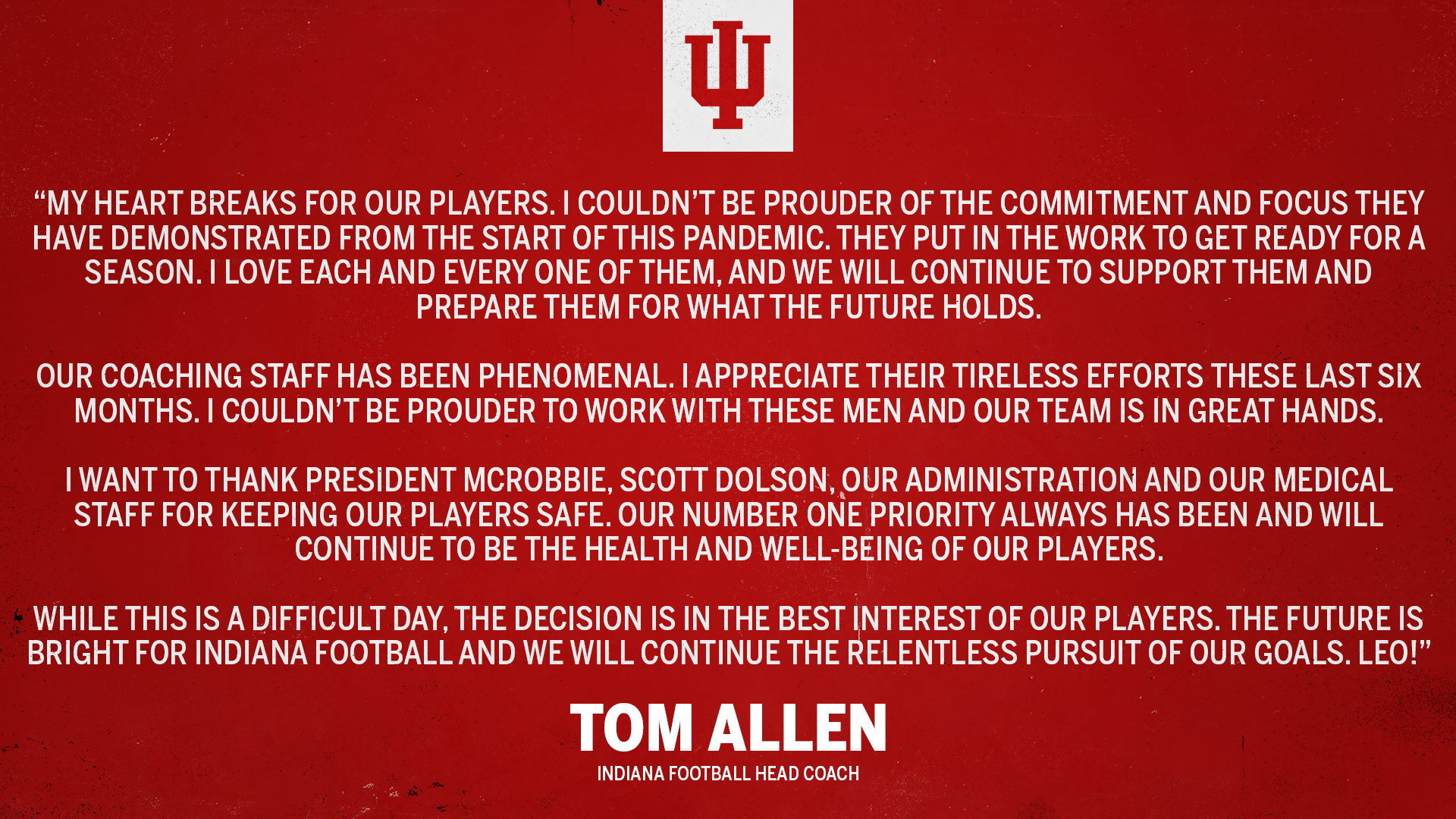 ---
Dear Hoosier Fans,
Earlier today, the Big Ten Conference announced that due to health and safety concerns raised by the ongoing COVID-19 pandemic, all Big Ten fall sport intercollegiate athletic competitions have been postponed.
The announcement means a lot of things to a lot of people. For our fall sport student-athletes who have spent the last five months finding creative ways to prepare for the fall sports calendar, it's devastating. I have been amazed and moved by our students' perseverance this spring and summer as they have done everything we have asked of them while they have been away from campus and after many returned to Bloomington for voluntary workouts. This is a bitter pill for them and their families to swallow.
I am disappointed for our coaches and departmental staff, all of whom have worked tirelessly behind the scenes to respond to this pandemic without any semblance of a roadmap. They have collectively put in countless hours to plan, respond, pivot and react to this health crisis, all in an effort to support our students in their effort to return to competition this fall.
I am also saddened for our tens of thousands of fans and alumni who love the chance to enjoy a sun-soaked football Saturday afternoon at Memorial Stadium, or enjoy an IU soccer match at Bill Armstrong Stadium on a crisp autumn evening.
I know how much this postponement saddens all of you, because, as a lifelong Hoosier, I know how much it pains me. I am heartbroken.
But for all of the disappointment surrounding the decision, it's also, unfortunately, necessary. As an institution, as a department and as a conference, we have never lost sight of the fact that our No. 1 priority is the health and safety of our students, staff, fans, and university and local community. That's why we said from day one that we would heed the advice of the medical professionals when determining the proper course of action.
As difficult as this day is, I know that collectively, we will emerge from this stronger than ever.
I thank you for your understanding and continued support of IU Athletics.
Go IU!
Scott Dolson
Vice President, Director of Intercollegiate Athletics
---
Find us on Facebook:  thedailyhoosier

The Daily Hoosier –"Where Indiana fans assemble when they're not at Assembly"
Seven ways to support completely free IU coverage at no additional cost to you.