With a month of the season remaining before Selection Monday, the NCAA Division I Women's Basketball Committee has tabbed Indiana as a No. 4 seed in the first top-16 early reveal.  UConn, South Carolina, Stanford and Louisville are the current projected No. 1 seeds.
Monday's reveal was the first of two being provided this season by the committee, with the second taking place on March 1 at halftime of the Baylor-Texas game on ESPN2. The announcement of the 64-team, 2021 NCAA Division I Women's Basketball Championship bracket will take place on Monday, March 15 during the ESPN Selection Show (7 p.m. ET).
Unlike a typical season, a No. 1 through 4 seed will not translate to early round games at home.  It was recently announced that San Antonio and the surrounding region will play host to the entire 2021 championship, with teams competing from March 21 through April 4 to earn the right to hoist the national championship trophy at the Alamodome.
In the midst of a four-game winning streak, AP top-25 No. 14 Indiana (13-4, 11-2) returns to action on Thursday against No. 11 Michigan in Bloomington.  That game tips at 6 p.m. and will be televised on BTN.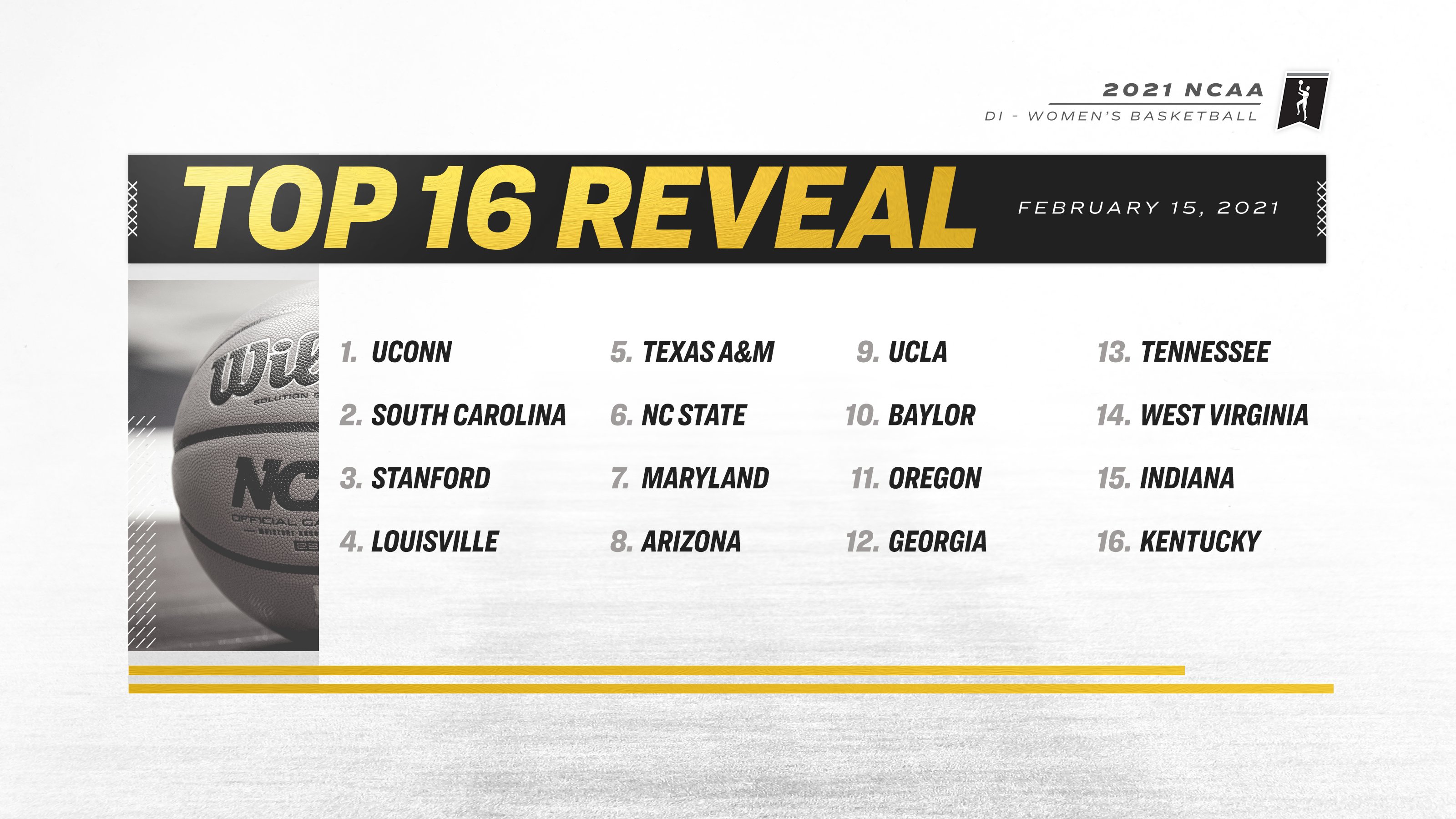 TWO HOOSIERS HAVE OPTED OUT IN THE LAST WEEK
While things have been going well on the floor for IU, there have been some roster challenges to navigate recently.
Senior guard Jaelynn Penn and redshirt junior Danielle Patterson have both opted out for the remainder of the 2020-21 season.
The phrase "opt out" is somewhat unique to the 2020-21 campaign and should not necessarily be read to mean that the players have suffered season-ending injuries or are transferring.  The Daily Hoosier asked IU for clarification on the decisions and only received the following response from the school on Monday afternoon:
"Danielle Patterson and Jaelynn Penn have opted out the remainder of the 2020-21 season."
Head coach Teri Moren spoke briefly about Patterson's decision after a win over Illinois on Sunday.
"She and her family have decided it's best for her to step back, and so she's opted out," Moren said postgame.
Prior to the previous Sunday's game at Iowa, the program announced that Penn would opt out of the remainder of the 2020-21 season.
The 5-foot-10 Penn was averaging 9.5 points and 4.9 rebounds per game this year while contending with injuries.  She has been a key contributor since her freshman season and has amassed 1,274 career points while achieving All-Big Ten recognition each of the last two seasons.  Penn will have the option to return in 2021-22 due to the NCAA granting an extra year of eligibility to all players for this season.
Patterson, who transferred in from Notre Dame, averaged 1.7 points and 1.7 rebounds in 15 appearances for IU this season.
In the absence of Penn and Patterson, Moren is of course looking to other players to take on a bigger role.
"Just like you would if a kid was injured, if you had an injury and didn't have the services of that young lady, it could be different scenarios, you have to rely on the guys that are in your locker room," Moren said on her radio show on Monday night.
Indiana went 11 players deep into its rotation against Illinois on Sunday.
---
Find us on Facebook:  thedailyhoosier
The Daily Hoosier –"Where Indiana fans assemble when they're not at Assembly"
Seven ways to support completely free IU coverage at no additional cost to you.