IU football is back on Saturday hosting No. 16 Penn State in Bloomington.
The Daily Hoosier is live at Memorial Stadium.  Join us for updates throughout the day, and participate in the discussion thread below.
The game will be televised on ABC and kicks off at 3:30 p.m. Eastern.
Refresh the page for updates before, during, and after the game and stay tuned for post-game coverage.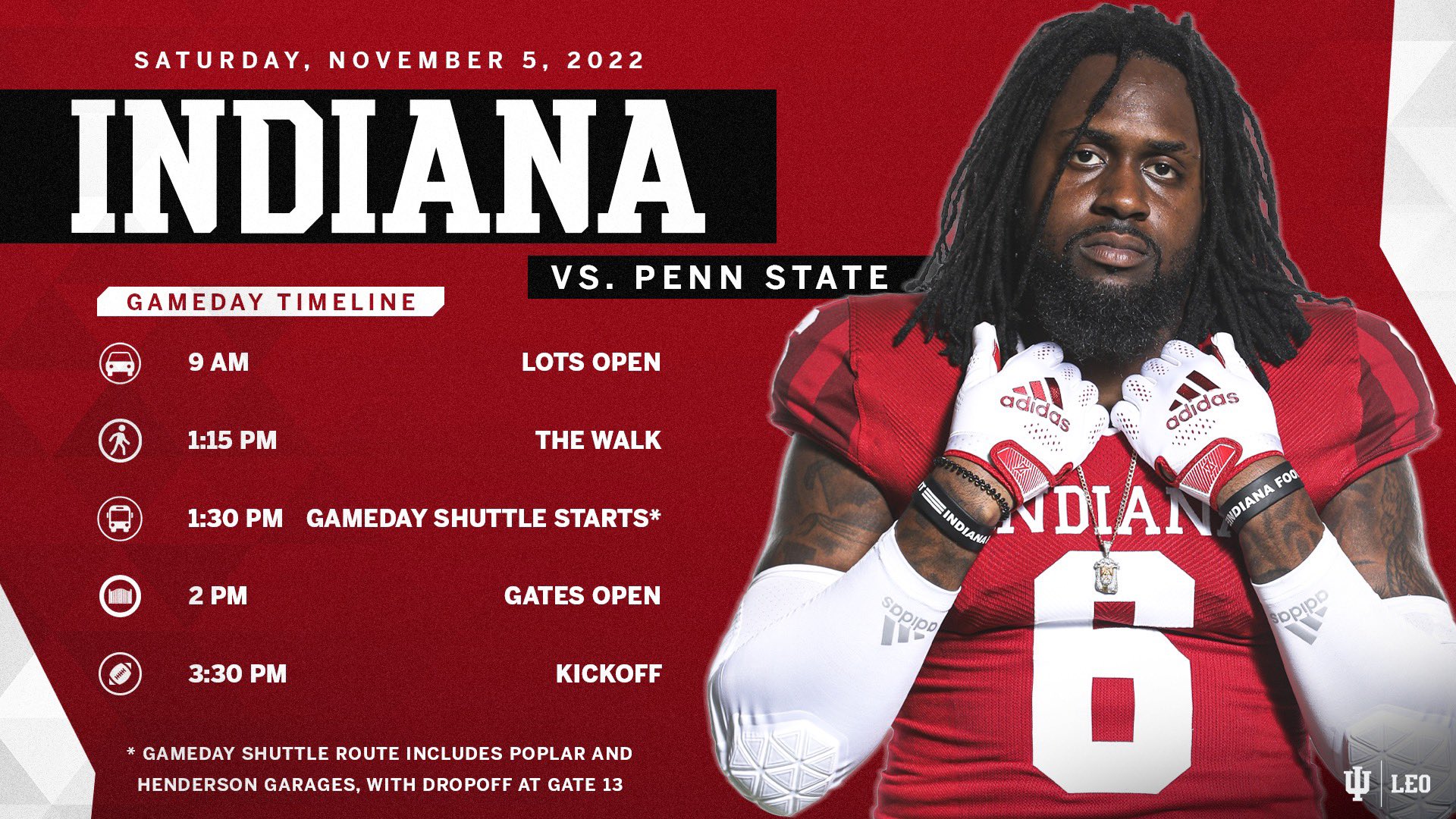 No. 16 PENN STATE (6-2, 3-2) at INDIANA (3-5, 1-4)
Kickoff:  3:30 p.m. Eastern, Saturday
Location:  Bloomington, Ind., Memorial Stadium (52,656; field turf)
Television: ABC — Bob Wischusen (pbp), Dan Orlovsky (analyst), Kris Budden (sideline)
Stream:  Watch ESPN
Radio:  IU Football radio network
Odds:  Penn State is an 13.5-point favorite
Weather at kickoff:  61 degrees, cloudy, wind 17 mph, 40% chance of precipitation.
FINAL STATISTICS

FOURTH QUARTER
INDIANA TOUCHDOWN: Jaylin Lucas punches it in from one yard out. Indiana has its first points since the first quarter. 8-play, 40-yard drive. 45-14, PSU.
PENN STATE TOUCHDOWN: Drew Allar to Theo Johnson on a four-yard pass. One play, four-yard drive. 45-7, PSU.
Dexter Williams throws his second interception of the day. Penn State has 1st and goal.
PENN STATE TOUCHDOWN: Drew Allar finds Harrison Wallace in the back of the end zone on a one-yard pass. A 10-play, 64-yard drive. 38-7, PSU.
THIRD QUARTER
End of the third quarter. Penn State leads 31-7 and has the ball with 2nd and goal on the IU one-yard-line
Williams' pass on 4th and 3 is tipped at the line of scrimmage and intercepted.
For the first time in his IU career, Dexter Williams is in the game at quarterback.
Dexter Williams is warming up at quarterback on Indiana's sideline.
Penn State freshman backup quarterback Drew Allar is in the game at quarterback.
PENN STATE TOUCHDOWN: Kaytron Allen walks in for his third score of the day, a six-yard run. A 6-play, 71-yard drive. 31-7, PSU.
Brendan Sorsby's deep pass for Javon Swinton is intercepted by Penn State. An unsportsmanlike conduct call on PSU after the play will put the Nittany Lions deep in their own territory.
Jack Tuttle's arm is in a sling and he will not return to the game, per the ESPN broadcast
SECOND QUARTER
PENN STATE FIELD GOAL: Jake Pinegar hits a career-long 50-yard field goal. 8-play, 13-yard drive. 24-7, PSU.
Jack Tuttle is injured, holding his shoulder, while trainers tend to him on the field. True freshman Brendan Sorsby is in the game.
TOUCHDOWN PENN STATE: Kaytron Allen weaves through defenders for his second score of the day, this time on a 6-yard rush. 8-play, 85-yard scoring drive. 21-7, PSU.
Alfred Bryant is injured for Indiana. Timeout on the field with 6:59 to play in Q2.
Penn State's Parker Washington fumbles on a punt return, but it is recovered by the Penn State return team.
TOUCHDOWN PENN STATE: Kaytron Allen scores on an 11-yard run. A two-play, 38-yard drive, all yards by Allen. 14-7, PSU leads.
Jack Tuttle looked to have picked up a first down with his legs on third down, but the play is under review with 12:48 to play in Q2. After review, Tuttle is marked two yards short of the marker thanks to a premature slide, and Indiana punts.
FIRST QUARTER
End of the first quarter. Indiana and Penn State tied at 7-7, Penn State has the ball with 2nd and 10 on their own 34
Penn State's defense pushes IU to 4th and 35 and out of field goal range, but a James Evans punt pins the Nittany Lions at their own two.
Tiawan Mullen intercepts Sean Clifford on PSU's first play of the ensuing drive thanks to a tipped pass. IU will have the ball at the Penn State 31.
Indiana answers back vs. No. 15 Penn State.@_ajbarner_ x @IndianaFootball pic.twitter.com/zz5xK86gB0

— Big Ten Network (@BigTenNetwork) November 5, 2022
TOUCHDOWN INDIANA: Jack Tuttle finds A.J. Barner on an 11-yard pass, his second touchdown catch of the year. 8-play, 75-yard drive that took 2:41. Tied at 7-7 with 4:09 left in Q1.
Indiana is marching with back-to-back first downs. A 14-yard pass to Emery Simmons and a 35-yarder to Andison Coby put IU inside the Penn State 30 yard line, while a pair of Jack Tuttle rushes put IU inside the 10.
TOUCHDOWN PENN STATE: Nick Singleton punches it in on a toss from one yard out. 10-play, 54-yard drive. 7-0, Nittany Lions lead.
PSU left guard Hunter Nourzad is injured after the first play from scrimmage, meaning the entire left side of Penn State's line will be freshman backups, should Nourzad not return.
Kickoff at Memorial Stadium, winds are currently 18 miles per hour in Bloomington. Penn State will start with the ball, after the ball blows off the tee.
PREGAME UPDATES
Indiana is wearing its 1991 crimson throwback jerseys with crimson pants and crimson trident helmets. Penn State are wearing their traditional all-whites.
Both teams could make a potential change at quarterback today.  We'll have updates based on pre-game warm-ups.
Also, stay tuned for pre-game injury notes.
QUARTERBACK NOTES
Indiana
Jack Tuttle is taking pregame first-team warmup snaps from Zach Carpenter, not Connor Bazelak, who is in street clothes. Dexter Williams not warming up either, but is in uniform. Connor Sorsby and Grant Gremel are the other two quarterbacks taking snaps. Tuttle is expected to start.
Williams is now throwing in drills, but Tuttle is expected to be the starter regardless.
Brendan Sorsby, the true freshman from Texas, is taking second-team snaps under center.
Penn State
Sean Clifford is taking pregame reps for the Nittany Lions.
INJURY NOTES
Indiana
Bryant Fitzgerald is not in uniform during warmups. The safety had one tackle against Rutgers, but nine stops against Maryland.
Connor Bazelak is in street clothes and not taking pregame snaps. Don Fischer said on the radio that Bazelak has been "beat up the last couple weeks," making it sound like an injury could be at play for the former starter.
Jared Casey is not in uniform for IU.
Penn State
Penn State starting tackles Olu Fashanu and Landon Tengwell are not warming up. The Nittany Lions could be thin in the offensive trenches today.
---
The Daily Hoosier –"Where Indiana fans assemble when they're not at Assembly"