The Daily Hoosier is live at Memorial Stadium in Bloomington for Indiana (3-2) vs. No. 4 Michigan (5-0)
Join us for live updates throughout the day, and participate in the discussion thread below.
The game will be televised on FOX and kicks off at around Noon Eastern.
Refresh the page for updates before, during, and after the game and stay tuned for post-game coverage.
FINAL
Indiana loses 31-10.  They were outscored 21-0 in the second half and outgained 263 to 29.  The Hoosiers have lost three in a row and fall to 3-3 on the season.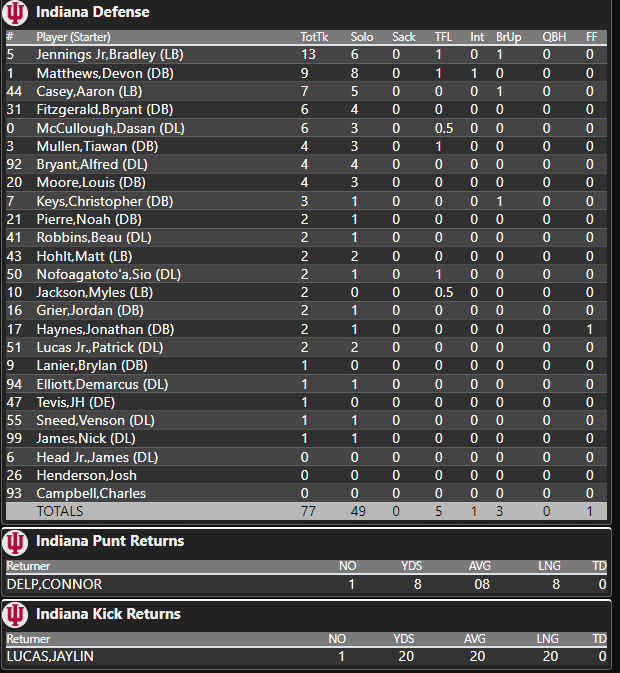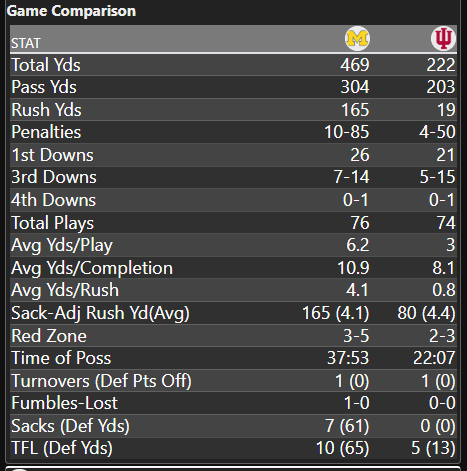 FOURTH QUARTER
TOUCHDOWN MICHIGAN:  Michigan goes 10 plays, 60 yards to take a 31-10 lead with 2:54 left.
Wolverines just trying to run the clock now.  5:59 left, they've got the ball at the IU 24 yard line with a 24-10 lead.
Michigan's pass rush getting pressure seemingly on every snap.  They've got six sacks, nine tackles for loss, four more QB hits.
TOUCHDOWN MICHIGAN:  7 plays, 56 yards for the Wolverines to take the 24-10 lead with 9:43 left.
IU forces a punt.  Hoosiers take over down at their own 19, down 17-10 with 13:24 left.
We are set to begin the final quarter.  It's 17-10 Michigan.  Wolverines ball, 2nd and 17 on their own 15.
THIRD QUARTER
INTERCEPTION INDIANA:  Devon Matthews with the INT in the end zone to end Michigan's drive.  Bradley Jennings in coverage had the tip.  Still 17-10, 3:35 left.
Indiana isn't going away. 👀 pic.twitter.com/irMgFpGrd1

— Big Ten Network (@BigTenNetwork) October 8, 2022
TOUCHDOWN MICHIGAN:  Wolverines go the length of the field, 11 plays, 98 yards on their first drive of the half to take a 17-10 lead with 7:39 left.
The third quarter is underway.  10-10.
HALFTIME STATS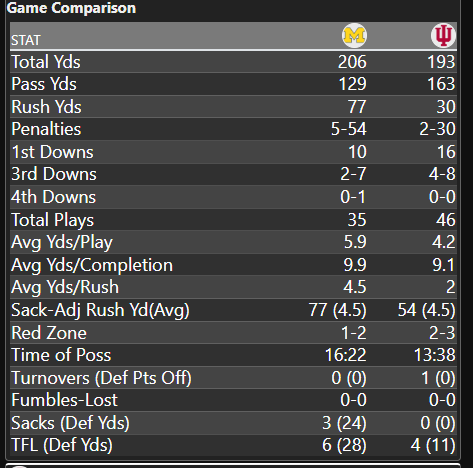 SECOND QUARTER
Indiana stops Michigan on a fourth down try at the IU 39.  First down Hoosiers with less than a minute to go.  10-10.
Devon Matthews smelled it out. 💪@iam_djm25 x @IndianaFootball pic.twitter.com/oWbHzv8yKZ

— Big Ten Network (@BigTenNetwork) October 8, 2022
And now an IU field goal attempt is blocked, and the Hoosiers come up empty on a 74-yard drive.  Still 10-10, 3:17 left.
BLOCKED FIELD GOAL:  Indiana's James Head, Jr. blocks a Michigan field goal attempt following the interception.  Indiana's defense got a stop on 1st and goal to force the field goal.  Still 10-10, 6:54 left.
INDIANA BLOCKS MICHIGAN'S FIELD GOAL! 😳@IndianaFootball keeps things level! 💪 pic.twitter.com/AhhvFuKb9B

— FOX College Football (@CFBONFOX) October 8, 2022
INTERCEPTION:  Connor Bazelak picked by Michigan.  Wolverines take over at the IU 42.
FIELD GOAL INDIANA:  Hoosiers go 12 plays and 52 yards, settle for a 41-yard Charles Campbell field goal.  10-10, 12:08 left.  Two big calls by the officials on the drive.  A Michigan sack was negated by an unsportsmanlike conduct flag on the Wolverines, and an IU touchdown was called back for offensive pass interference (a pick play).
FIRST QUARTER
End of first, Michigan 10  Indiana 7.  Total yards, UM 143, IU 57.  IU has the ball 2nd and 8 at their own 33 to start the second quarter.
FIELD GOAL MICHIGAN:  Wolverines go 8 plays, 49 yards but IU ends the drive to force a field goal.  10-7 Michigan, 1:02 left.
Michigan RB coach Mike Hart, who coached that same position at IU for a long time, was carted off the field with an injury.
"Coach Mike Hart has left Memorial Stadium in an ambulance for further evaluation with his wife by his side and he was alert on the stretcher, giving the thumbs up."@JennyTaft gives the latest update on the @UMichFootball RB Coach pic.twitter.com/w7tubrSOnb

— FOX College Football (@CFBONFOX) October 8, 2022
TOUCHDOWN INDIANA:  Hoosiers respond with a 10-play, 76 yard drive.  Henderson with the 11-yard reception.  7-7, 4:54 left.  Key play, Bazelak to Camper for 33 yards to the UM 11.
TOUCHDOWN HOOSIERS 🙌@IndianaFootball ties things up pic.twitter.com/eC4rMvvfEu

— FOX College Football (@CFBONFOX) October 8, 2022
TOUCHDOWN MICHIGAN:  Michigan opens the game with a scoring drive.  Blake Corum with the 1-yard TD run.  7 plays, 77 yards.  7-0 Wolverines.
IU won the toss and will defer.
PREGAME UPDATES
The Daily Hoosier's Seth Tow and Patrick Felts are down on the field for pre-game.
Indiana is wearing crimson pants with crimson jerseys.  Michigan is wearing maize pants with white jerseys.
INJURY NOTES
Wide receiver D.J. Matthews is not in uniform for warm-ups and appears to be out again with a hamstring injury.
Tight end A.J. Barner is not in uniform and also appears to be out.  He is wearing a walking boot on the field and apparently has a foot injury according to reports.
Cornerback Jaylin Williams is not in uniform.  He suffered a shoulder injury last week and won't play Saturday.
Linebacker Cam Jones is not in uniform and he will be out this weekend with a foot injury.  ESPN's Adam Rittenberg said Jones will be out "several weeks."
Wide receiver Javon Swinton is also out.
Tight end James Bomba is out once again.
Wide receiver Cam Camper IS in uniform.  It appears he'll play after sitting out with an illness last week.
On the Michigan side, reports indicate WR Roman Wilson is out today.
---
The Daily Hoosier –"Where Indiana fans assemble when they're not at Assembly"