Indiana has added a Michigan speedster to their 2021 recruiting class.
Auburn Hills based running back David Holloman announced on Thursday that he has verbally committed to IU.
The 5-foot-11 and 190 pound Holloman broke the news on his Twitter page.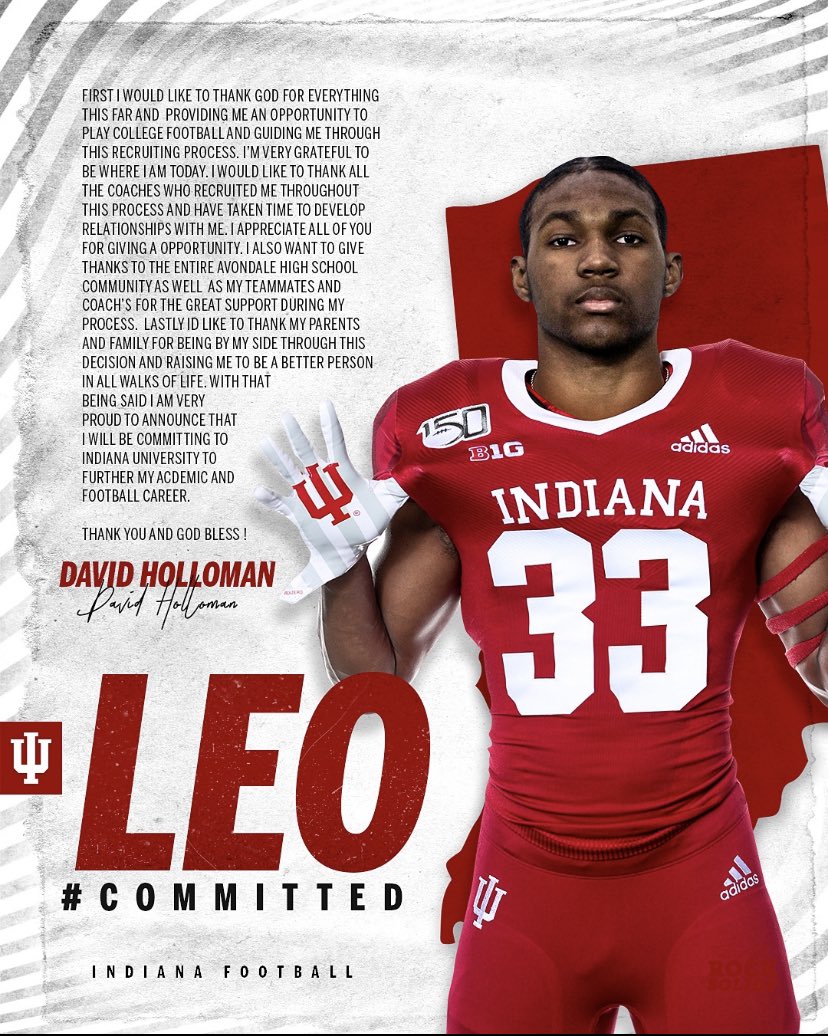 "First I would like to thank God for everything [thus] far and providing me an opportunity to play college football," Holloman stated on his Twitter post. "I'm very grateful to be where I am today. I would like to thank all the coaches who recruited me throughout the process. I'm very grateful to be where I am today. I would like to thank all the coaches who recruited me throughout the process and have taken time to develop relationships with me. I appreciate all of you for giving [me an] opportunity. I also want to give thanks to the entire Avondale High School community as well as my teammates and coaches for the great support during my process.
"Lastly I'd like to thank my parents and family for being by my side through this decision and raising me to be a better person in all walks of life. With that being said, I am very proud to announce that I will be committing to Indiana to further my academic and football career."
With Holloman's commitment IU picked up one of the fastest running backs in the Midwest.
The Avondale High School product reports a 4.22 40-yard dash speed on his Twitter page, and various recruiting sites put the figure in the 4.3 to 4.4 range.
Holloman rushed for 1,236 yards on just 106 carries and had 16 touchdowns as a junior.
A three-star recruit, Holloman is ranked the No. 885 player overall nationally and the No. 68 running back according to the 247Sports Composite.
Allen Trieu of 247Sports provides this assessment of Holloman on his profile page:
Has more of a longer, leaner frame than a classic running back build but has spent time the weight room and is put-together. High-end timed speed. Has shown burst as a route-runner in a camp setting. Catches the ball well. Needs to continue to work on reading blocks and playing up to timed speed. Once he is in the open field, he can outrun defenders. Works hard on his training and craft. As long as he can continue development as a football player, he has the rare speed to make a difference at the collegiate level.
Holloman is IU's sixth commit in the 2021 class, and the first running back.  He chose Indiana over a list of offers that included Nebraska, Maryland, Iowa State, Boston College, Rutgers, Washington State and West Virginia.  He also took a recent visit to Ohio State.
To see more about Indiana's 2021 class, go here.
---
Find us on Facebook:  thedailyhoosier
The Daily Hoosier –"Where Indiana fans assemble when they're not at Assembly"
Seven ways to support completely free IU coverage at no additional cost to you.