He came in as the potential quarterback of the future for Indiana.
But it'll be one-and-done for Connor Bazelak in Bloomington.
The Ohio native announced on Tuesday he will put his name in the transfer portal.
After transferring in from Missouri with three years of eligibility remaining, Bazelak started nine games for Indiana in 2022.  He completed 235-of-426 passes on the season (55.2 percent) with 13 TDs and 10 INTs.  He threw for 2,312 yards through the air but lost 160 on the ground including sacks.
Bazelak's lack of mobility played a role in his struggles during the season.  Playing behind an underperforming offensive line, he did not show a consistent ability to escape the pocket or make accurate throws into tight windows while under pressure.  Moreover, the run/pass option aspect of offensive coordinator Walt Bell's scheme was ineffective since defenses did not respect Bazelak as a threat to run.
Bazelak ultimately lost his starting role, but filled in when Dexter Williams was injured against Purdue.
In October, quarterback Jack Tuttle announced he would enter the portal after the season as well.
With Bazelak and Tuttle leaving, and Williams ostensibly dealing with a serious long term injury, the Hoosiers will be razor thin at quarterback going into spring practice.  Brendan Sorsby, who will be a redshirt freshman next year, and Broc Lowry, who will be a true freshman, could be the only quarterbacks available in the spring.
The program will obviously be looking for a quarterback in the transfer portal, and a true dual-threat player will be a major priority going forward.
"That's what I know we need to do," coach Tom Allen said after the loss to Purdue when asked about emphasizing quarterback mobility going forward.
"That allows us the chance to be able to do the things we need to do to be able to blend and different things, yes, but with the idea of the tempo that we used and the quarterback run game and throw game combination to me is really what I want us to be able to do, and want to build off that, absolutely, without question."
On Monday, walk-on quarterback Grant Gremel also announced he was transferring.  Gremel started against Purdue in 2021.
This breaking story will be updated.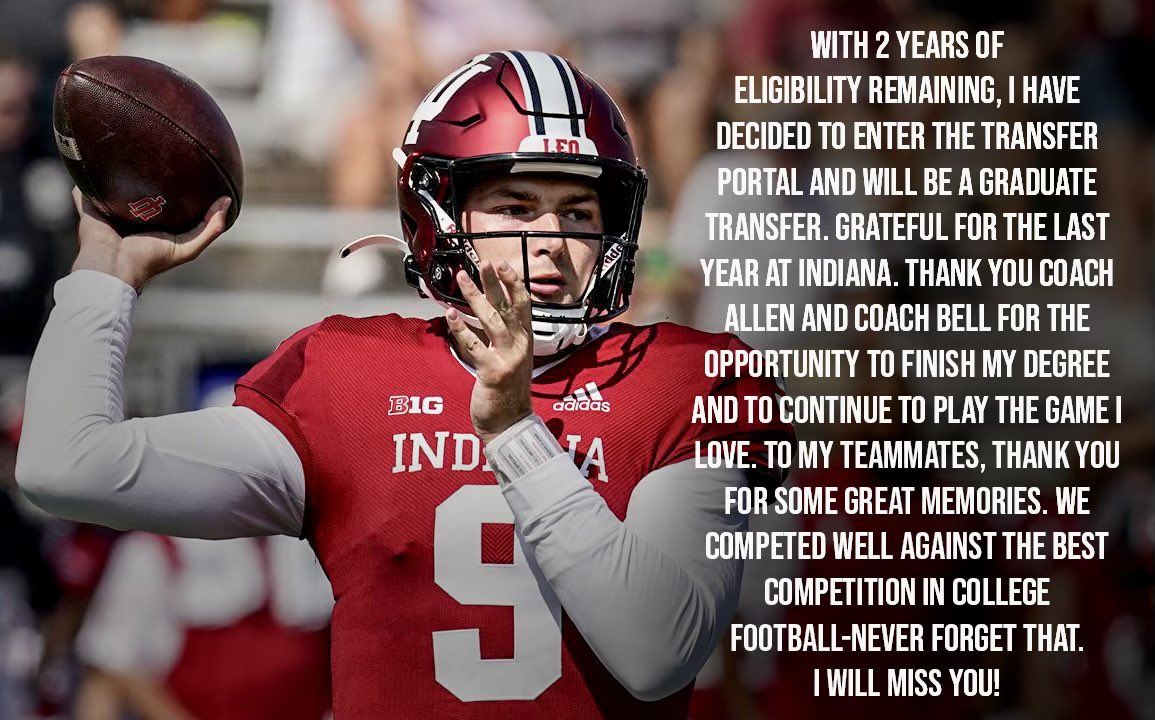 ---
The Daily Hoosier –"Where Indiana fans assemble when they're not at Assembly"