Tom Allen was asked repeatedly during the offseason who was going to step into the void left by Micah McFadden as the heart-and-soul of his team's defense.
At 3 a.m. early Saturday morning, just hours removed from his team's season opening win over Illinois, Allen sent a text to the player who arose as the unequivocal answer.
But hours before that, Allen was on the field, staring down at the same player, senior linebacker Cam Jones, who was in considerable pain at the Indiana 30-yard line after his teammate, tackle Demarcus Elliot, inadvertently crashed into the back of his legs.
By halftime, Jones had already matched his career high in tackles with eight.  He had a sack, a quarterback hurry, and a fumble recovery.  He was more than just the heart-and-soul.  Jones was Indiana's most impactful player on the field — by a wide margin.
Blood. Sweat. Tears. pic.twitter.com/aDBBfsuBMg

— C4 (@cjones1_) September 4, 2022
Before the game Jones told his teammates Illinois was "going to feel everything we've been through," referring to last season's wildly disappointing 2-10 campaign and the humiliation that came with it after the Hoosiers started the 2021 season ranked in the top-20.  Illinois had certainly felt Jones' presence.  No doubt much of their discussion at the break was how to better account for No. 4.
But there he was, with 14:18 still remaining on the third quarter clock.  Now the only thing Jones or any of his teammates felt in the moment was dismay.  Helpless lying on the turf clutching his leg, Jones' head coach was out there with him — a move by Allen that typically portends the worst for his best players.
Jones managed to get up and jog off the field, but his face showed agony, and his direction — straight through the doors and to the training room — left everyone full of dread for the news that now seemed certain to come.
One-by-one they went into the training room to check on him.  Teammates, staff members, and administrators — everyone fearing the worst.
But then suddenly Jones emerged from behind closed doors and stood there, waiting, in a made for a movie moment.  When there was a break in the action, he pushed open a glass door and sprinted towards the field, shifting and cutting along the way to test his leg that had apparently been cleared by the medical staff.
Little did everyone else know, Jones had already decided the plan of action before that painful jog to the training room.
"I just told the doctors 'let's go to the locker room and tape it up, and let's go (back out to the field),' he said on Tuesday.  "I just knew we had to finish."
Less than five minutes of game clock had expired since Jones' season appeared to be over.  Now he was back on the field with the defense, and his brightest moment was still to come.
Illinois scored a touchdown to take a 17-16 lead while Jones was under the west stands of Memorial Stadium being examined.  But while his return provided his teammates an emotional lift, nothing was changing on the scoreboard.  As the clock on Jones' adventurous third quarter went to all zeros, IU was about to punt for a third straight possession after throwing an interception to open the half.  In addition to outscoring Indiana 7-0 in the third, Illinois outgained the Hoosiers 106-44, and they seemed to have control of the football game.
Allen took the opportunity between quarters to address the entire team, and after speaking briefly he turned it over to the player he said he felt confident would step into a verbal leadership role this year.  Jones came back to IU for a fifth season for moments like this.  And he came back from the training room taped up for moments like this.
"I spoke to them first and tag teamed to him (Jones), and he finished it off," Allen said.  "And the whole message was find a way to finish and win this game. And he believed we were going to find a way."
The way came from Jones and the IU defense, which delivered multiple fourth quarter stops and paved a path for the dramatic final drive by the offense.
Illinois took the punt that opened the fourth quarter, and went 62 yards inside the IU five.  But the Hoosiers produced a goal line stand to force a turnover on downs, and completely changed the complexion of the game in the process.  Jones was in on the second and third down tackles of the goal line stop.
"He didn't just go back out there, he went out there and made plays after he got injured," Allen said.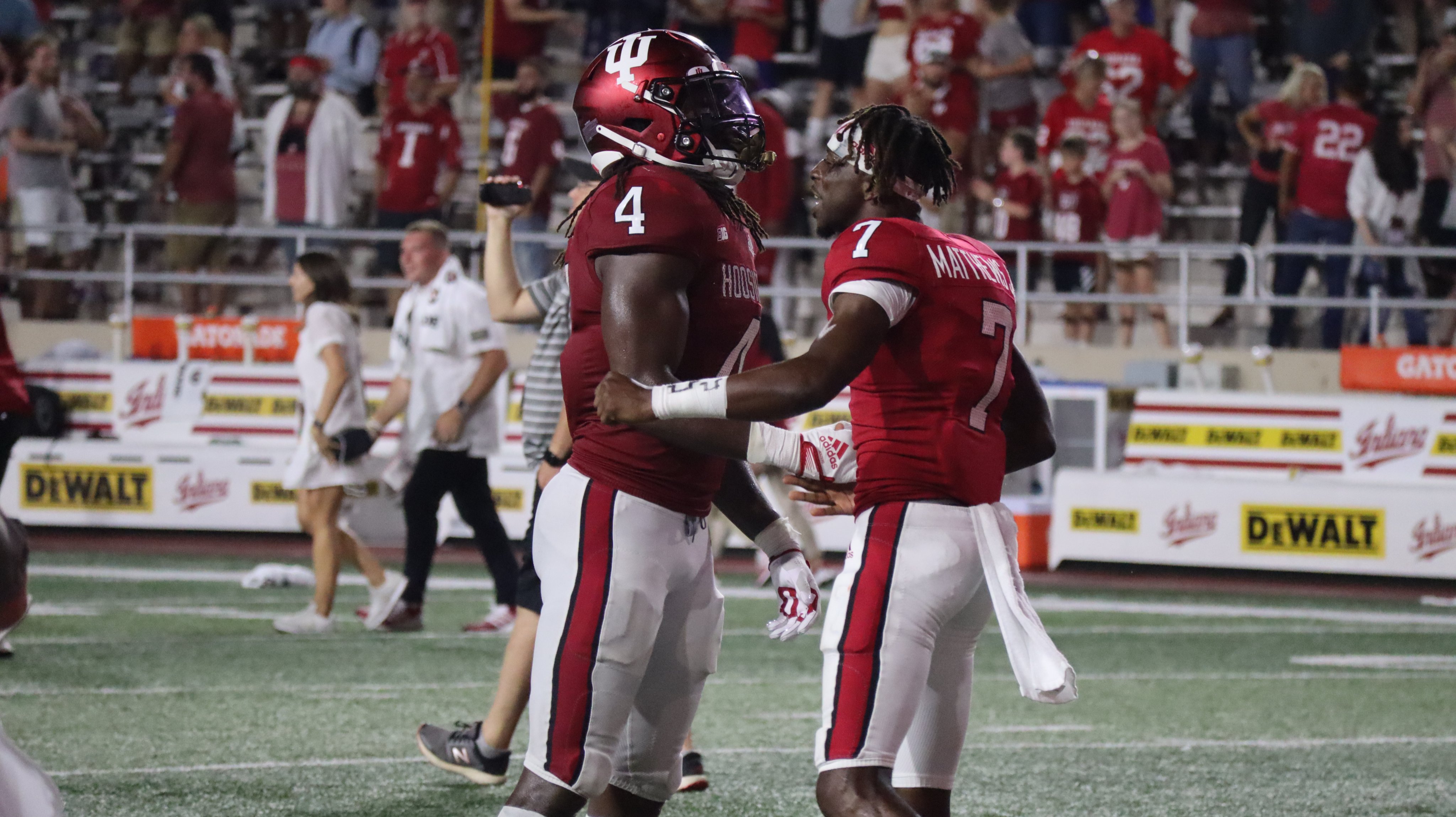 Allen didn't know for sure then, but he knows now — Jones is going to be fine.  His injury isn't serious and he'll likely play against Idaho on Saturday evening in Bloomington.  But too wired to sleep, what the sixth-year head coach did know when he picked up his phone in the middle of the night was this — his fifth-year linebacker from Memphis, Tenn. poured everything he had into IU's 23-20 win over the Illini.
"I texted him," Allen said.  "It was probably about 3:00 in the morning. But I just said, 'Man, I tell you what, I couldn't be more proud of a young man.' I said, 'You willed this team to victory during that game.'"
With Jones back on the field, IU forced three Illinois turnovers and the delivered the goal line stand on their final five drives.
Eventually the adrenaline wore off, and Jones got some sleep.  He went through what seemed like a season's worth of drama on Friday night.  He knows the Illinois game was special, but he also knows it ultimately won't matter unless Indiana keeps winning.
So he turned the page and got back to leading.
"Those are big plays, but I tell the guys that's in our past right now," Jones said.  "We got to continue to make those plays. We got to continue. So it's kind of, you know, just be humble.  We can definitely get better."
No one is asking Allen who the heart-and-soul of his 2022 team is anymore.
---
The Daily Hoosier –"Where Indiana fans assemble when they're not at Assembly"