We are about to find out what the 2020-21 Indiana Hoosiers are made of.
IU wasn't tested in a season opening win over Tennessee Tech, but they certainly will be this week.
The 2020 Camping World Maui Invitational is set to take place at the Harrah's Cherokee Center- Asheville (N.C.) Monday, Nov. 30- Wednesday, Dec. 2.
Indiana will play three games in three days, beginning with Providence on Monday afternoon.
---
GAME DAY ESSENTIALS
Providence (1-0) vs. Indiana (1-0)
Tip time:  2:30 p.m. ET (approximate)
Location: Harrah's Cherokee Center, Asheville, N.C.
Television:  ESPN2 (Jason Benetti and Bill Walton) | Stream
IU Radio Network (Don Fischer, Errek Suhr, Joe Smith) | Tune In
Series:  Indiana leads 1-0 (1973)
Point Spread:  Indiana is a 1 point favorite
KenPom has No. 25 Indiana by 2 over No. 46 Providence
[Complete 2020-21 IU schedule]
---
The 2020 Maui Invitational Schedule
Nov. 30- Dec. 2
Game
Matchup
Date
Time (EST)
TV
Game 1
Texas vs. Davidson
Nov. 30
12 p.m.
ESPN2
Game 2
Indiana vs. Providence
Nov. 30
2:30 p.m.
ESPN2
Game 3
North Carolina vs. UNLV
Nov. 30
7 p.m.
ESPN2
Game 4
Stanford vs. Alabama
Nov. 30
9:30 p.m.
ESPN2
Game 5
G1 Winner vs. G2 Winner
Dec. 1
1:30 p.m.
ESPN
Game 6
G3 Winner vs. G4 Winner
Dec. 1
4 p.m.
ESPN
Game 7
G1 Loser vs. G2 Loser
Dec. 1
7 p.m.
ESPN2
Game 8
G3 Loser vs. G4 Loser
Dec. 1
9:30 p.m.
ESPN2
Game 9
Third Place Game
Dec. 2
1:30 p.m.
ESPN
Game 10
Championship Game
Dec. 2
4 p.m.
ESPN
Game 11
Fifth Place Game
Dec. 2
7 p.m.
ESPN2
Game 12
Seventh Place Game
Dec. 2
9:30 p.m.
ESPN2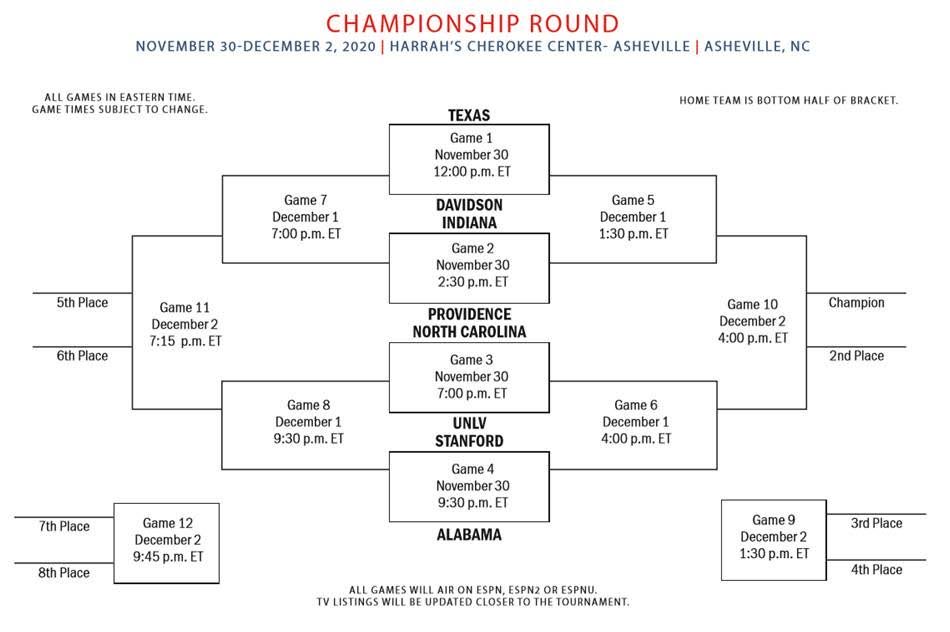 Meet the Friars
Providence opened the 2020-21 season last Wednesday with a 97-56 win over KenPom No. 271 Fairfield.
The Friars were selected to finish third of 11 in teams in the Preseason Coaches' Poll. The Friars, who return three starters from last season, finished 2019-20 with a 19-12 overall mark and a team record 12 wins in BIG EAST play.
Head coach Ed Cooley has a 182-122 mark in 10 seasons as the Friars head coach.
Cooley's teams are known for their defense, and 2019-20 was no exception.  The Friars finished the season No. 27 in KenPom defensive efficiency, and No. 75 in offensive efficiency.  A hard fought contest similar to last year's game against UConn at the Jimmy V Classic should be expected.
Cooley spoke highly of IU head coach Archie Miller late last week.
"He's one of the brighter young coaches in America," Cooley said of Miller on Friday. "Indiana is very fortunate to have him. He's someone that can really motivate a kid. He's very tough. I respect him. Our style of play is very similar, especially defensively, so it's going to be a grind out game."
Providence junior guard David Duke and senior center Nate Watson were named to the Preseason All-BIG EAST Teams. Duke was named to the First Team and Watson  earned Second Team honors.  Those two players led the way in the Providence's season opening win.
Overall the Friars had five players in double figures in their first game.
Probable Starters 2020-21 PPG/RPG
0 Nate Watson, Sr., C, 6-10, 260 23.0/10.0
1 Greg Gantt, So., F 6-8, 220 5.0/2.0
3 David Duke, Jr., G, 6-5, 205 18.0/7.0/4.0 apg
4 Jared Bynum, RS So., G, 5-10, 180 4.0/8.0 apg
11 A.J. Reeves, Jr., G, 6-6, 205 14.0/2.0
Off The Bench 2020-21 PPG/RPG
2 Kris Monroe, Jr., F, 6-8, 215 8.0/3.0
12 Brycen Goodine, So., G, 6-4, 185 4.0/1.0
14 Noah Horchler, RS Sr., F, 6-8, 220 11.0/9.0
21 Ed Croswell, Jr., F, 6-8, 245 10.0/6.0
Archie Miller on Providence and the Maui Field
Indiana head coach Archie Miller shared his thoughts on the Maui Invitational last week after Indiana's season opening win.
"We are getting ready to take on a Maui field that is really, really talented, we have our work cut out for us as we get down there, Miller said.
"We're in the premier event in college basketball. Maui is unbelievable. So disappointed for our players that we don't get to experience it. Anyone who's ever been there knows it's a once in a lifetime opportunity as a player to be out there playing in those games. It's something you don't forget. So we're disappointed we can't get to Maui, but that field is tremendous."
Miller spoke about each of the other seven teams in the tournament.
"Our opponent Providence is going to be a top two or three team in the Big East," Miller said.  "I know Coach Cooley well and I know he thinks his team can win the Big East. They're a big, strong, physical, talented team. We may be playing one of the best teams in the field in the first game.
"Our second round – Texas has got everybody back. I know they're really good. Davidson's coached by Coach McKillop – one of the best offensive coaches. A skilled, skilled team. One of the best shooting teams year in and year out from three in the country, high scoring – they're great.
"On the other side, Stanford is terrific, a loaded roster. North Carolina a re-tooled, loaded roster. A huge team. North Carolina is probably the biggest team in college basketball. Alabama has a really talented crew and coming from an upper echelon SEC team. I'm not as familiar with UNLV's roster but I know that TJ (Otzelberger) does a great job.
"It's always a premier field. I think it's again a premier field here early. To be able to play three games in three days is a challenge but it's great competition. I think that's probably what we're going to need. Looking at our schedule, there's not too many days ahead that are going to feel like this."
The event was originally scheduled to be held last week in Maui.
---
Find us on Facebook:  thedailyhoosier

The Daily Hoosier –"Where Indiana fans assemble when they're not at Assembly"
Seven ways to support completely free IU coverage at no additional cost to you.