Game Day Essentials
Indiana (13-4, 4-3) v. No. 4 Purdue (15-2, 4-2)
Tip Time: 7:00 p.m. Eastern
Location: Simon Skjodt Assembly Hall, Bloomington, Indiana
Television: FS1 (Kevin Burkhardt and Jim Jackson)
IU Radio Network: IU Radio Network
Stream:  Fox Sports Live
Point Spread: Purdue is a 3.5 point favorite
KenPom Projected Score: Purdue 75 Indiana 72
Series: Purdue leads 124-89 and it has won nine straight and 12 of 13.
More Game Coverage
Suit and Goatee Up?
The optics in what should be a raucous student section should be interesting.
Indiana is undefeated when head coach Mike Woodson wears a suit, something he has only done at home games and the neutral court win over Notre Dame.  Woodson took a hybrid approach and wore a sport coat at Nebraska on Monday.
There is a growing superstition that Woodson should wear a suit for a every game.  That has led to a movement for the student section to wear suits to tonight's game, a concept that is now endorsed by the Crimson Guard, the official voice of that student section.  Moreover, IU is distributing masks with a goatee to further the Woodson-like look.
it's just business pic.twitter.com/STb0d0sriy

— Crimson Guard (@IUCrimsonGuard) January 18, 2022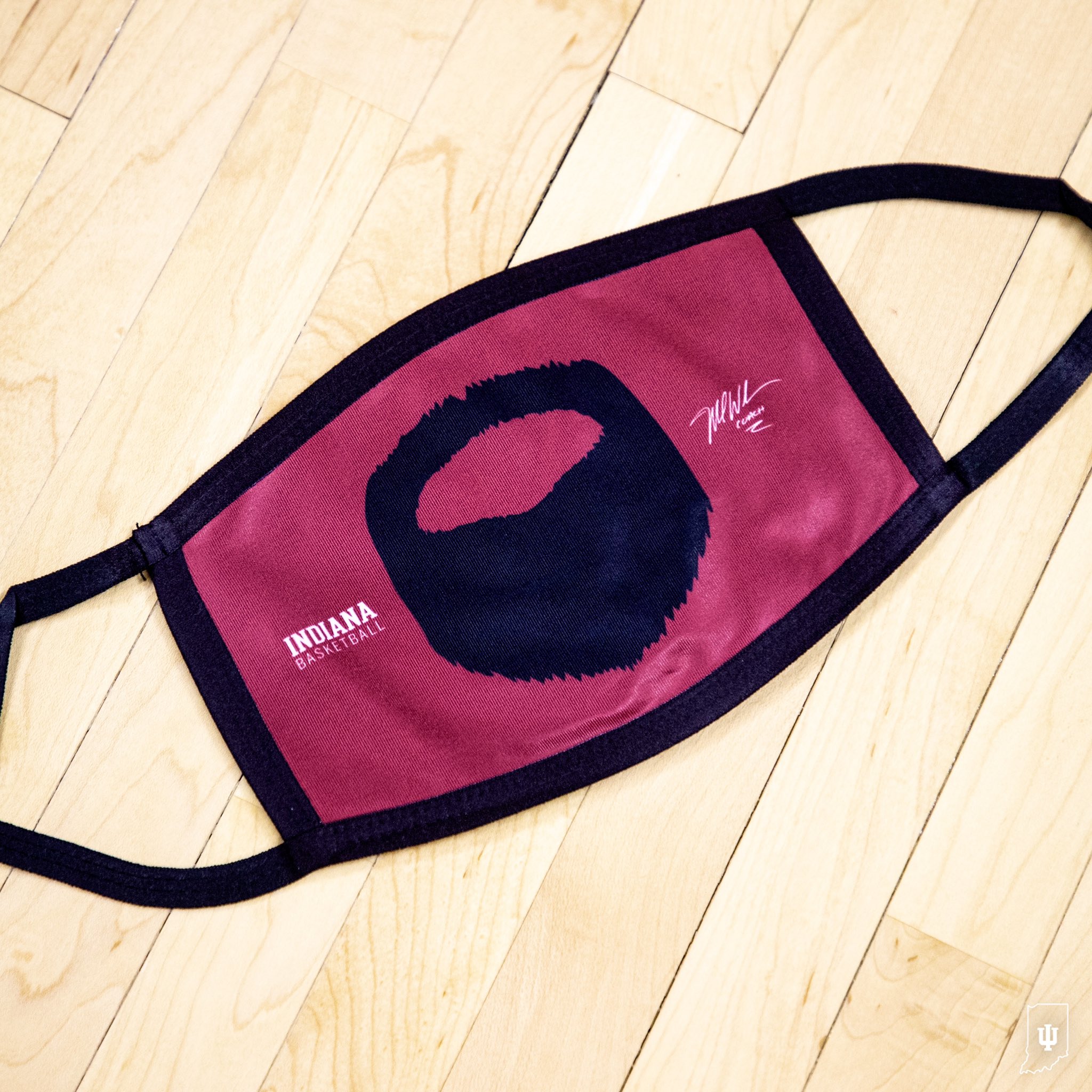 Coach Matt Painter
With five Sweet 16 appearances, 12 NCAA Tournament berths, three Big Ten regular-season championships, a Big Ten Tournament title, an Elite Eight and an international gold medal on his résumé, 17th-year head coach Matt Painter is widely regarded as one of the best in all of college basketball.
Painter was named the 2019 Big Ten Coach of the Year and has led Purdue to six straight NCAA Tournaments — the seventh-longest active streak in America. Included in that stretch are Sweet 16 appearances (and beyond) in three of the last four tournaments.
Painter enters the 2021-22 season third on the school's all-time wins list (355) behind legendary mentors, Gene Keady and Ward "Piggy" Lambert.  He has averaged almost 23 wins a season in his 16 years at Purdue, and has won at least 25 games in nine of his 17 seasons as a collegiate head coach.
Painter's four Big Ten Coach of the Year honors are the third most in league history (Gene Keady – 7; Bobby Knight – 5; Bo Ryan – 4).
Painter has averaged 11.3 wins per year in conference play, the fifth-best average in Big Ten Conference history. His 12 NCAA Tournament appearances in the last 14 events are the eighth most in the country.  Purdue has finished first or second in Big Ten play in seven of Painter's last 14 years.
Painter is 18-9 against Indiana, including 17-5 in his last 22 meetings against the Hoosiers.
Purdue Notes
The combined record of both teams entering Thursday's game is 28-6 (.824). That is the best combined mark of the two teams since a Feb.19, 2008, meeting when the two teams entered that game with a combined record of 42-9 (.824).
Purdue's 15-2 start matches the best 17-game start of the Matt Painter era (2009-10, 2017-18). A win over Indiana would give Painter just his second 18-game start of 16-2 during his 17 years at Purdue (2017-18 — started 23-2).
Since Feb. 1, of last season, Purdue and Loyola Chicago are the only teams without a double-digit loss. Purdue's six losses since Feb. 1, of last year have come by 1, 3, 9 (ot), 9 (ot), 2 and 5 points.
Purdue has scored 90 or more points in nine games this season, the most in country (Gonzaga – 8).
Purdue's seven wins by 25 or more points are tied for the third most in the country and most in the Big Ten (Gonzaga, Kentucky – 10).
Purdue's bench has scored at least 25 points in 12 straight games and in 15-of-17 games this season (Indiana State, Villanova).
Zach Edey, Jaden Ivey and Trevion Williams were named to the Wooden Award midseason watch list. Purdue was the only school with three players named (Duke, Gonzaga, UCLA had two).
Purdue is one of two teams (Purdue, Houston) to average at least 1.00 points / possession in every game played this season. Purdue has scored at least 80 points in 11-of-17 games this season. Last year, it scored 80 points in just 6-of-28 games.
In its last three games on the road against ranked teams, Purdue came out on top. Purdue has defeated No.
23 Michigan State (55-54), No. 15 Ohio State (69-67) and No. 17 Illinois (96-88) in its last three road games against ranked teams.
The Boilermakers have won five straight games at Simon-Skjodt Assembly Hall, coming by a total of 38 points. Their last two wins have come by double-digits, accounting for two of the four times that Purdue has won by double-figures in Assembly Hall (2021, 2020, 2011, 1977).
Indiana hasn't reached 70 points against Purdue in any of the last seven meetings. The last time Indiana scored 70 on Purdue was in Purdue's 2017 Big Ten-title clinching victory in Mackey Arena, 86-75.
Purdue KenPom Highlights
Tempo – No. 185 (Offense – No. 150 / Defense No. 300)
——————————
Offensive efficiency – No. 1
Purdue's effective field goal percentage of 58.5 percent is No. 3 nationally and consists of the No. 5 percentage from three (40.3) and No. 8 percentage from two (57.1 percent).
The Boilermakers are No. 8 with a 37.8 percent offensive rebounding percentage.
Purdue assists on 61 percent of its field goals (No. 16).
Even the "worst" aspects of Purdue's offense are top-100, with 16.9 percent turnover rate (No. 57) and 73.3 percent free throw percentage (No. 99).
Defensive efficiency – No. 69
The Boilermakers focus on positioning and fundamentals and the scouting report rather than attempting to force turnovers.  They are No. 321 with a 15.7 percent forced turnover rate.
Teams do not get offensive rebounds against Purdue.  They allow them on just 23.1 percent of misses, No. 22.
Purdue generally doesn't foul.  Opposing free throw attempts are just 20.5 of field goal attempts, No. 7.
With a 11.1 percent block rate (No. 88) and 47.5 2-pointer make rate (No. 86), Purdue makes things fairly difficult in the paint.
Look for Purdue to force IU into a lot of late shot clock threes by players other than Parker Stewart and Miller Kopp.  42.8 percent of Purdue opponents' shots are from three, 52nd most nationally.
---
The Daily Hoosier –"Where Indiana fans assemble when they're not at Assembly"