BLOOMINGTON, Ind. — Indiana lost to Northwestern on Sunday afternoon by a final score of 84-83 at Simon Skjodt Assembly Hall.
The Hoosiers trailed 41-34 at halftime and were led in the game by Jalen Hood-Schifino with a career high 33 points.  Trayce Jackson-Davis added 18 points and a career-high 24 rebounds.  IU rallied from a 76-63 deficit with four minutes remaining but couldn't complete the comeback.
Indiana (10-5, 1-3) will travel to Penn State on Wednesday.
See also:  Woodson, Jackson-Dais and Hood-Schifino discuss the game
THREE KEYS TO THE GAME
1. Indiana careless with the ball.  The Hoosiers had 16 turnovers and Northwestern scored 25 points off those miscues.  Jalen Hood-Schifino led the way with six turnovers as the Wildcats extended their defense out to near half and harassed IU throughout.  The Hoosiers chose to go with a two big man lineup throughout much of the game rather than play small and attack the pressure.
2. Hoosiers can't contain dribble drive.  Northwestern gouged Indiana's defense with dribble penetration throughout the game.  They scored 40 points in the paint, most of which came off the bounce.  The drives also created several open 3-point attempts for the Wildcats.  Boo Buie and Chase Audige combined for 45 points and they were just 2-of-7 combined from three — highlighting where most of their damage was done.
3. Limited production from the wing.  Indiana got big games from point guard Jalen Hood-Schifino and center Trayce Jackson-Davis, but not much else from the rest of the rotation.  Starters Jordan Geronimo and Miller Kopp only got off four shots and got just five points (all from Kopp).  Their fellow starter Tamar Bates was just 3-of-8 from the field and was shut out in the first half as Northwestern built its lead.
HIGHLIGHTS
FINAL STATS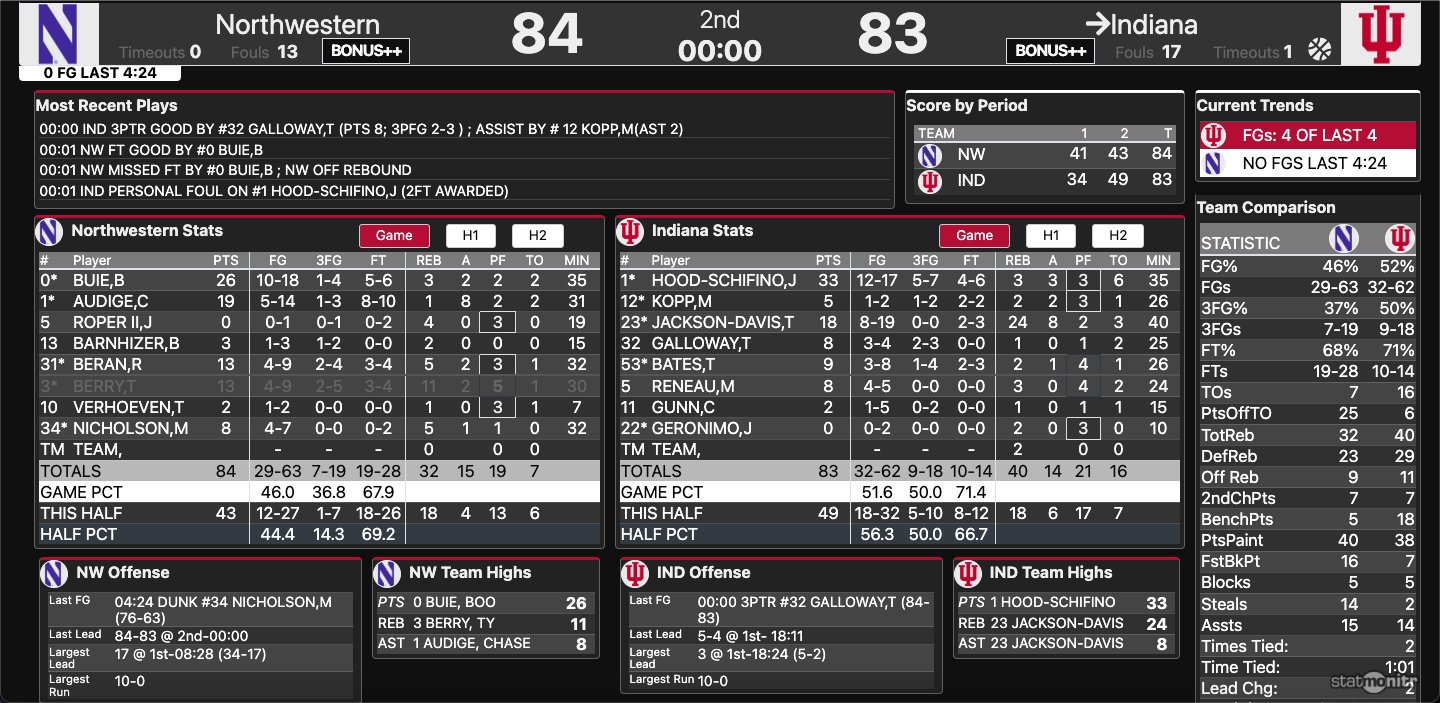 ---
The Daily Hoosier –"Where Indiana fans assemble when they're not at Assembly"