After a difficult overtime loss to Illinois on Tuesday, Indiana head coach Archie Miller said his team lacked the toughness to make big plays down the stretch and close.  On Sunday, his team proved him wrong.
Indiana didn't play well for long stretches of the game, but the Hoosiers closed out each half masterfully.  Those finishing stretches were just enough to secure a season sweep of No. 8 Iowa in Bloomington on Sunday afternoon and snap a three-game home losing streak in the process.
IU also picked up a critical win on its NCAA Tournament resume.  Now the Hoosiers will look to do something else that haven't done much of this season — build on a big win and establish momentum.
Indiana (10-8, 5-6) will travel to Northwestern next for a 9 p.m. tip on Wednesday.
OVERALL (B)
With its offensive malaise carrying over from Tuesday night, Indiana fell into a quick 17-4 hole after a 14-0 Iowa run less than eight minutes into the game.  But Indiana's defense clamped down from that point.  The Hoosiers held Iowa to just 14 points over the last 13:09 of the first half.
Aided by a second foul on All-American Iowa center Luka Garza when the Hawkeyes led 17-7 with 12:30 left, and a Fran McCaffery technical foul when Iowa led 23-11, Indiana climbed back.  The Hoosiers closed the first half on a 9-0 run as the freshman duo of Anthony Leal and Khristian Lander gave the Hoosiers a quick spark with three 3-pointers and an improbable 33-31 halftime advantage.
But Indiana wasn't going to make this easy on themselves.  Iowa started a second 14-0 run early in the second half and claimed a 45-35 advantage with 14:30 left in the game.  The Hawkeyes also managed to get into the bonus with still 13:14 left.  But while the free throw line would remain an ally of the Hawkeyes for the rest of the game, they only made five field goals over the last 14:30.  Trailing 61-58, Indiana went on a 9-4 run to close out the game.
Miller was pleased with his team's ability to simply find a way to grind out a win.
"After a hard-fought game, the other night to be able to get back up, play another good team like Iowa, and to be able to find a way to win hopefully gives us some confidence that we need," Miller said.
The fourth year IU head coach believes each of his nine players who played in the game gave a positive contribution.
"Total team effort and that is not really coach speak," Miller said.  "There was not one guy that checked in to that game today and did not do something to help us at some point in the game. I think that is a testament to their work ethic. Our staff has done a really good job of just keep plugging away and getting guys better. We have a number of guys right now that are really helping and contributing."
Indiana's starting guards struggled shooting the basketball for most of the game, but the depth that Miller alluded to helped the Hoosiers. survive on Sunday.  It's depth that wasn't there a month ago.
"We could not withstand some of the numbers we had for portions of this game earlier in the season," Miller added.  "If our guards did not play perfect games, we would not have had the opportunity to be in the game but today I thought that Anthony Leal, Trey Galloway, and Jordan Geronimo did a really good job for us. They changed the game and they have done that a number of times. In both games against Iowa our bench has done a great job."
OFFENSE (C)
Indiana was 5-of-27 in the first 15 minutes of the first half, and 6-of-7 in the last five minutes.  Similarly, the Hoosiers were just 9-of-27 in the second half before making their final three shots.
Four different players scored on each of IU's final four possessions.  Rob Phinisee made a 3-pointer, Race Thompson hit a runner in the lane, Trayce Jackson-Davis made two free throws, and then Armaan Franklin won it with an elbow jumper.
It was closing stretch that was impossible to predict when considering that IU's starting guard trio was 2-of-24 from the field prior to the sequence, and Jackson-Davis had gone 1-for-5 from the charity stripe.
"Rob's shot biggest one of the game," Miller said.  "Armaan's shot obviously ended it, but I think Rob's shot may have been bigger. Also Trayce. Trayce wasn't having a great day at the line, but he banged two big free-throws for us there late as well. We made some winning plays, which is great to see because at the end of the day Tuesday night it was the opposite, we didn't make enough winning plays."
While he struggled for much of the afternoon, Franklin was getting a lift from his teammates that helped him have the confidence to take and make the game-winner.
"Our teammates do not let us get our confidence down," Franklin said.  "They constantly talk to us on the bench when we are coming out you know, next spot, next play. They believe in us you know; we are going to hit the big shot. So, it was not really a confidence thing. You have got to go out there and keep shooting because everybody has confidence in you and they are going to get you the ball in those moments."
IU held the edge on the offensive glass by a count of 15-6. Indiana scored 11 second chance points.  The Hoosiers also had 16 fast break points, most of which came from Iowa mistakes.  IU only had nine turnovers while assisting on 15 of 23 field goals.  At .986 points per possession, it was just the second time all year Indiana has won despite scoring less than a point per possession.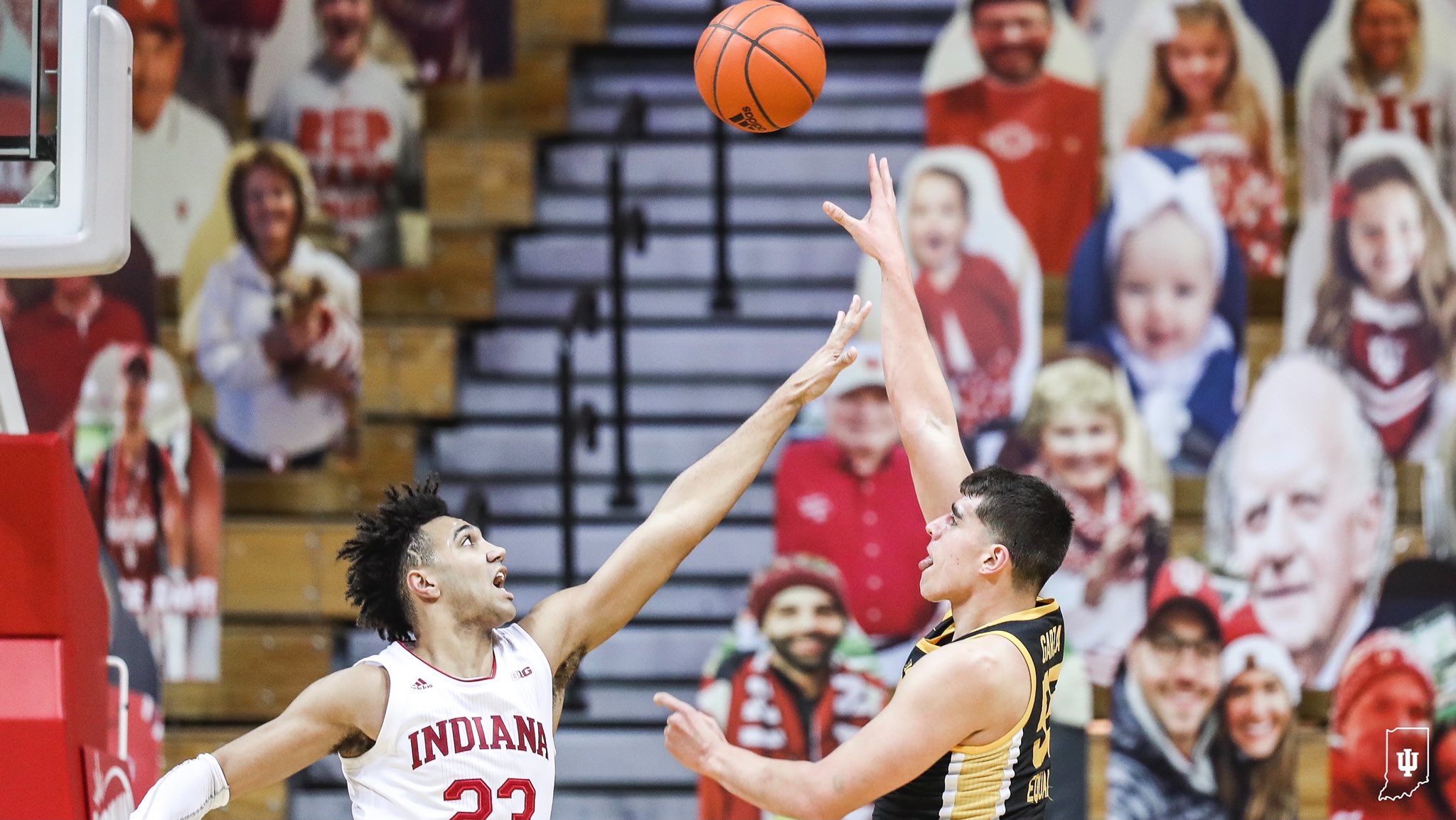 DEFENSE (A)
There is no doubt about it, Indiana matches up well with Iowa.  The Hoosiers have now held the Hawkeyes to their two lowest scoring totals of the season and forced them into their two worst games in terms of points per possession.
And there is also no doubt about this — Iowa is not the same team without starting guard C.J. Fredrick, and IU benefitted, obviously, from Garza sitting the last 12 minutes of the first half.
But whatever the particulars might be, Indiana held the country's most efficient offense to .957 points per trip, well under Iowa's 1.26 average.
The Hoosier defense held the Hawkeyes to 19-of-51 shooting (37.3 percent) from the floor. Iowa entered the game shooting 48.1 percent, the third-best figure in the Big Ten.  Garza was held eight points under his season scoring average.
While Miller's starting guards weren't getting it done for most of the game on the offensive end, he knew he could count on them on defense.
"When we got into that last eight, seven, six minutes, you start to go with your gut in terms of what are going to need stops," Miller said.  "We are going to need the ability to see if we can't get some stops and let's no let the game break away giving them some easy ones. I thought more than anything we continued to buckle down and Rob, Armaan, you trust those guys defensively."
Jackson-Davis and Thompson shared the duty of guarding Garza, who was just 6-of-14 from the field and corralled only two rebounds.
"Guarding Garza is a challenge," Thompson said.  "You really just have got to give him different looks. He is a great player so I mean you really have just got to focus on giving him different looks and not really letting him feel you, and really focusing on trying not to let him get the ball in the first place. So, if you can let him not get the ball then there is no offense for him. So, that was really what I was focusing on. Just different looks and trying not to let him catch it."
In the two games against Iowa this season, the Hawkeyes shot 37.7 percent (43-of-114) from the floor. Iowa averaged 67.0 points per game in the two losses, despite ranking second nationally averaging 89.1 points per game this season.
Iowa came into the game with one of the best assist rates in the country but managed just five assists for the game.  Indiana also scored 17 points off of 11 Iowa turnovers.
---
OTHER GAME COVERAGE
---
THE PLAYERS
Trayce Jackson-Davis (B+) Scored nine points in a seven minute span as Indiana worked to tie the game up with six minutes remaining.  One day he is going to go for 40 points and 20 rebounds when he puts it all together for a complete game.  Jackson-Davis contributed to the defensive effort on Garza in a big way too.
Armaan Franklin (B+) Franklin didn't score the ball well until the final shot, but he did a lot of things at a high level including defense, passing and rebounding.
Race Thompson (A / player of the game) He quietly does everything, including five points in the last eight minutes to go with his four blocks, high-end defense and an improved effort from the free throw line.
Al Durham (C)  Durham's only make from the field was a 3-point shot where he was fouled on the way down.  He missed the free throw and then missed a block out and gave away an offensive rebound on the next trip.  It just wasn't a game wore Durham had a strong presence.
Rob Phinisee (C+) Phinisee was as enigmatic as ever.  Made an ill-advised late post-entry post that resulted in a turnover, but saved a late shot clock possession with under two-minutes remaining with a 3-pointer to tie the game at 61.  Had plenty of good moments as a facilitator, defender and rebounder.
Jordan Geronimo (B) Geronimo's star continues to be on the rise.  He is able to play with a physical style that fits in the Big Ten, and his athleticism is an asset as a finisher and rebounder.
Trey Galloway (B) Galloway still doesn't quite seem like himself but was still effective at times on both ends.  If he can make 3-pointers his value to the team skyrockets.
Anthony Leal (A-) Leal followed up what was likely his worst game at IU with perhaps his best.  Hit two big first half three-pointers to propel the Hoosiers to a halftime lead, and added four rebounds and three steals in just 15 minutes.
Khristian Lander (B) If you are waiting for the perfect game, it could be a while.  But if you are waiting for the uptrend, it has already passed you by.  There were great shots and bad shots, great passes and bad passes, defensive stops and defensive lapses.  That's just how it is, but Lander is headed in the right direction.
Player of the game tracker:  Jackson-Davis (6), Thompson (5), Phinisee (3), Franklin (3), Durham (1).
Player Notes:  Jerome Hunter was in uniform but did not play due to a coach's decision.  Joey Brunk had back surgery and continues to be on an uncertain timeline.  Transfer Parker Stewart was at the game but on an uncertain timeline.
---
Find us on Facebook:  thedailyhoosier
The Daily Hoosier –"Where Indiana fans assemble when they're not at Assembly"
Seven ways to support completely free IU coverage at no additional cost to you.