It was the best of times.  It was the worst of times.  It has become a recurring theme, but yet again the Hoosiers could not put together a complete effort on Monday night.
Indiana quite literally seemed to somehow put together some of its best and worst stretches of play this season within the same game in a 88-75 win over Louisiana Tech.
In the end the Hoosiers did what they've done in all six contests on this young 2019-20 campaign — they won.  IU moves to 6-0 for the first time since the memorable 2012-13 season after it puts away its stiffest competition thus far in the feisty Bulldogs.
Indiana will have the rest of the week off as it prepares to play South Dakota State on Saturday at 4 p.m. in Bloomington.
OVERALL (B-)
A double digit win over a KenPom top 100 team without your starting point guard can't be all bad, right?  Nope.
You just have to hold your nose at times as you work through the details.
Things started so promising.
Three-straight coast-to-coast layups gave the Hoosiers their first six points of the game and a 6-2 lead. The last layup by junior guard Al Durham resulted in an and-one opportunity and a timeout by Louisiana Tech.
Indiana continued on to a 14-2 lead to seize control of the game and they never trailed again.  A layup by Durham at the 7:29 mark in the first half gave the Hoosiers their largest lead of the game at 23 points.
And then everything started to change.  Turnovers.  Defensive breakdowns.  Indiana lost their focus, and Louisiana Tech played with greater intensity.  While the Bulldogs never got closer than ten points, it felt like they could break through at any moment and make things very uncomfortable.
IU head coach Archie Miller pointed to his captains after the game.
"Devonte (Green) has to stay even keel and grab the reigns of the team," Miller said.  "Al has to grab the reigns of the team. And when things get shaken up, you need the guard leadership, the huddles — let's get a shot, let's get a stop and let's calm it down."
Durham clearly took the message personally.
"I've got to take responsibility," Durham said after the game.  "I've got to make sure we don't get into that position. I feel like we've got to reel it in and we can't have a half a basketball like that again."
Miller, meanwhile, tried to take the bigger picture view.
"So this is one, regardless of how you feel you played, we won the game and a few months from now this will be one that's more valuable than hopefully most people realize," Miller said.  "But it definitely was a hard game to watch in the second half."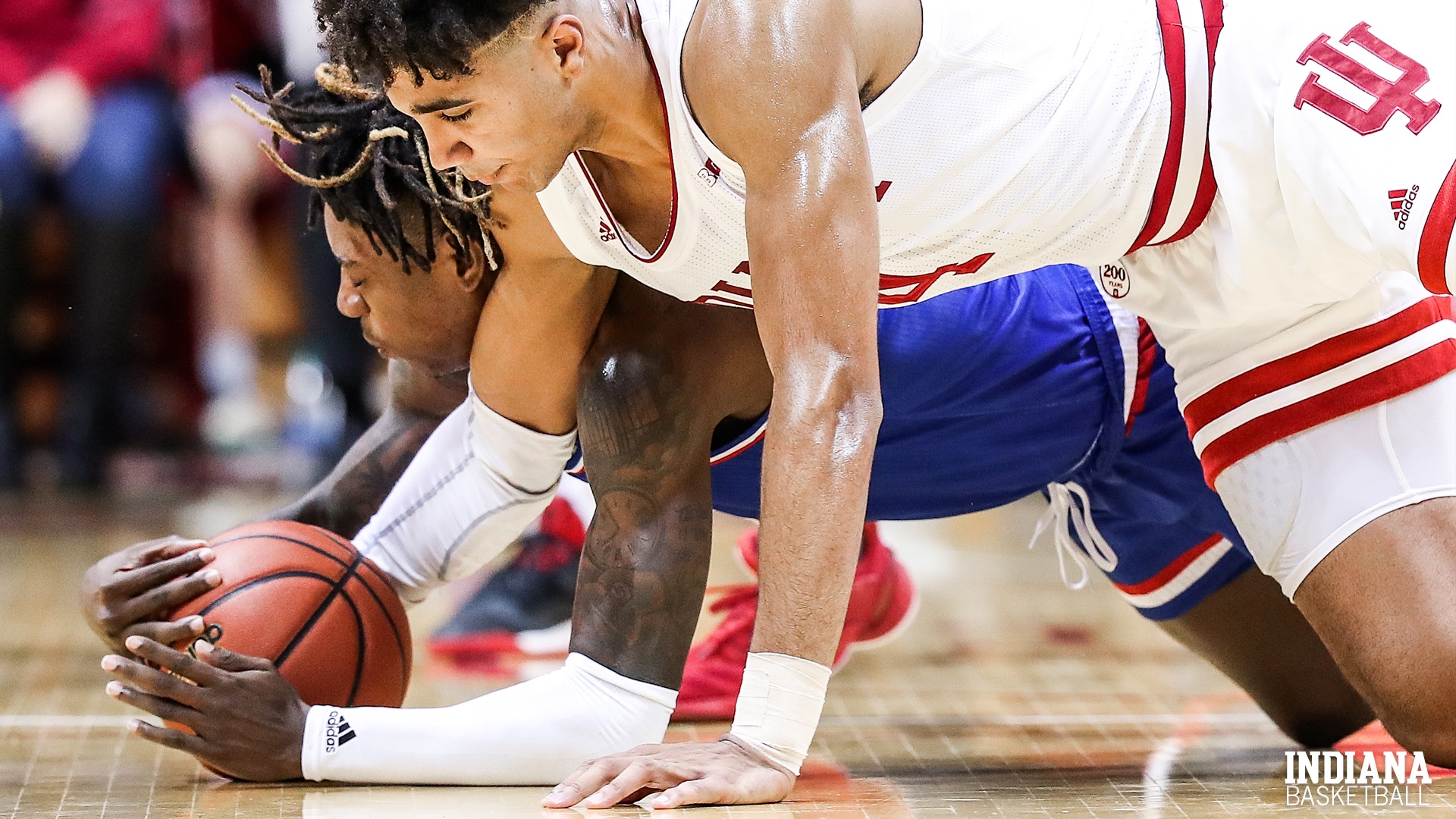 OFFENSE (B-)
The Hoosiers leaned on their foundation — balanced scoring and the free throw line — to pull them through in this one.
Four Hoosiers reached double figures in the scoring column, led by a career-best 21 points from freshman forward Trayce Jackson-Davis. Durham secured 18 points, Green tallied 16 points, and redshirt junior forward Joey Brunk scored 12 points.
The Hoosiers went 28-of-38 (73.7 percent) from the free throw line. In a promising trend, Indiana has shot above 70.0 percent from the free throw line in five of its six games this season.
"We're going to win games by not turning it over," Miller said after the game.  "We're going to win games by drawing fouls, And we're going to win games by rebounding, period."
Two out of three was good enough on Monday night as Indiana committed a season high 18 turnovers.
Miller saw a team that stopped moving and started dribbling, and that was a recipe for 9 IU turnovers in the first 7 minutes of the second half.
"When the ball sticks and it's dribbled, that's a nightmare for this team," Miller said.  "This team, the less this team dribbles, the better off this team's going be. The more this team moves and shares the ball and runs hard and posts hard and plays freely, that team has a chance to be pretty good."
The Hoosier head coach saw a better illustration of what he is looking for offensively in the first half.
"Like I said, in the first half I thought our guards did a nice job," Miller added.  "We were attacking in transition. We shared the ball. They went zone. Our bigs did a good job of moving it. And we were unselfish and we made some really good looks."
DEFENSE (C+)
Miller likes to say that good defense can lead to offense.  On this night the opposite held true as things broke down for IU.
"We definitely let our offense and our lack of taking care of it and maybe some of our frustration, we let that carry over to some sloppy transition defense, not communicating, some easy breakdowns and whatnot," Miller said.
Louisiana Tech was able to get to the rim with ease at times with 36 points in the paint, and IU was unable to force the Bulldogs late into the shot clock.  The Bulldogs shot 49.1 percent from the field.
"You're seeing very few long possessions by the other team," Miller said.  You're seeing quick shots in transition. You're seeing fouls. You're seeing drives that relate to threes.
"The way that we play, our team has to be a team that makes the other team work on offense to get a shot. … And I don't think we're even close to that right now."
Miller's first two Indiana squads improved over the course of the seasons as he dealt with young rosters that were not well versed in his pack-line scheme.  The third year head coach is hoping for a similar transformation this season.
"Early in transition we're not tough enough and strong enough to get the other team to their second side or third side,"  Miller said.  "That's where we're at right now. We're like get back, let's try to guard the first side. We're not anywhere near a Big Ten team on defense right now."
On the plus side, Louisiana Tech entered the game with the tenth best turnover rate in the country (13.8 percent). The Hoosiers forced 20 turnovers and scored 20 points off of them.
---
OTHER GAME COVERAGE
---
THE PLAYERS
(players with meaningful minutes)
Joey Brunk* (B+) A really steady game that IU needed out of a veteran big man in a tough battle.  Brunk passed well out of the post and was a force in the paint.  Indiana needs a toughness factor, and Brunk provided it.
Justin Smith* (C) You worry about the games where Smith fades out of the picture, and a poor night from the field seemed to transfer to just three rebounds in 32 minutes.  Smith did stay focused and impactful on defense for the most part.

Trayce Jackson-Davis* (A-) It felt like the true freshman was at times carrying this team in the second half, with 17 of IU's 36 points in the second segment to go with 7 rebounds.  As he has been all season, Jackson-Davis was also a force protecting the rim, and he also got 13 free throw attempts.
Armaan Franklin* (C+) There were bright spots for Franklin but his shot isn't falling this season.  The freshman did a good job taking multiple charges but there were also defensive shortcomings against a quick Bulldog squad.
Al Durham* (B-) Durham was a major factor in IU running out to their big lead, but he was also unable to prevent the slide, and his 5 turnover night was particulary concerning.
Devonte Green (B-) After a 15 point and 1 turnover first half, Green had 1 point and 3 turnovers in the second as he seemed to get rattled by Louisiana Tech's intensity.
Jerome Hunter (C+) After some early flashes of promise this, it looks like the longer timeline for Hunter to become a high impact player might still be the more reasonable expectation.
Race Thompson (B) Hit his first three-pointer of the season, which could be a good development.  Perhaps a game where a player with Thompson's toughness should have gotten more than 11 minutes.
Damezi Anderson (B) Anderson continues to look like a confident shooter, but Miller seemed less willing to go with his bench on this night.
De'Ron Davis also appeared in the game.
Note:  Sophomore point guard Rob Phinisee was not in uniform for the game as he deals with multiple minor issues.  "We're hoping maybe by the middle of this week, Wednesday or Thursday he's back with us here on the court," Miller said after the game.
*Denotes Starters
---
You can follow us on Twitter:  @daily_hoosier
Find us on Facebook:  thedailyhoosier
The Daily Hoosier –"Where Indiana fans assemble when they're not at Assembly"
Seven ways to support completely free IU coverage at no additional cost to you.