Indiana head coach Archie Miller was wearing his feeling of relief on his sleeve after leading his team to its first road win of the season on Saturday night in Lincoln, Neb.
"After being on the road a few times in this league…if you punt one in at the buzzer it doesn't matter, you got one," Miller said.
The Hoosiers finished a season sweep of Nebraska with an 82-74 win over the Cornhuskers at Pinnacle Bank Arena.
Indiana (14-4, 4-3) will host Michigan State on Thursday at 8:30 p.m. ET at Simon Skjodt Assembly Hall in Bloomington.
OVERALL (B)
While Nebraska went on some strong runs, including an 11-0 first half stretch, Indiana managed to avoid the knockout blow on the road that has plagued them in early Big Ten contests.
After falling behind, 28-20, the Hoosiers went on a 12-2 run, capped off with five-straight points by freshman guard Armaan Franklin to give the Hoosiers a 32-30 lead with 5:56 remaining in the first half.
The Hoosiers went on a 9-0 run that ended with IU's largest lead of the first half, 42-34, at the 2:25 mark.
IU led 46-41 at the break, and then opened the second segment with some of their best play of the season.
Indiana opened the second half on a 6-0 run to take a 52-41 lead on a Joey Brunk jumper. The Hoosiers opened up the half shooting 4-of-4 from the floor.
Indiana extended their run further to 16-2 in the second half and took their largest lead of the night on a junior forward Justin Smith 3-pointer, 62-43, at the 14 minute point.
Nebraska was able to cut away at the lead, pulling within six points on multiple occasions. IU still needs to find a killer instinct and put teams away rather the making things uncomfortable down the stretch.
But again, the Hoosiers were able to slow the Husker momentum repeatedly and pull out the win.
Indiana outrebounded Nebraska, 48-30. The Hoosiers led for 27:13 of the game.
OFFENSE (B)
After a terrible night shooting the basketball at Rutgers, Miller pleaded with his team to just make a few shots.
On Saturday night, his players delivered.
"Offensively, we were able to make a few shots, gave us some confidence," Miller said. "We then went from being a tight team to being a team that I thought played a little more free."
The Hoosiers shot 6-of-16 in the first half from three-point range. The six three pointers in the first half tied for the most three pointers in a half this season (North Alabama and Louisiana Tech).
In the second half, IU looked to the paint.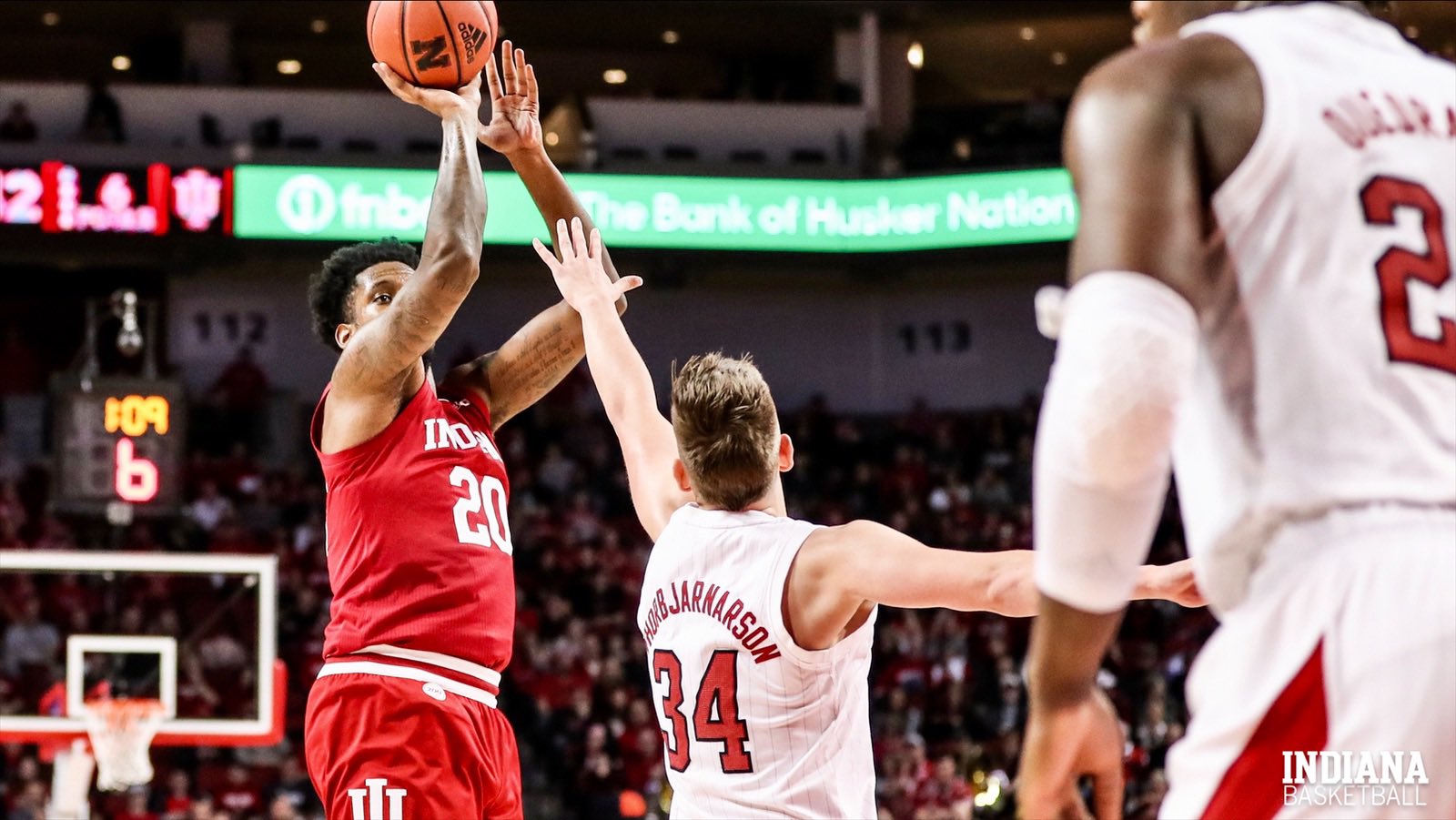 "In the second half, I thought our big guys did a great job of commanding the ball," Miller said. "We were able to play inside out for a good portion. We played as well offensively as we have in awhile."
Forwards Trayce Jackson-Davis, Joey Brunk and Justin Smith led the team in scoring as IU was able to impose its size advantage.
IU was able to push the ball and get points in transition, and in the half court the ball moved well from side to side as well as inside out.
"We had 21 assists, which I don't think we've had 21 assists in any of the Big Ten games combined," Miller said.
The 21 assists on 31 made field goals, is tied for the most in a game this season (Troy).
Indiana had 16 turnovers for the game, including some late miscues as they tried to close out the game against pressure.
DEFENSE (B)
In the opening minutes, it wasn't clear how Indiana would slow down Nebraska's tempo.
"Real early in the game, they were faster than us," Miller said. "Their transition attack was coming downhill. Their guards were at the basket."
One adjustment was the insertion of Devonte Green and Armaan Franklin into the game. Both players used their athleticism to help thwart the Husker transition attack.
A major point of emphasis was defending the three-point line, and once IU adjusted to the speed of the game they covered the arc well.
"I thought our guys played really together, and I thought they played hard for the most part, especially defending their three-point line against a really tough cover," Miller said. Nebraska was just 3-of-17 from distance in the second half.
For the most part, Miller was pleased with the collective defensive effort. IU held Nebraska just under 40 percent from the field, and to 30 percent from three-point range.
"Those guys from Nebraska have gotten better. The first time we played them, we had no answers, but tonight I thought it was a little better defensively," Miller said.
The Hoosiers may have gotten too comfortable on the defensive end after running out to the 19-point lead. A recurring theme — bad offense leading to bad defense — contributed to Nebraska being able to edge back into it.
"Once we start to miss some shots we run slower," Miller said. "That's a problem, especially on the road. You miss a couple shots you've gotta run faster."
Indiana only had two steals and only forced 11 turnovers as they emphasized getting back and then recovering out to the three-point line rather than making disruptive plays against Nebraska's hectic pace.
---
OTHER GAME COVERAGE
https://youtu.be/7QIXfosNXWY
---
THE PLAYERS
(players with meaningful minutes)
Joey Brunk* (A-) The big man was an incredibly efficient 7-of-8 from the field including some mid range jump shots that allowed IU to space things out some. He held his own defensively despite not always having great matchups.
Justin Smith* (A-) The junior forward continues to play with a really high motor and he has continued to become a better finisher around the rim this season. Held Nebraska's Cheatham under his average.

Trayce Jackson-Davis* (A) A good comeback game after some tough Big Ten contests. Jackson-Davis passed very well out of the post, dominated the glass, and made big free throws late.
Rob Phinisee* (B-) Phinisee got all of his points early and had four assists and four turnovers in a choppy day that included foul trouble.
Al Durham* (C) Never seemed like himself, from early struggles to stay in front of his man, to shooting troubles and late missed free throws.
Devonte Green (C+) Green facilitated well and defended well at times. But he struggled from the field and seems to compound mistakes.
Jerome Hunter (A-) Miller continues to allow Hunter to come into games and shoot because he knows he can have a 2-for-3 day from long distance like this one. Now he has to start doing it consistently, which would be a major asset going forward for a team that needs a wing and needs three-point shooting.
Armaan Franklin (B+) Came in to help on the defensive end and ended up provided a spark on offense too. Franklin was able to slow down Nebraska's transition offense, and his offensive production came during IU's biggest runs. He's struggling with his first step off the dribble leading to traveling calls.
De'Ron Davis (A) Excellent minutes from Davis including key baskets and rebounds and no major defensive mistakes.
Race Thompson (B) Had some good minutes including a block and several rebounds, but he also lost his man on an inbounds play that led to a three-pointer for Nebraska.
*Denotes Starters
---
You can follow us on Twitter: @daily_hoosier
Find us on Facebook: thedailyhoosier
The Daily Hoosier –"Where Indiana fans assemble when they're not at Assembly"
Seven ways to support completely free IU coverage at no additional cost to you.