Indiana did what it had to do in a game it had to have.
Despite a discouraging complete reversal of what was once an 18-point lead, IU found a way on the road for an 84-76 win over Nebraska in Lincoln.
Now the fun begins.  Every opponent remaining on the Hoosiers' schedule is ranked inside the KenPom top-60.  And it starts with Purdue.  Indiana's rival has won seven in a row in the series dating back to 2016.
Indiana (8-5, 3-3) will host the Boilermakers on Thursday at 7 p.m. ET in Bloomington.
OVERALL (B- / C+)
Indiana played some of its best basketball of the season to open the game.  Effective on both ends, the Hoosiers stormed out to a 31-13 lead with 10:03 left before the break after Rob Phinisee's second 3-pointer in less than a minute.
But as they've done now on multiple occasions, the Hoosiers seemingly got comfortable with a lead.
Nebraska had the advantage to within single digits before halftime, and after IU stretched the lead back to 15 with 15:53 left in the game, Nebraska came all the way back in the only way they know how — fast.  The Huskers took the lead at the 9:39 mark after a 3-pointer by Indianapolis product Kobe Webster.  That capped off a 14-2 Nebraska run in just over four minutes.
Things suddenly looked dire as IU couldn't hit shots on offense and couldn't get stops on the other end.  Now locked in another tight game, head coach Archie Miller reminded his team about what went wrong just days earlier in Wisconsin.  Failure to attend to the details in the closing minutes allowed the Badgers to pull one out in double overtime.
"The big thing is to try to regroup," Miller said of responding to Nebraska's rally.  "Find a way to organize yourself, and be in the same situation you were in in Wisconsin the other day and win the game.  That's what I told our team going into the last three minutes.  You were in this situation Thursday night and we found a way to not be able to execute or get the stops.   And tonight I think we got a couple key stops, we were able to execute and we made a couple key free throws and we were able to win the game."
And IU did in fact close this time — finishing the game on an 18-7 run.
OFFENSE (B)
Nebraska was able to take away Indiana star big man Trayce Jackson-Davis until that critical game-ending stretch.  The sophomore forward had only five points with Nebraska leading 67-64 with under eight minutes remaining.
"They were obviously surrounding the paint with five players," Indiana coach Archie Miller said, "and they also trapped the post most of the night and tried to make other guys beat them."
Indiana both swam and sank against that Husker ploy.  Hot perimeter shooting fueled the early Hoosier advantage, and a lid on the basket helped let the Huskers back in it.
"Not watching the film and just having a feel for it from the bench, I think the shots in the first half were the same in the second half," Miller said. "The ones in the first half just went in. We got some good looks in the second half. They didn't go down."
Indiana shot 18-of-34 (52.9%) from the floor in the first half of the contest and made 7-of-13 first half attempts from the 3-point line.  In the second half those figures dropped to just 38.7 percent and (2-of-11) 18.2, respectively.
The constants throughout for IU were ball security and offensive rebounding, two things Miller cited as ultimately keying the win.
Indiana turned the ball over only eight times during the game, a turnover rate of just 11.6%.
"Right now we're getting more confident handling it," Miller said.
IU grabbed 12 offensive rebounds, compared to Nebraska's five, and collected 16 second chance points.  It was a calculated risk, with the Huskers hell bent on attacking in the other direction.  But Indiana saw an opportunity it couldn't resist.
"We talked a lot about it in the last three days, especially against Nebraska who changes up their defenses, and there's gonna be a lot of rotations with post traps and drives where you're going to have the opportunity to crash with lanes," Miller said.
As for the shooting?  Miller chose to look at the big picture.
"For us we shot 37 percent from three and made nine threes," he said.  "That's a pretty good night for us."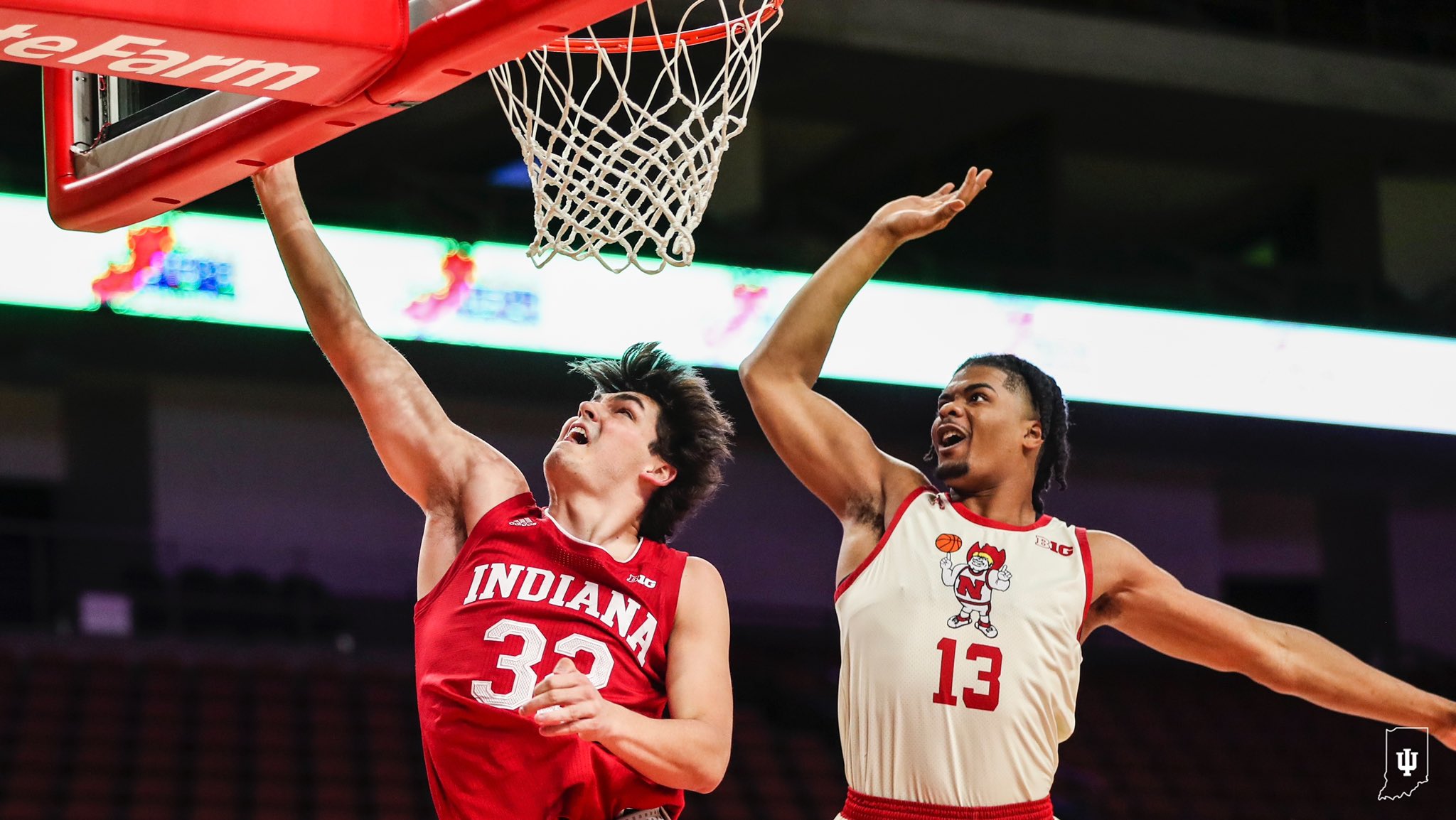 DEFENSE (C)
It probably doesn't make sense getting too bent out of shape about the numbers.  Nebraska is a unique cover.  And while some of the details from Sunday night are concerning, we don't see big picture red flags.  Nebraska spread IU out in 2019-20 and exposed the Hoosiers in transition, but that didn't carryover to other games.
The effort, or at times lack of effort on Sunday was still disappointing, and overall Indiana's defense isn't nearly as impactful as it was to start the season.
The Hoosiers allowed 1.053 points per possession on Sunday night.  That's the fifth time in its last six outings Indiana has allowed more than a point per chance.  In recent weeks Wisconsin, Michigan and Ohio State all held Nebraska under .95 points per possession.
Although Miller has said recently that he wants to give more minutes to the bench, that didn't play out on Sunday as only seven players saw meaningful minutes.  Khristian Lander and Jordan Geronimo both played three minutes in the game, and neither saw the floor after halftime.  It isn't a reach to wonder if the Hoosiers got part complacent with the lead, and part tired against Nebraska's pace.
Whatever the case, IU struggled to get back on defense against Nebraska's relentless transition attack, and the Hoosiers couldn't stay in front of the ball in the half court in the second half.
"We put ourselves in a tough spot (not) being organized getting back (on defense), our effort getting back, and then our effort on the ball as they really sort of just spread the floor and just started to drive," Miller said.
Playing against Nebraska's outlier style can produce outlier results.  Where is this IU defense?  A better indicator will come on Thursday night.
---
OTHER GAME COVERAGE
---
THE PLAYERS
Trayce Jackson-Davis (B) Imagine producing a double-double on an "off night" when a defense goes all-in on stopping you.  No doubt frustrated, he stayed engaged, delivering on the defensive end and the glass while patiently awaiting his chance on offense.  "Trayce sort of emerged when we needed him the most," Miller said after his big man scored 10 points in the final seven minutes including 6-of-8 free throws in the final 3:15.
Race Thompson (B-) The matchups weren't ideal defensively and Thompson faded at times, but his early second half production was critical.  He had nine points and three rebounds in the first six minutes of the second half.  Of course that mean he only had 2 points and 2 rebounds the rest of the way.
Al Durham (B) If anything about Durham's game has taken a big step forward it is his ability to get by his man off the dribble and score in the paint.  While he had defensive challenges like most of his teammates, Durham continued what has been a good stretch on the other end.  He has scored in double figures in four-straight games and is averaging 15.8 points per game during that run.
Rob Phinisee (Player of the game / B) Phinisee had what was probably his best ten minutes at IU since a freshman year game at Illinois.  In the end Phinisee scored a career-best 18 points, with 16 coming before halftime, and 14 in the first ten minutes.  That effort fueled IU's big early lead, but a lower leg injury that Phinisee played through appeared to limit him on both ends after the break.  He struggled against straight-line drives during Nebraska's big run.
Trey Galloway (C+) Galloway hasn't made a 3-pointer in what is now five straight games, going 0-11 from behind the arc during that span.  Interestingly, he is 11-13 from 2-point range during that same stretch.  Galloway continues to do a lot of things well, but obviously defenses will continue to make every effort to force him to beat them from long range.
Jerome Hunter (B) The redshirt sophomore had an impressive game on the boards, delivering six in 20 minutes after seven rebounds against Wisconsin.  Overall he looks like a more comfortable player with better energy and more determination and hustle plays as the season progresses.  He has made 5-of-12 3-pointers (40 percent) over the last three games.
Anthony Leal (B-) Leal's shooting stroke didn't carry over from Wisconsin, although he hit his lone bucket in a big moment to help slow Nebraska's late run.  That 3-pointer started IU's 18-7 closing run.  While the results aren't always perfect, he continues to be in the right place defensively while giving high-end effort.
Jordan Geronimo and Khristian Lander also saw action in the game.
Player of the game tracker:  Jackson-Davis (6), Thompson (2), Franklin (2), Phinisee (2), Durham (1).
Note:  Joey Brunk had back surgery and continues to be on an uncertain timeline.  Armaan Franklin missed the game with an ankle injury.
---
Find us on Facebook:  thedailyhoosier
The Daily Hoosier –"Where Indiana fans assemble when they're not at Assembly"
Seven ways to support completely free IU coverage at no additional cost to you.