Another season of Indiana basketball is almost here.
Hoosier fans will get their first look at the 2019-20 IU men's and women's teams at the annual Hoosier Hysteria event at Simon Skjodt Assembly Hall on Saturday afternoon.
The program begins at 4 p.m. with introductions for both teams and will also include comments by both coaches, a men's scrimmage, and contests (dunk, three-point, and skills).
KEY INFORMATION
When and Where:  Hoosier Hysteria begins at 4 p.m., Saturday, October 5 in Simon Skjodt Assembly Hall.  Doors will open at 2:30 p.m.
Admission is free but fans are asked to donate a canned food item to benefit the Hoosier Hills Food Bank.
How to Watch:  Hoosier Hysteria will be streamed on BTN Plus.  This is a pay service which is $9.95 per month or $79.95 per year for a school pass. To watch Hoosier Hysteria – click here.
(Note:  IU's exhibition game against Gannon and at least two of its regular season games will also only be available on BTN Plus.  You can see the details on the schedule here.)
Parking:  If you plan on arriving to stand in line early in the day, please park in the arena lots (Gates 4, 10-11, and 12).  Special ADA parking is available in Gate 13.
Team Posters:  All fans in attendance will receive free schedule posters for both the men's and women's programs.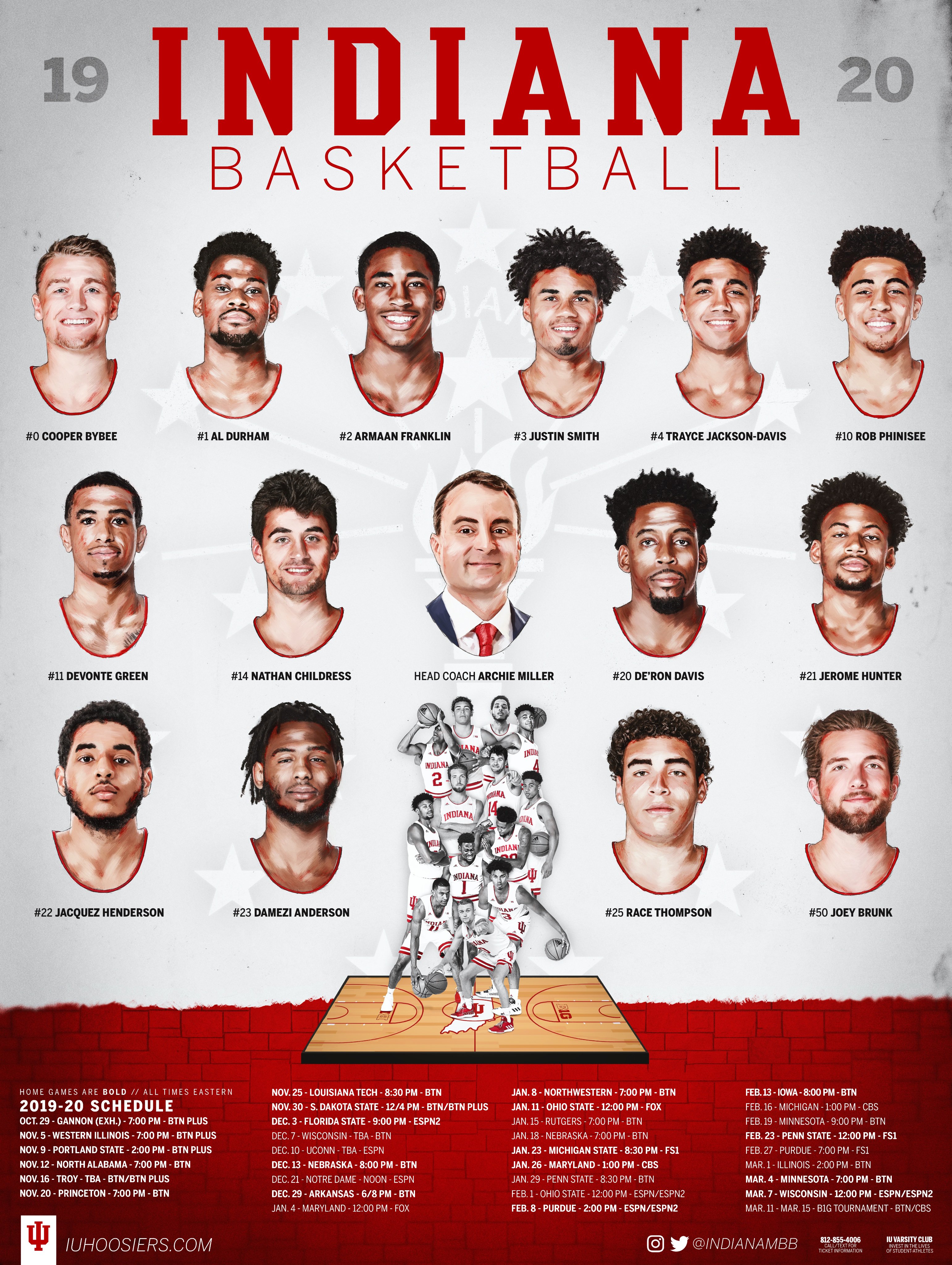 SPECIAL GUEST
IU Athletics will honor the newest member of the College Basketball Hall of Fame, Calbert Cheaney.  A native of Evansville, Cheaney was the 1993 National Player of the Year and is the all-time leader in points scored both for IU and the Big Ten Conference.
Cheaney will be inducted into the Hall of Fame on Nov. 24 in Kansas City.
We expect to be able to speak with Cheaney after Hoosier Hysteria.  Look for video after the event.
AUTOGRAPHS 
Following the conclusion of the event, both the men's and the women's teams will be available in the concourse of the facility to sign autographs for 45 minutes.  Only one item per person will be signed by each player, time permitting.
RECRUITS EXPECTED TO BE IN ATTENDANCE
Hoosier Hysteria is one of the top recruiting weekends for the IU basketball program.  The following recruits are expected to be in attendance:
Anthony Leal, Bloomington, Ind. (Class of 2020 verbal commit) — official visit
Trey Galloway, Culver, Ind. (Class of 2020 verbal commit) — official visit
Khristian Lander, Evansville, Ind. (Class of 2021 target) — official visit
Trey Kaufman, Sellersburg, Ind. (Class of 2021 target) — unofficial visit
Caleb Furst, Fort Wayne, Ind. (Class of 2021 target) — unofficial visit
Jayden Brewer, Avon, Ind. (Class of 2021 target) — unofficial visit
All recruiting visitors via recruiting services Rivals and 247Sports.  See Friday's Daily Hoosier Report.
COMPETITION PARTICIPANTS
The participants for the Hoosier Hysteria competitions were announced by the school on Friday. Three competitions will take place during the event, including a 3-point contest, skills competition and dunk contest.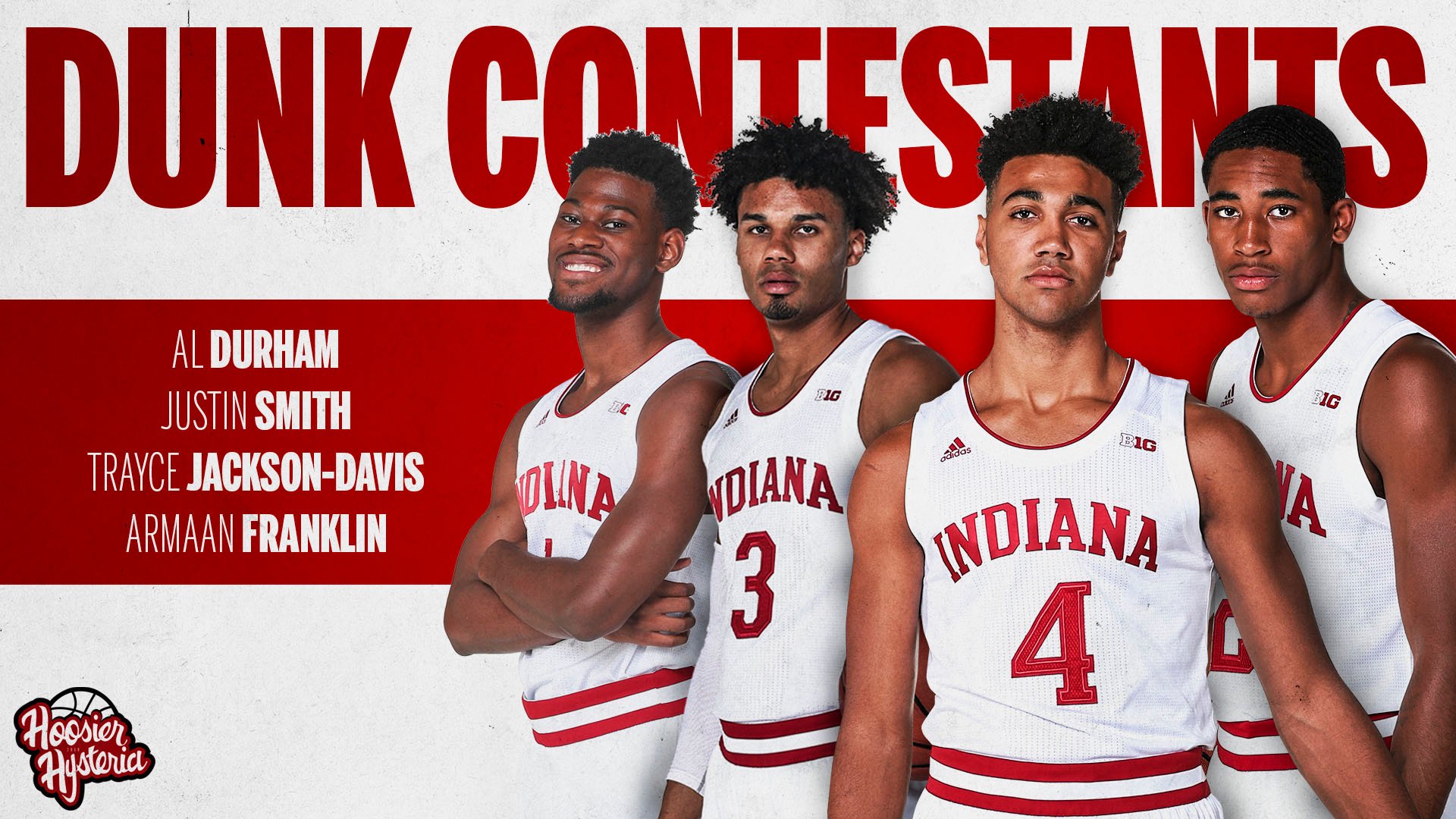 3-Point Contest
Al Durham & Jaelynn Penn
Damezi Anderson & Ali Patberg
Armaan Franklin & Aleksa Gulbe
Jerome Hunter & Brenna Wise
Skills Competition
Rob Phinisee
Joey Brunk
Cooper Bybee
Race Thompson
Chanel Wilson
Keyanna Warthen
Jorie Allen
Grace Berger
Dunk Contest
Al Durham
Justin Smith
Armaan Franklin
Trayce Jackson-Davis
---
You can follow us on Twitter:  @daily_hoosier
Find us on Facebook:  thedailyhoosier
The Daily Hoosier –"Where Indiana fans assemble when they're not at Assembly"
Seven ways to support completely free IU coverage at no additional cost to you.