No one really knew exactly what to expect with the debut of a new coaching staff and several new players last night, and in many ways we still don't.
Indiana took care of business, opening the Mike Woodson era with a 68-62 win over Eastern Michigan on Tuesday night at Simon Skjodt Assembly Hall in Bloomington.
It was by no means a flawless debut, with a lot to like, and much still under development.  Let's break it all down with the return of the report card.
Indiana (1-0) will host Northern Illinois on Friday night at 7 p.m. Eastern.
OFFENSE (D)
It is difficult to begin anywhere other than Indiana's 4-of-24 night from behind the 3-point arc.  It would be easy to write that off as first game jitters or otherwise as an anomaly.  But interestingly, Xavier Johnson revealed after the game that IU posted the exact same numbers in a Sunday scrimmage.
After Parker Stewart made Indiana's first two 3-pointers of the game, Indiana made just 2-of-22 the rest of the way, and that caused the half court offense to stagnate and let Eastern Michigan back in the game.
"I thought we had a lot of dry moments offensively, and that we've got to go back to the drawing board and fix," Woodson said after the game.
With nothing falling from long range, IU turned inward.  Trayce Jackson-Davis scored 10-straight points during a 6:45 span in the second half, and that proved to be just enough to save the Hoosiers from an opening night embarrassment.
It isn't time to hit the panic button on Indiana's perimeter shooting, but it is a topic that has returned to the forefront.
"We're missing a lot of wide-open 3s right now," Woodson said.  "So we've got to get better in that area because these same guys have been making them in practice and they just gotta feel comfortable taking them in the game and making them. They will. We'll get to that point."
While the emphasis is on spacing, and playing fast, Woodson acknowledged a few of the three-pointers were rushed.  But don't look for him to abandon that part of the attack anytime soon.
"We've got to keep shooting them because it's a part of the game," he said.
Indiana helped offset the poor shooting with good ball security.  After committing five turnovers in the first 8:12 of the game, IU had just three over the last 31:48.
A surprising stat — How did Indiana have only five offensive rebounds with a size advantage and despite missing 36 shots?  Mike Woodson wasn't ready to attribute it to a lack of effort, but the offensive rebounding rate will need to improve.
DEFENSE (B)
It was a tale of two halves on the defensive end for IU.
Eastern Michigan didn't score a point until the 12:39 mark of the first half, on their 15th possession.  The 19 points scored by the Eagles in the first half were the fewest allowed in a half by IU since last year's opener against Tennessee Tech.  Indiana forced eight turnovers before the break, and it ran the lead to its highest point at 40-19 with 18:13 remaining.
But Woodson said his players relaxed, and got a little soft after their strong opening act.
"We were comfortable, put it that way, with the lead. And then it changed drastically," Woodson said.
Indeed it did.
For the second half Eastern Michigan scored 43 points, fueled by 6-of-11 shooting from behind the arc, and IU only forced five turnovers.  The Hoosiers weren't as aggressive on the ball and they didn't close out as hard on shooters.  The Eagles often went to a five-out approach that at time exposed mismatches as IU switched.
But overall this is a defensive effort that IU should largely be happy with, and the second half letdown easily correctable.
"I like the way we started the ball game based on our defense because, I keep saying it, if we can build a defensive foundation here, we'll be in every ball game and give ourselves a chance to win," Woodson said.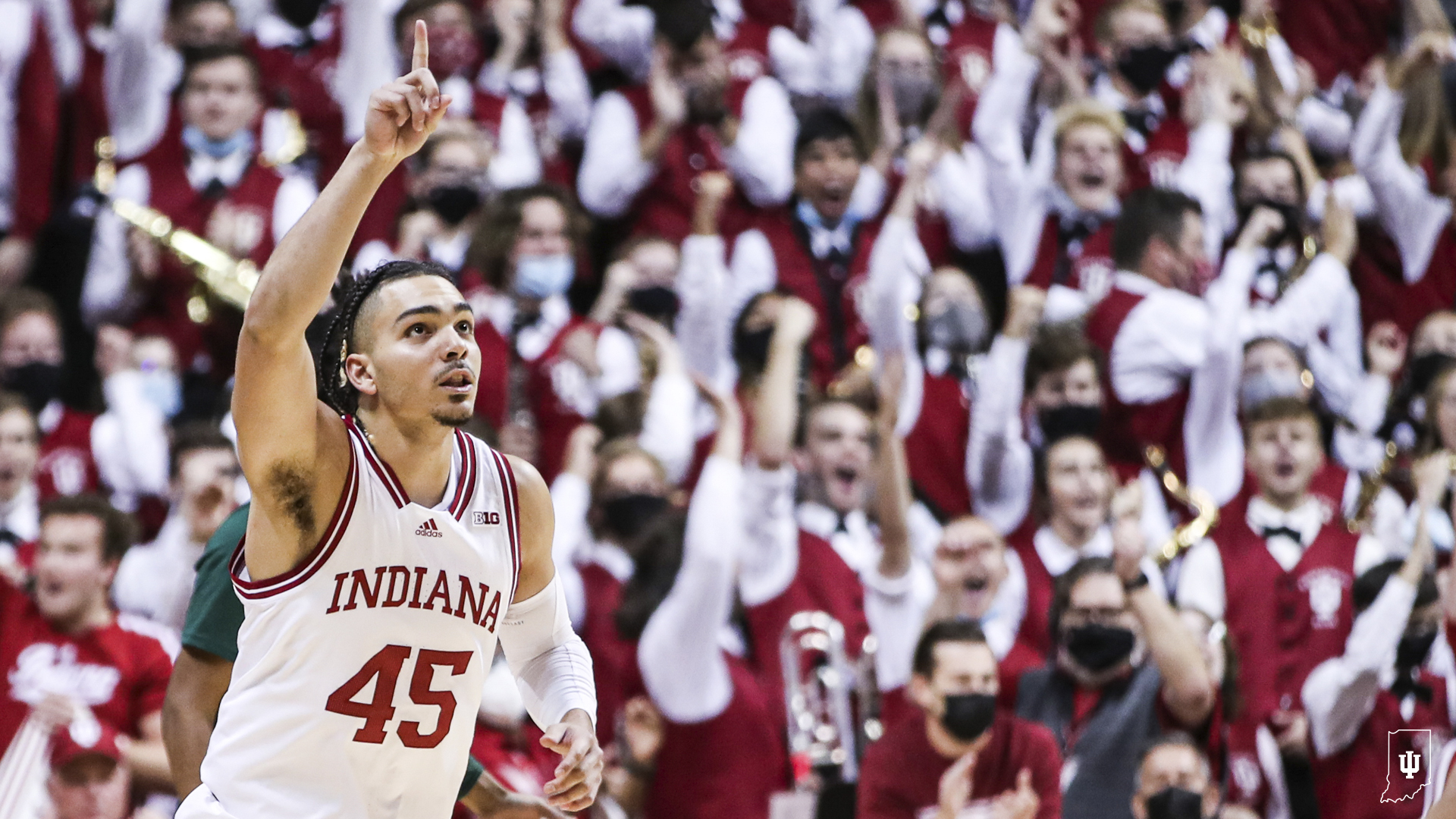 ---
OTHER GAME COVERAGE
---
THE PLAYERS
Trayce Jackson-Davis (A) — As we suspected, Jackson-Davis' biggest developmental strides came in the conditioning department, where he routinely made plays by sprinting the floor.  Jackson-Davis made an 18-foot jumper, but his physical dominance on the glass, help-side, and in transition was the story.  He secured his 23rd career double-double and reached at least 20 points and 10 rebounds in a game for the tenth time.
Race Thompson (B) — With a team high +18, Indiana was better when Thompson was on the floor.  He rebounded, blocked shots, and even brought the ball up some.  The question coming into the season was his 3-point shooting.  It is still a question.
Miller Kopp (C) — Kopp won't see a ton of minutes if he isn't making threes, and that turned out to be the case in this one.  He started but played only 19 minutes.  Defensively against more guard oriented teams he is better suited to play the four.
Parker Stewart (C) — He had a very interesting start to his IU career, getting his first shot blocked and then making threes on Indiana's next two possessions.  Just as strange, those were his only six points of the game in what turned out to be a quiet night.
Xavier Johnson (B) — Johnson showed why he is so valuable to this team, with his ability to get past his man and break down the defense.  At times that became Indiana's only offense.  He had three very early first half turnovers but settled in and didn't commit anymore.
Tamar Bates (B) — The true freshman played despite some questions about his health coming in.  He scored at the rim and in the mid-range but joined his teammates in the long range futility.  There will be better days as he rounds back into form.
Rob Phinisee (C) — You could certainly see a different level of commitment to the attack by Phinisee, but obviously he is going to have to convert at a more efficient rate to make it all come together.
Jordan Geronimo (C) — He delivered one of the better highlight reel moments of the night, putting a seemingly uncatchable ally-oop in the bucket.  But looked upon as IU's high-energy guy, this was otherwise not a noteworthy night from the sophomore.
Trey Galloway (C) — Galloway was often utilized as the primary ball handler, both because he has those skills and because the staff seems to believe he is better utilized at least at times in that role rather than on the wing as a shooter.  His old issue with leaving his feet to pass reappeared, but he had a pretty left-handed floater at a key point in the second half.
---
The Daily Hoosier –"Where Indiana fans assemble when they're not at Assembly"