It's early, but the product Indiana is putting on the floor is downright concerning coming out of the 2023-24 gate.
The Hoosiers fell behind national sub-300 Army 19-11 early and were not able to build more than a five point lead until midway through the second half.  The resilient Black Knights forced a tie at 58 with less than four minutes to play before IU went on a 14-3 run to finally pull away for good.
Let's take a deeper look at how the Hoosiers won 72-64 with another edition of The Report Card.
Indiana (2-0) will next play Wright State on Thursday evening at 7 p.m. ET.
OFFENSE (D)
When the going got tough, Indiana went over and over to its one clear advantage — the post.  The Hoosiers were able to successfully overwhelm Army with size, but it isn't clear how anything they're doing right now is going to translate against better competition.
There seems to be very little to the IU offense beyond dumping the ball in the post, and guards trying to win one-on-one matchups.  There isn't much meaningful movement off the ball, and rarely is Indiana forcing the opposition into rotations.
Obviously the sets Indiana is running have the potential to be more dynamic, but right now the Hoosiers look a lot like what they are — and bunch of incongruent parts who haven't figured out how to play together.
"We have to move it. We have to trust each other. We catch the ball, and the first thing we think about is putting the ball down on the floor, making a play for myself," coach Mike Woodson said on Sunday evening after the game.
Indiana doesn't appear to have dynamic playmakers on this team, so they'll either figure out the ball movement, or likely struggle all season long.
Seemingly before every season we hear a common refrain, something along the lines of getting out more in transition and generating easier shots before the defense gets set.  Both Woodson and point guard Xavier Johnson talked about that on Sunday.
"We need to share the ball, move the ball, get the ball up the floor and run because that's what the offense is supposed to do," Johnson said.  "We're supposed to get out and get stops, and I think that's the main problem is we're not getting enough stops to get out and run."
Indiana scored just four fast break points, so they were left to create in the half court.  When they actually got a shot or drew a foul things went fairly well.  But 18 Indiana turnovers, many of which came via careless passes, stymied the offense again and again.  If there was a saving grace, the Hoosiers didn't turn it over during the last 6:15 of the game.
DEFENSE (D)
Why has every team Indiana has played thus far, including the two preseason games, been able to generate open threes seemingly at will?
It's easy to point the finger at IU's big lineups as the culprit, but Woodson says the issues are starting on the ball.
"I think Malik (Reneau) has done an adequate job in defending on the perimeter," Woodson said.  "I just don't like putting Malik and Ware in pick and roll situations where the guy knocks the ball handler off, and now they're stuck with having to guard the ball, and it's not fair to them. So a lot of that is on the guy that's on the ball."
Xavier Johnson echoed Woodson's sentiments.
If help is required on a high ball screen, a wave of rotations ensue, and right now Indiana is not executing in that regard.  How much of that is a lack of preparation?  A lack of intensity and effort?  Yes and yes.  And when Woodson says its unfair for Reneau and Ware to cover the ball, that's another way of saying IU's personnel is suboptimal when it comes to guarding perimeter oriented offenses — which is about every team in college basketball.
Indiana's first two opponents have attempted an average of 36 threes.  Their scout of IU is revealing what we all see — the Hoosiers are not able to stay out of defensive rotations, and not prepared to execute on them.  For undersized teams, attempting a lot of relatively open threes, making a reasonable percentage, and generating long offensive rebounds makes a lot of sense.  The Hoosiers will see it all year until they can stop it.
MORE GAME COVERAGE
THE PLAYERS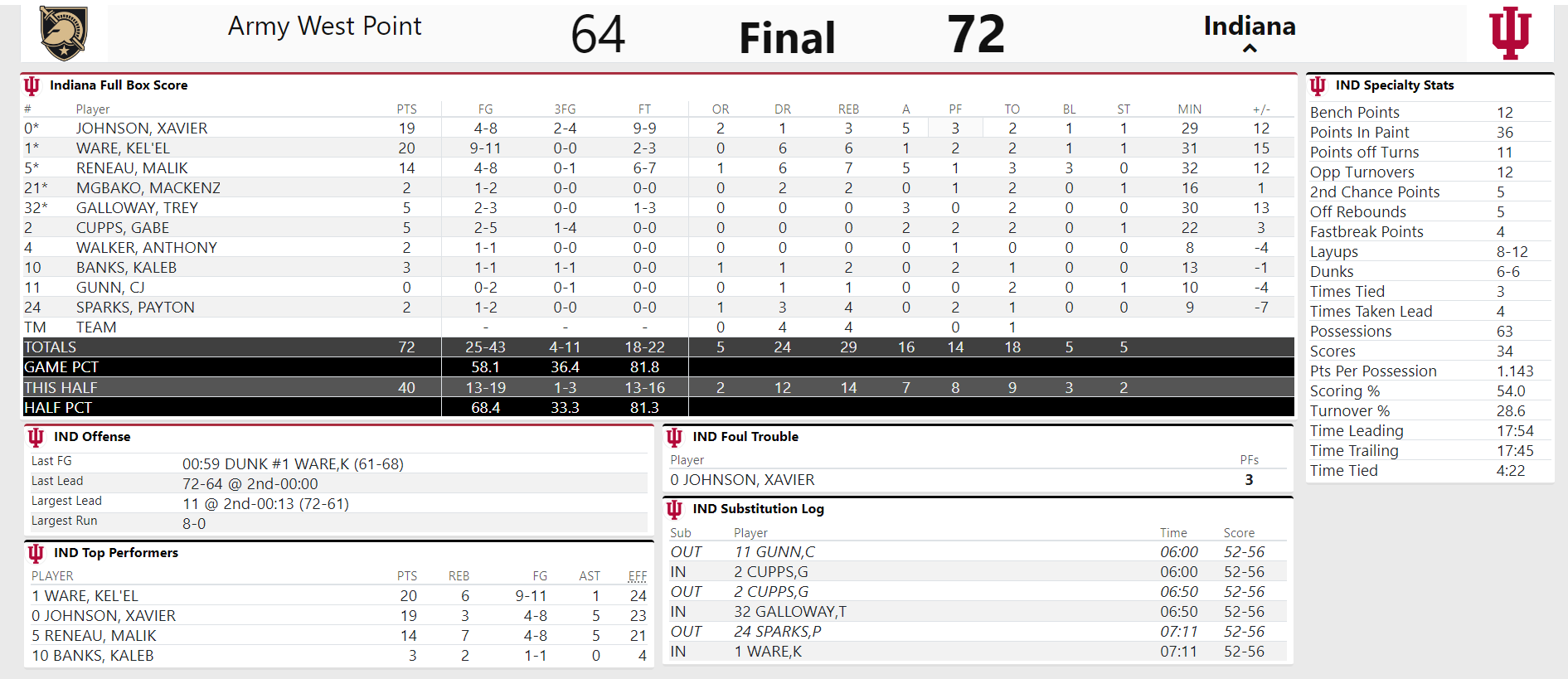 *Trey Galloway (D) – It was an out of character effort for Galloway, who just didn't seem to be able impact the game in meaningful ways very often on either end.  Thus far we haven't seen much of the aggressive offensive mindset he told us he's been asked to have this season.
*Malik Reneau (B-) – Reneau was clutch in the second half, including at the free throw line, where he was a perfect 6-for-6 after the break.  He led the team in rebounds, assists, blocks — and turnovers.  It's hard to blame him for what he's being asked to do defensively against smaller, quicker teams.
*Kel'el Ware (B) Ware was an offensive force in the second half, as he should be against a team like Army.  But it's reasonable to question how much of what we're seeing thus far will translate against high major competition.  And Ware needs to turn up the intensity on the defensive end, where he seems to be a step slow at times to protect the rim.
*Xavier Johnson (C) Johnson's overall stat line looks pretty good, but he was far less effective on the offensive end in the second half, and his defensive presence on the ball wasn't a major factor.  He was one free throw shy of becoming the 37th player to record a perfect 10-for-10 game at the stripe.
*Mackenzie Mgbako (D) Mgbako has shown a lot of potential as a shooter coming off screens, but thus far Indiana has rarely utilized that strength.  He has to figure out defensive rotations, and significantly step up his intensity on that end of the floor.
Gabe Cupps (C) Cupps was erratic throughout much of this game, but his intensity was never in question.  The fact that the staff trusts him as first off the bench and to close out games speaks volumes, and he delivered with a dagger 3-pointer in the closing minutes.
C.J. Gunn (F) There's no reason to throw in the towel on Gunn, but to this point he doesn't appear to have progressed vs. his freshman season.  Confidence and poise continue to seem to be playing a role.
Anthony Walker (D) It's clear the staff likes Walker, and we've seen flashes, but to this point he isn't having a meaningful impact and doesn't look like a player who will bring anything dynamic to the offense.
Kaleb Banks (D) Banks hit a three.  Perhaps that will help with what appears to be his own challenge with confidence.  With others not producing, there's an opportunity for more minutes, but Banks has to increase his fire on the court.
Payton Sparks (C) It was his first career game at IU, coming off an injury.  It makes sense to be patient and see how this goes.  Four rebounds in nine minutes is encouraging.
————————
Anthony Leal did not play.  Jakai Newton (knee) is out long-term.
---
The Daily Hoosier –"Where Indiana fans assemble when they're not at Assembly"