Coming off a 43-win season and an appearance in the NCAA Tournament, head coach Jeff Mercer's IU baseball program has unveiled its 2024 schedule.
IU will open the season Friday, February 16th in Myrtle Beach, S.C.
The 56-game regular season, spanning the course of four months, features six non-conference weekends, eight Big Ten series and 13 midweek matchups. This will be the final season in which the Big Ten features just 13 teams before Washington, UCLA, Oregon and USC join the conference for the 2025 campaign.
"We believe our non-conference schedule is built to prepare us for the rigors of conference and hopefully postseason play," Mercer said in a release by the program. "We value the importance of creating a challenging schedule with both our road and home opponents. We will be able to learn and grow through those challenges to become the best version of our team."
IU begins its season on the weekend of February 16th with contests against Coastal Carolina, Duke and George Mason in Myrtle Beach. The Hoosiers' first three weekends will also take the team to Waco, Texas for a three-game set with Baylor and to Frisco, Texas for the previously announced Frisco Classic against Alabama, Dallas Baptist and Arizona.
Troy, Belmont and Butler will all play weekend series with the Hoosiers in the month of March before jumping back into Big Ten play in April.
IU's assigned Big Ten opponents this season include home sets with Illinois, Penn State, Rutgers and Michigan. The Hoosiers will head to Maryland, Minnesota, Purdue and Nebraska as part of the conference schedule.
Contests at Vanderbilt, Louisville and Indiana State highlight a collection of 13 midweek matchups for the Hoosiers.  The matchup with Vanderbilt appears to replace a longstanding series with Kentucky that ended on bad terms when those programs met in the 2023 NCAA Tournament Regional in Lexington.
After a year off, IU will return to Victory Field in Indianapolis to play Ball State on April 23rd.
The Big Ten Tournament will once again be hosted in Omaha with the league's top-eight teams earning bids to Charles Schwab Field. IU has made the past 10 contested Big Ten Tournaments, the longest active streak of any school in the conference.
The NCAA Baseball Tournament will begin on the first weekend of June at select regional sites with the 2024 Men's College World Series set for June 14-24 in Omaha.
2024 Schedule Breakdown:
Overall
Home Games: 30
Away Games: 20
Neutral Games: 6
Big Ten
Home Opponents: Illinois, Penn State, Rutgers, Michigan
Away Opponents: Maryland, Minnesota, Purdue, Nebraska
Notes
Season Opener: Indiana at Duke (Feb. 16, 2023); Myrtle Beach, S.C.
Home Opener: Indiana vs. Miami (Ohio) (Feb. 20, 2023); Bloomington, Ind.
Big Ten Opener: Indiana vs. Illinois (March 22, 2023); Bloomington, Ind.
Opponents
2023 NCAA Tournament Teams:
– Arizona, Dallas Baptist, Alabama, Vanderbilt, Ball State, Maryland, Indiana State, Duke, Coastal Carolina, Troy, George Mason
2023 Super Regional Teams:
– Alabama, Duke, Indiana State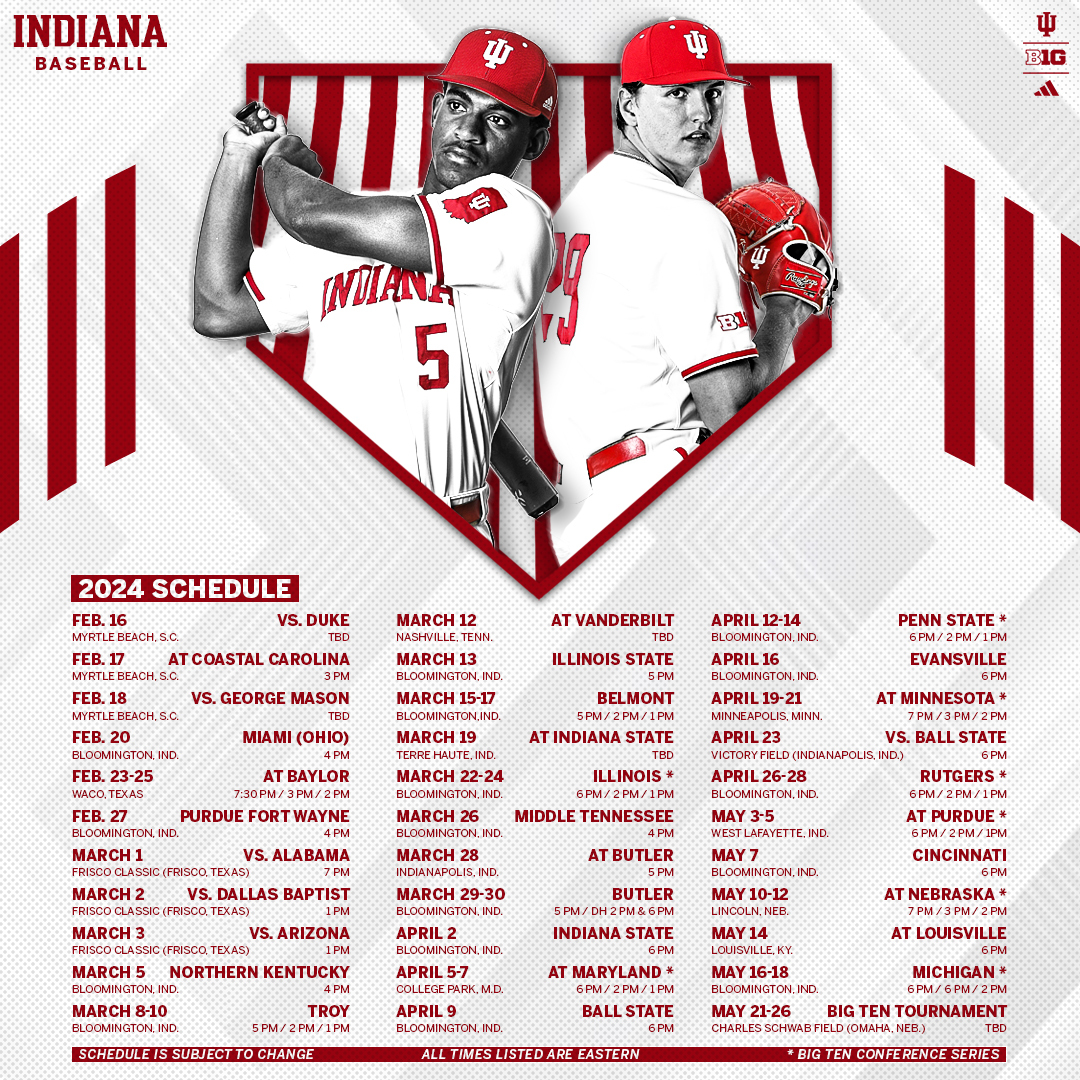 The Daily Hoosier –"Where Indiana fans assemble when they're not at Assembly"