Coming off its second loss of the season, Indiana women's basketball was far from its best in its Big Ten Tournament opener.
No. 9 seed Michigan State, one of just two teams to defeat the top-seeded Hoosiers this season, made life very difficult for IU for much of the afternoon. But good teams find a way to win games like that, and Indiana is one of the best teams in the nation.
And IU found a way, pulling out an 94-85 win.
Indiana (27-2) struggled on both ends for much of the first half. The Hoosiers trailed by 10 points after the first quarter, and the lead remained in that range for a good portion of the second quarter. Michigan State (16-14) went 8 for 15 from 3-point range in the quarter, as IU had trouble preventing open looks.
But the game shifted with around four minutes until halftime, when junior Kiandra Browne suffered an injury that forced a lengthy delay. The Hoosiers came out of that break on a 7-0 run, and cut the deficit to 40-34 at halftime.
Indiana made its move in the third quarter, just like so many other games this season. The Hoosiers won the period 25-18 to regain the lead heading into the fourth quarter. IU rectified its 3-point defense, and started hitting more triples itself.
And IU was able to pull away in the fourth quarter, as Michigan State ran out of steam and the Hoosiers continued to hit clutch shots.
Mackenzie Holmes, as she has on so many occasions, did the heavy lifting for Indiana. The Hoosiers had so much going poorly in the first half, but Holmes was her usual productive self, and that helped IU stay within striking distance. The All-American scored a team-high 27 points on 8-of-13 shooting, along with five rebounds, two blocks, and two steals.
Indiana got three other players in double-digit scoring.  Chloe Moore-McNeil recorded a double-double, with 19 points on a 3-for-3 line, with all her makes on 3-pointers, and a career-high 11 assists.
Sara Scalia shot 4 for 6 from 3-point range, with several of those shots in clutch moments. The Stillwater, Minn. native racked up 20 points and five rebounds.
Yarden Garzon had a big second half with three 3-pointers for nine points, to put her at 12 for the game. She added five rebounds.
Grace Berger and Sydney Parrish struggled in the first half, as each enter the locker room scoreless. Both players committed four turnovers in the game as well. But Berger turned things around in the second half, going 4 for 5 for eight points, and she added six rebounds and four assists on the day. And Parrish hit a couple key 3-pointers in the fourth quarter.
Indiana moves on to the semifinals on Saturday to take on the winner between No. 5 seed Michigan and No. 4 seed Ohio State.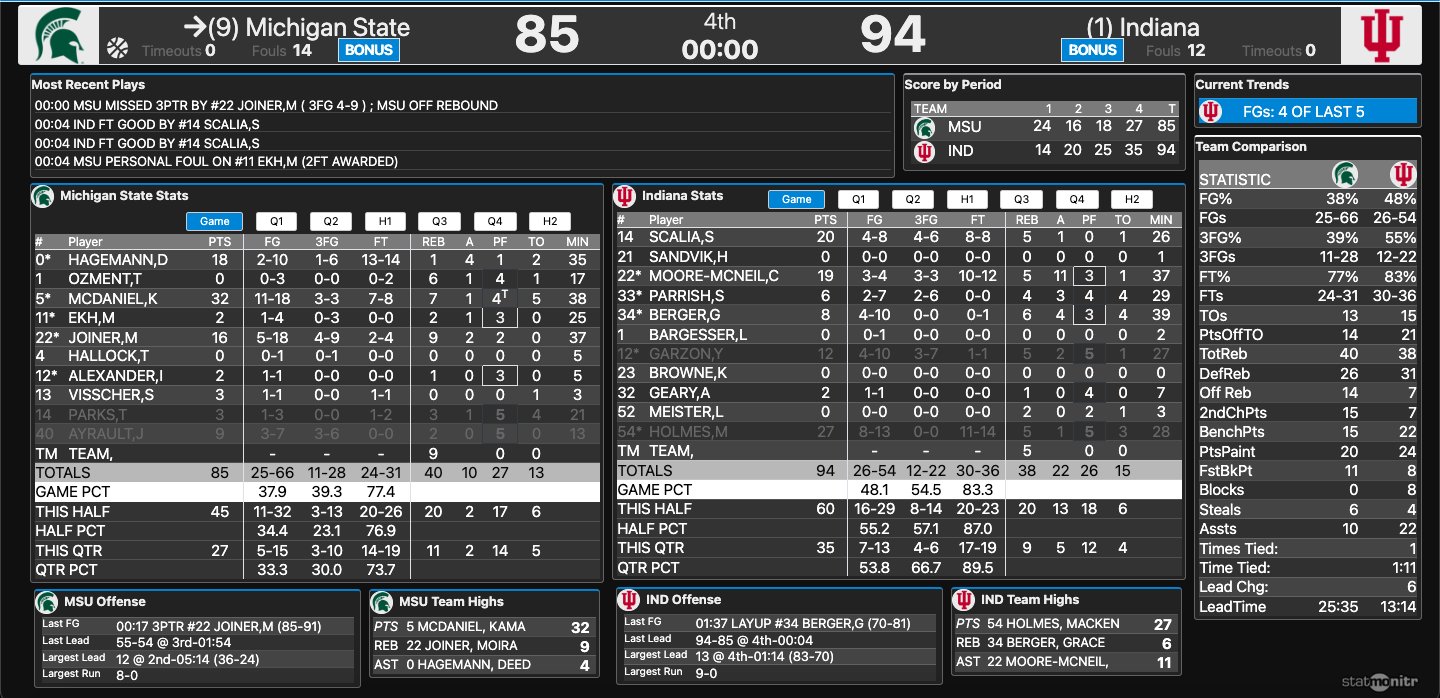 ---
The Daily Hoosier –"Where Indiana fans assemble when they're not at Assembly"