We are now past Halloween and it is not a trick — IU has just one commitment in its 2019 recruiting class.  Indianapolis based guard Armaan Franklin gave his verbal pledge to the Hoosiers back in September.
Indiana will have at least two scholarships open on its roster next year as Evan Fitzner and Juwan Morgan move on.  With Romeo Langford's likely move to the NBA, three openings should be expected, and some believe that IU is pursuing a four player class.
With dwindling options and new commitments announced almost daily around the country at this point, it is reasonable to wonder whether there should be cause for concern.
The Daily Hoosier monitors all of the national news and analysis every day on each of IU's recruiting targets and has a comprehensive feel for the latest with each of them.
To help ease your mind, we go through each of the uncommitted offered targets that IU is still actively involved with below.  You can click on each player's name for more information, videos, interviews and coverage.
Hometown – Greenwood, Indiana (Center Grove)
Position – Power Forward
Height – 6-foot-9
Weight – 220
247 Sports Composite Rating – 5-star
Primary Competition – Michigan State, UCLA ["Final 3']
There is no doubt about — this one is taking longer than many expected.  Indiana has long been considered the favorite here, but with each passing day, doubt starts to creep in.
One way or the other, Hoosier fans shouldn't have to wait much longer.  Jackson-Davis recently indicated that news should likely be forthcoming in November, saying this to Rivals in response to a question about the November 14-21 early signing period:
"Signing early, I could see myself doing it. I give myself a 60- to 70-percent chance. If I don't sign early, I will probably be committing within the next month or so."
Hometown – Fort Wayne, Indiana (La Lumiere)
Position – Small Forward
Height – 6-foot-7
Weight – 190
247 Sports Composite Rating – 5-star
Primary Competition – Kentucky, Michigan State, UCLA, North Carolina ("Top 6")
Brooks isn't as far along as Jackson-Davis in his recruitment, but a November commitment isn't out of the question for him too.  The Fort Wayne native is at North Carolina this weekend on an official visit, and is scheduled to take his final official visit to Michigan State in two weeks.
While some see Brooks as too close to call, we believe IU is strong here for several reasons.  First, we are not sure that UCLA and North Carolina are legitimate contenders, and Kentucky and Michigan State already have wings committed in their 2019 class.  Second, Brooks has said on multiple occasions that he places importance on representing his home state.  Finally, while recruiting package deals rarely materialize, we believe that Jackson-Davis and Brooks actually do want to play together and place importance on it.  The duo has taken multiple official visits together.
Hometown – Birmingham, Alabama (Mountain Brook)
Position – Forward
Height – 6-foot-8
Weight – 215
247 Sports Composite Rating – 5-star
Primary Competition – Alabama, Florida State, LSU, Memphis
Most believe that Trendon wants to chart his own course in the South, and all of the buzz surrounding his recruitment has him landing at Alabama or Memphis.  It isn't a lost cause, however.  Watford has said that he intends to take an official visit to IU, and has targeted the December 8 weekend that includes the Louisville game.  He could be waiting to see what Brooks does as it relates to IU, but if he makes that trip to Bloomington, things could get interesting.
Hometown – Rochester, Minnesota (John Marshall)
Position – Forward
Height – 6-foot-9
Weight – 200
247 Sports Composite Rating – 5-star
Primary Competition – Duke, Kansas, Kentucky, North Carolina, Memphis, Minnesota
Hurt still has not taken any official visits, and recently said that he wants to do that during the season so he can watch how players are developing in their respective programs.  He specifically mentioned Romeo Langford and IU in this regard, and recently also said that IU is one of a handful of core programs that are in contact with him.  This blue-blood rich recruitment is as competitive as anyone on this list, and Hurt has been very difficult to read.  There is no compelling reason to believe that IU is legitimately in the hunt here, but then you could say that about every school that is pursuing him to this point.
HARLOND BEVERLY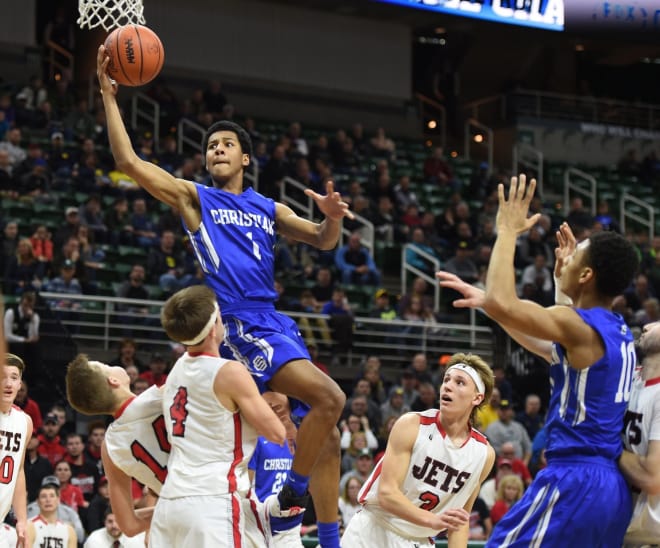 Hometown – Southfield, MI (Montverde, FL)
Position – Guard
Height – 6-foot-4
Weight – 170
247 Sports Composite Rating – 4-star
Primary Competition – Baylor, Georgia, Seton Hall, Texas
While IU still hasn't offered the 2019 four star point guard from Michigan, various reports suggest that there is ongoing dialogue, and Archie Miller continues to want to include a point guard in the class.  Beverly said this about Indiana last week in an interview with Rivals:
"They got a really good coach. They got Romeo Langford coming in, so that's a good pick up. They feel like I can come in and contribute. They missed out on some guys, so they want me to come in and fill that role."
Certainly a name to keep an eye on.
Hometown – Arlington, Texas (Oak Hill Academy)
Position – Combo Guard
Height – 6-foot-4
Weight – 185
247 Sports Composite Rating – 4-star
Primary Competition – Louisville, Oregon, LSU, Virginia Tech, Miami ("Top 10")
Ramsey had been scheduled to take an official visit to Bloomington on Hoosier Hysteria weekend.  That visit ended up being cancelled and we heard it was because IU didn't believe he was very likely to ultimately commit.  With other much more likely targets in town that weekend, the Hoosier coaching staff made a business decision.
RECENT UPDATES ON OTHER FORMER TARGETS
Indiana based Brandon Newman committed to Purdue (09/19).
New York shooting guard James Bouknight committed to UConn (09/18).
Minnesota forward Zeke Nnaji released a top five that did not include Indiana (9/30).
Virginia based point guard Anthony Harris committed to Virginia Tech (10/2).
New York native Isaiah Stewart indicated that he was no longer considering Indiana (10/27).
---
---
You can follow us on Twitter:  @daily_hoosier
Want to receive all of our content via one e-mail in your inbox every day?  It's free.  Join our daily mailing list 
here
.
---
---