BLOOMINGTON — During the first top-five matchup in Big Ten women's basketball in 30 years, Indiana prevailed.
The second-ranked Hoosiers extended their lead into more comfortable territory in the fourth quarter, and fifth-ranked Iowa's high-powered offense just didn't have enough to come back. And IU won, 87-78, earning its fifth top-10 win of the season.
Indiana (23-1, 13-1 Big Ten) pulled away by locking down the post even harder than it did in the first half. The Hawkeyes (19-5, 11-2) got a big game from Caitlin Clark, and got a little more production inside during the first half, but they found little success down low after halftime. That proved the difference, as Mackenzie Holmes and Grace Berger took control.
IU set a women's basketball attendance record for this game, with 13,046 fans packing Simon Skjodt Assembly Hall on Thursday. The Hoosiers set a regular-season high for the Ohio State game in late January, but this eclipsed the 13,007 fans in the crowd for the WNIT Championship Game in 2018.
This game featured the two leading candidates for Big Ten Player of the Year, in Iowa's Caitlin Clark and Indiana's Mackenzie Holmes. And those stars dominated this contest.
Holmes controlled the paint on both ends, with a typically strong offensive performance and holding standout Iowa forward Monika Czinano to a quiet night. The IU senior finished with 24 points on a 10-of-17 clip, with six rebounds, four steals, and one block.
Clark drew ire from IU's fans all night, along with stifling defense. But she persisted and dropped 35 points, on a 12-of-28 line, with 10 assists and eight turnovers.
Grace Berger went into takeover mode in the second half, with 19 points. She became notably more aggressive on drives to the basket and getting to her spots in the mid-range game, and it worked. Through the whole game, she shot 10 for 19 for a 26 points, grabbed nine rebounds, and dished six assists. She led IU in all three categories.
Chloe Moore-McNeil guarded Clark for most of the game, and held her own in moments, though nobody has truly stopped Clark all season. On the other end, she shot just 1 for 8, but still came up with 11 points, and grabbed nine rebounds to tie Berger for the team lead.
With this win, the Hoosiers opened a 1 ½ game lead in the Big Ten.  They hit the road on Monday for another big game, facing No. 13 Ohio State in Columbus.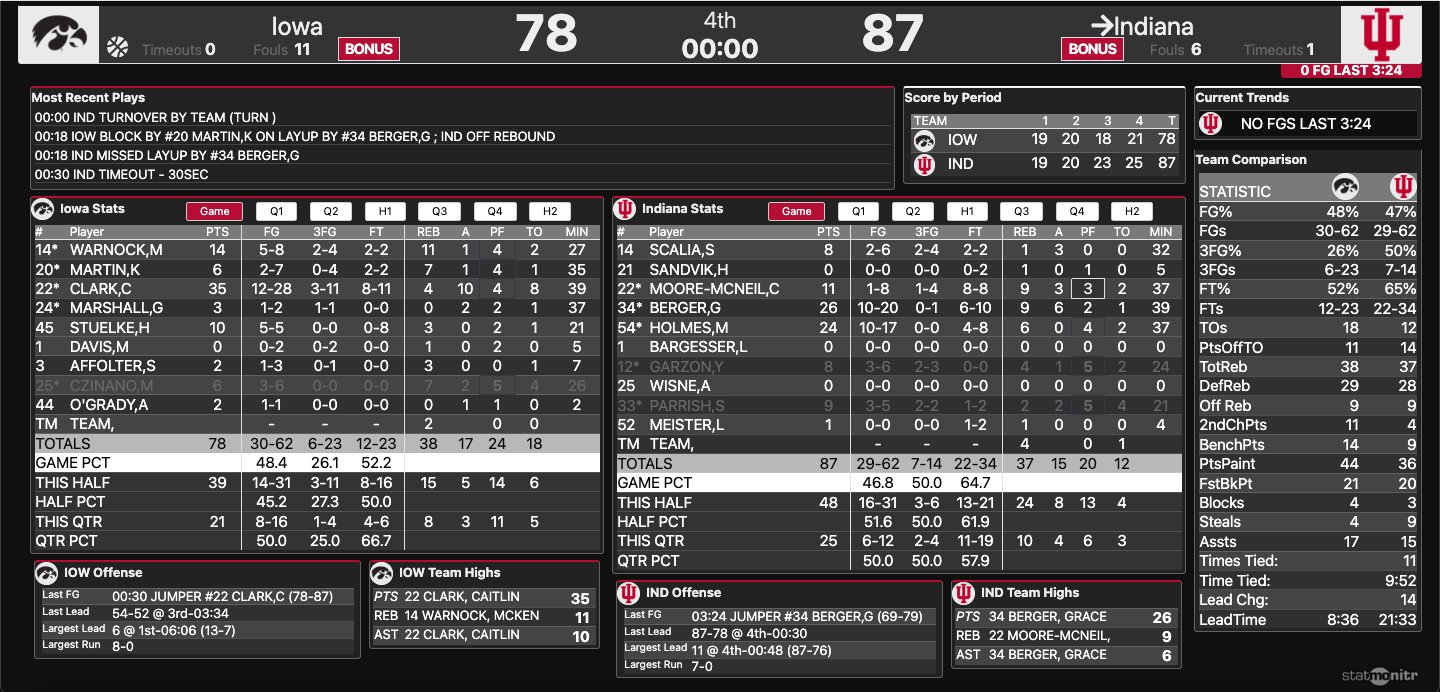 The Daily Hoosier –"Where Indiana fans assemble when they're not at Assembly"