Tom Allen clearly recalls the moment that cost quarterback Dexter Williams II a full year.
During a spring practice in 2021, Williams — then a redshirt freshman — ran to his right on a play. He planted his foot, then cut back to his left side. He limped off after the play, but it seemed an innocuous injury at first.
When Allen later learned Williams had torn his ACL, he was stunned.
"I vividly remember it because it was one of those (moments) like, 'He did what?' Never thought it would have caused that type of injury," Allen said. "Sometimes you see a guy (suffer an injury) and you (grimace) when you see it happen, you get sick to your stomach, you think it might be that. And some you can't even believe. That was one of those that was not what we expected."
Williams redshirted in 2020, and was ready to continue developing in 2021. He was unlikely to see the field that season, with Michael Penix Jr. and Jack Tuttle returning at quarterback. Williams would've been, at best, the third option — and that wasn't certain, either, with touted recruit Donaven McCulley also joining the quarterback room.
But that development halted with the torn ACL. According to the Mayo Clinic, athletes that need ACL reconstruction surgery could need eight to 12 months before returning to their sports.
It's a long recovery process, one that creates both mental and physical challenges.
Williams knew he'd need to approach the rehab the right way.
"The hardest part (was) just staying locked in," Williams said. "You've got 300 days of rehab. If you think about that, that's a lot. But just coming in every day with the right mindset, and just getting yourself right (was important). I knew it was on me to fix my leg."
The lost time is part of what kept Williams going throughout his rehab. He knew he was losing a valuable season to continue growing as a quarterback, whether or not he'd see game action.
The full year of recovering from the knee injury was a year of practice reps Williams couldn't get back.
"Playing quarterback, it's repetition," Williams said. "Just missing the reps, missing being out there with my teammates, building that chemistry — obviously, off the field, we have that bond. But nothing can replace timing and things of that nature once you're not playing ball."
Williams returned to the field for spring practice in 2022 without a hitch. The sophomore entered this season as Indiana's third-string quarterback, behind junior Missouri transfer Connor Bazelak and Tuttle, a returning senior.
Williams got his chance against Penn State because of injuries to both players, and went on to play a majority of the game against Ohio State. He appears set to start for Indiana at Michigan State, though Allen wouldn't officially name him the starter.
The bonds with teammates Williams referenced were important for him during the rehab process. Williams was close with Penix, who was recovering from his own ACL injury when Williams suffered the same misfortune. Williams leaned on Penix while going through the recovery process. Bazelak later became another helpful source once he arrived in Bloomington in January. Bazelak tore his ACL in the Tigers' season finale in 2019.
Relationships like those, in general, are what Williams likes about being quarterback. He enjoys using his communication skills to form relationships with teammates, especially those who he'll share the field with. Williams said two of his closest friends on the team now are McCulley and running back Jaylin Lucas.
The connections with his fellow quarterbacks have been big for Williams in growing his game. Through Penix, he learned the importance of poise. He takes cues from the other players in IU's quarterbacks room now.
"The guys on our roster right now, Jack and Connor, Brendan — every quarterback has a tool that you want to take from. And everybody does something well," Williams said. "There's things that I take from each guy, whoever's in there."
The Macon, Georgia product has earned respect in the locker room both through his camaraderie and his work ethic. The way he worked back from the injury matched the work ethic his teammates already saw in him, and have continued to see since. After the Ohio State game, tight end AJ Barner called Williams a "warrior" and an "extremely hard worker."
Even though Williams didn't get playing time until recently, he's always been a vocal leader for IU. That's part of why his teammates are drawn to him, and why Allen said he's generally well-respected in the locker room.
"He has a great personality. He's an articulate guy that's not afraid to speak and really loves his teammates and they love him back," Allen said. "Just a genuine, really good person that works really hard. I think they respect the adversity that he's overcome, and to come back and to stay here, being a young quarterback that has obviously showed that he has talent. I think everybody is just pulling for Dexter."
On the field, Williams is a raw product — after all, he did miss a lot of time while rehabbing.
It's not clear if he will be Indiana's long-term solution at quarterback. He has to grow as a passer for that to be realistic, as some inconsistent fundamentals have caused inaccuracy. But things like that can improve with time and reps.
And the physical attributes are there. He's quick and can make plays with his legs, and he has a strong arm. That's been evident to teammates all along.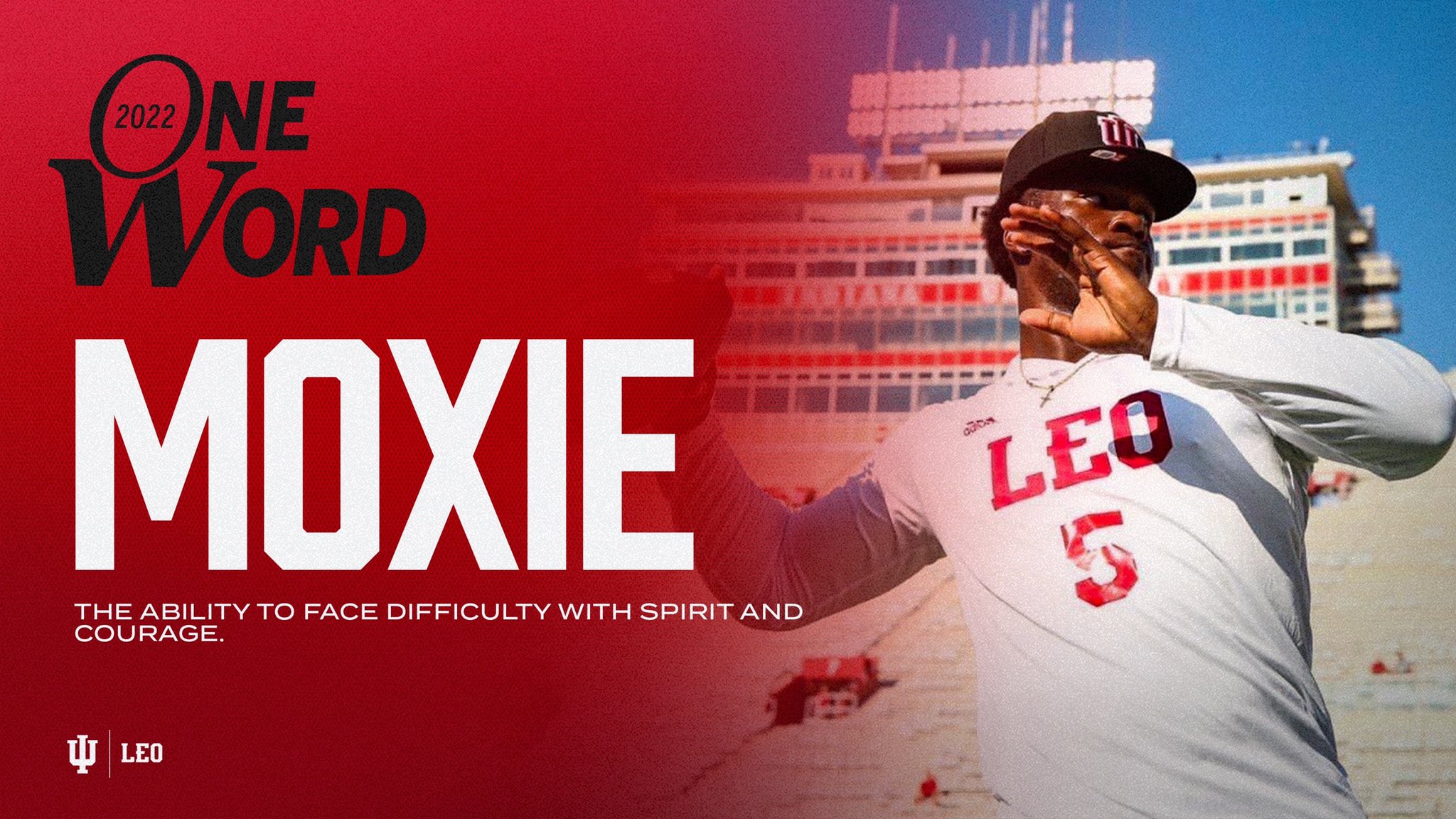 "He's super talented. He's got a cannon," Bazelak said earlier in the season. "As a quarterback, you know when someone has a strong arm. Right when I came in and saw him throw, I could tell that he freaking zips it in there. I think that's one of his best traits."
Intangibly, it seems Williams has the makeup of a guy who could lead a team for several years. He's endeared himself to teammates through his hard work and friendly nature. He operates with discipline — every day, Williams wears a wristband that says "NOPE" and "N.T.S." on it, both meaning "no to Satan," reminding him to avoid temptations in life and stay focused.
And Williams is certainly resilient. He learned what that trait truly means while rehabbing from the torn ACL. Whether it was his knee flaring up or other people telling him no, Williams persisted. He kept fighting to get back on the field, to achieve his dreams of playing the game at a high level and be back with his teammates.
And those attributes may be Williams' strongest. It's not his speed or agility, and not his strong right arm. It's his mentality, and desire to win.
"I like to win. Whatever the team needs me to do to win, I just love to win. I (like) raising your hands after a victory, celebrating with your teammates. I like to win," Williams said. "Whatever my guys need me to do. It's part of playing quarterback, just being what the guys need you to be."
---
The Daily Hoosier –"Where Indiana fans assemble when they're not at Assembly"