Flory Bidunga didn't grow up in Indiana, but he has embraced the game of basketball like a young man who has known the hoops hysteria his entire life.
Although he came here from thousands of miles away, Bidunga approaches the game much like the stereotypical native Hoosier — with hard work.
Oh, and a smile.
Bidunga is always smiling on the court — and off.  But what has him smiling the most these days it seems is when the countless hours of training he puts in away from the public eye delivers results on the hardwood.
When he first arrived in Kokomo, Ind. from the Democratic Republic of the Congo as an international exchange student less than two years ago, it would have been fair to call Bidunga a raw elite athlete on the basketball court.
And at least as it relates to his ceiling, that description probably still holds up.
But my goodness the trajectory he's on.
Bidunga will face tougher competition than what he saw over the weekend when his 2024 Indiana Elite team played a couple tune-up games in Noblesville, Ind. before the Adidas 3SSB circuit begins.  But he looked like a completely different player than the kid who arrived from Kinshasa roughly 20 months ago.
"He likes to tell us he's the point guard," his Indiana Elite teammate and fellow IU basketball recruiting target Travis Perry told The Daily Hoosier on Saturday.  "He likes to dribble it up the court."
Thought of more as an elite dunker and rim protector a year ago, Bidunga is pushing the ball up the court off his own rebounds, catching the ball on the perimeter and attacking off the bounce, and scoring in the mid-range.
And what else has Bidunga smiling these days?  Making threes.
Last summer his AAU coach Mark Adams told us Bidunga wasn't a bad shooter, but he wasn't yet comfortable taking long range shots in games.
He is now.
Bidunga made a couple threes in competition on Saturday, including one he set up with a dribble move.  Perry saw it coming a day earlier.
"Me and him worked out yesterday and it was strictly shooting drills and he looked good, he was shooting it well," Perry said.  " If he becomes a consistent three-point and mid-range shooter, it's going to be over for anybody trying to guard him."
It remains to be seen whether Bidunga starts shooting threes during Adidas action, but the ball handling aspect seems ready to be tested.
Bidunga's development as a ball handler is similar to what Indiana fans witnessed over the last few years with Trayce Jackson-Davis, who elevated his game to First Team All-American status as a senior by adding new wrinkles to his game.
While he's known for his elite speed, Bidunga's ball handling is about more than just a quick for step.  He's got moves, and counter-moves, and when he rises up with 6-foot-10 frame to score, it's what Perry said — impossible to stop.
"Hard work always pays off," is how Bidunga explains it.
His coach concurs.
"He's worked his tail off, and he can handle it now," Adams told The Daily Hoosier on Saturday.  "When he's getting jumped by two guys it can still get a little touchy, but his ball handling is really good, especially for a guy his size."
It didn't seem fair over the weekend, or this season against local high school talent when Bidunga made 81 percent of his shots and scored 20 points per game while adding 14 rebounds and 4.5 blocks per contest as he led Kokomo to the State Finals.
Don't look away for a second or you might miss a ridiculous dunk over seemingly everyone, or block into the stands.  Or was it a volleyball spike?
As the competition level increases beginning this weekend, all of that development will no doubt be tested.  But even before he expanded his game, Bidunga was a highly coveted recruiting target in the class of 2024.  His athleticism, ability to finish at the rim, run the floor, block shots and rebound alone has him ranked as the No. 3 overall player in the class and No. 1 center according to the On3 industry consensus.
If Bidunga can show his development translates against elite talent in front of college coaches, his recruitment will soar even further.
While there was talk early on about pre-determined college destination, that doesn't seem to be the case at all.  Indiana is right in the center of the action, a legitimate contender to land Bidunga, and they've had an ally helping them along the way.
Bidunga and 2023 signee Gabe Cupps became friends a year ago when they were teammates at the NBPA top-100 camp, and the bond has grown from there.
Bidunga visited IU multiple times over the last year, including for high profile games against North Carolina and Purdue.  Each time IU wisely placed Bidunga and Cupps side by side behind the IU bench.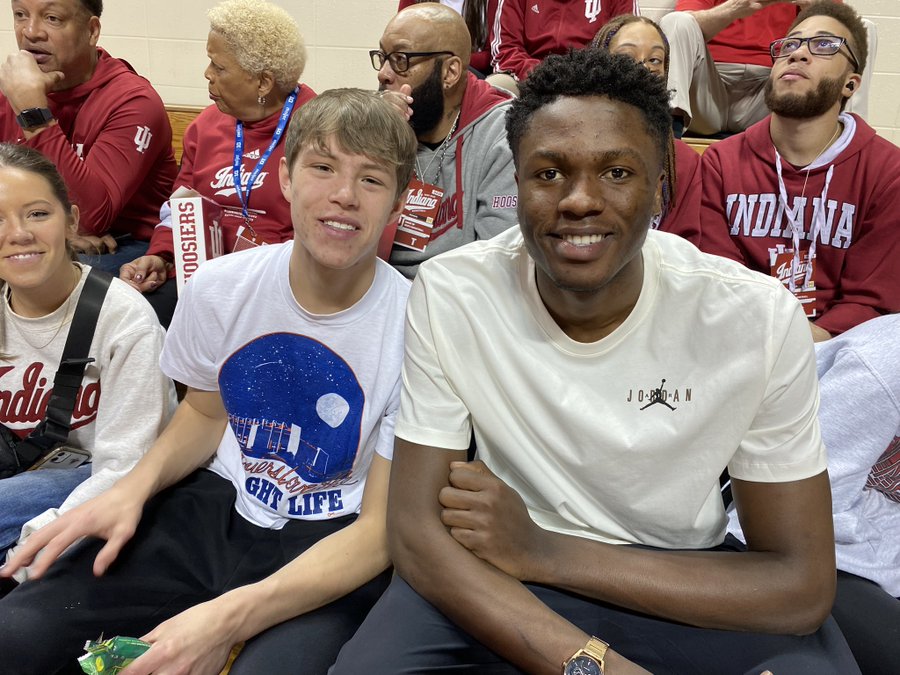 "He's a pretty good friend," Bidunga said of Cupps on Saturday.  "We joke a lot."
When Bidunga arrived in the U.S., the college game was, well, foreign, especially the recruiting aspect.
But after a couple seasons and a lot of attention, things are making a lot more sense to the former soccer player.
"He's got it figured out now," Adams said.
What is going to be a key consideration for Bidunga when it comes to choosing a college?  The answer seems obvious for someone who doesn't project to be in college for very long.
"Playing time is going to be a huge consideration," Adams added.
Bidunga says he hasn't paid too much attention to his recruitment during the school year.  He hasn't named his top schools to this point, but his visits to IU suggest they are relevant, along with programs like Auburn, Cincinnati, Kentucky, Florida, Michigan and Michigan State.
How's recruiting going for him so far?  Is it overwhelming?
"It's kind of fun," Bidunga says — with a smile of course.
What does Bidunga think of IU and his interactions with head coach Mike Woodson?
"He's a really good coach, they're still recruiting me — Indiana is a good spot," he said.
And that atmosphere at Simon Skjodt Assembly Hall for the marquee matchups he attended?
"It's very good, as they say, Indiana is the state of basketball, so everybody loves it," Bidunga said.
And everybody who gets to know Flory seems to love the shy kid on a rocket ship to the NBA.
His development over the last year suggests wherever he lands for college will likely be a short stay, perhaps one-and-done.
It's an pretty incredible journey, from the DRC, to Kokomo, to college and then on to the NBA, all likely in a relatively short span.
And the pace of the journey has been made possible by a love for the game that fits basketball crazed Indiana, and a smile that tells you Bidunga has found his groove.
Why does he love the game so much?
"It's basketball, I love to do it, and it's enjoyable.  Playing with my teammates, competing, getting to another step — that's exciting," Bidunga said.
Bidunga seems certain to get to many additional steps.
And he'll no doubt be smiling throughout the journey.
The Daily Hoosier –"Where Indiana fans assemble when they're not at Assembly"