Indiana got a massive boost to its outlook for the upcoming season on Friday evening.  The Hoosiers have landed 5-star class of 2023 recruiting target Mackenzie Mgbako.
The 6-foot-8 Mgbako announced the news on his Instagram page.  He ultimately chose IU over Kansas and he also considered Louisville and St. John's after decommitting from Duke in April.
"I chose IU because I felt that Coach Woodson can put me in a position to expand and develop my game," Mgbako told Joe Tipton of On3.  "The environment at Indiana is unmatched.  It's a place where I felt support from the coaching staff and fans. With Indiana and it's roster, there's a great possibility to achieve big things and create a winning culture."
According to the 247Sports Composite, Mgbako is the No. 8 overall player in the 2023 class.
A McDonald's All-American, Mgbako has the second highest player grade (behind Romeo Langford) of any Indiana recruit during the rankings era according to 247Sports.  He joins point guard Gabe Cupps and combo guard Jakai Newton in the IU class of 2023.
Mgbako told Dushawn London of 247Sports he thinks Indiana can win a league title in 2024.
"I'm excited to play with them, we have been in contact and built a good relationship off the court so on the court it's going to be great chemistry," Mgbako told London. "We have good size and talented guards so with that combination and Coach Woodson's coaching I believe we can win a conference championship this season."
The decision by Mgbako seemed to come down to the opportunity for playing time at IU on the wing.
"My decision will put me in a position to flourish and thrive," Mgbako told ESPN. "The staff showed a lot of love and I trust them. They have a need for my game. It's a great fit."
The addition of Mgbako places IU in a tie nationally with Maryland for the 17th best high school class of 2023 according to 247Sports, and a tie for the third best class in the Big Ten.
The Roselle Catholic H.S. product (Gladstone, N.J.) is regarded as a versatile three-level scorer who can guard multiple positions and is very productive as a rebounder.  He can play either forward position for Indiana but will likely be used primarily as a three.
Indiana has now added late decommits in each of the last three years under Mike Woodson.  The Hoosiers also landed top-40 prospects Malik Reneau and Tamar Bates during the late signing period in 2022 and 2021, respectively.
With the addition of Mgbako, IU now has filled 12 of its 13 available scholarships for the 2023-24 season.
MORE COVERAGE: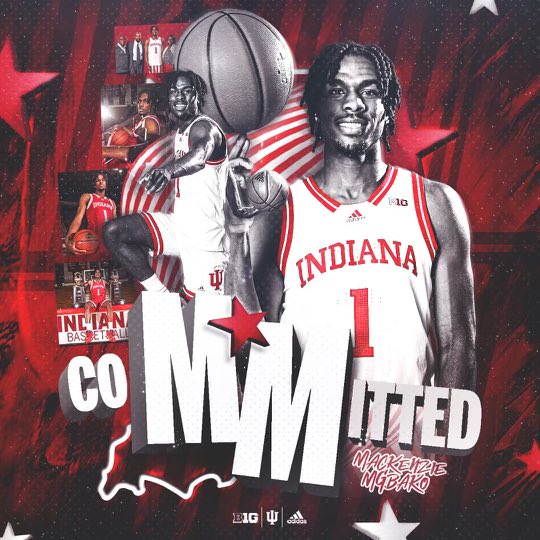 ---
The Daily Hoosier –"Where Indiana fans assemble when they're not at Assembly"