Indiana kicker Charles Campbell struggled in last week's win over Idaho.
He missed a field goal and had a second miss negated due to a defensive penalty.
His head coach likes to see you play how you practice, and he saw Campbell's struggles coming.
In practice before the Idaho game, Tom Allen said Campbell missed two more kicks, something the coach said his kicker "never does."
After the second miss against Idaho, Allen told Campbell he wasn't afraid to bench him.
Good thing he didn't do that.
With the game on the line in overtime, tied 30-30 with Western Kentucky, Indiana faced 4th down, with a 51-yard kick standing between IU and its third 3-0 start in the past five seasons.
It all came down to one final kick.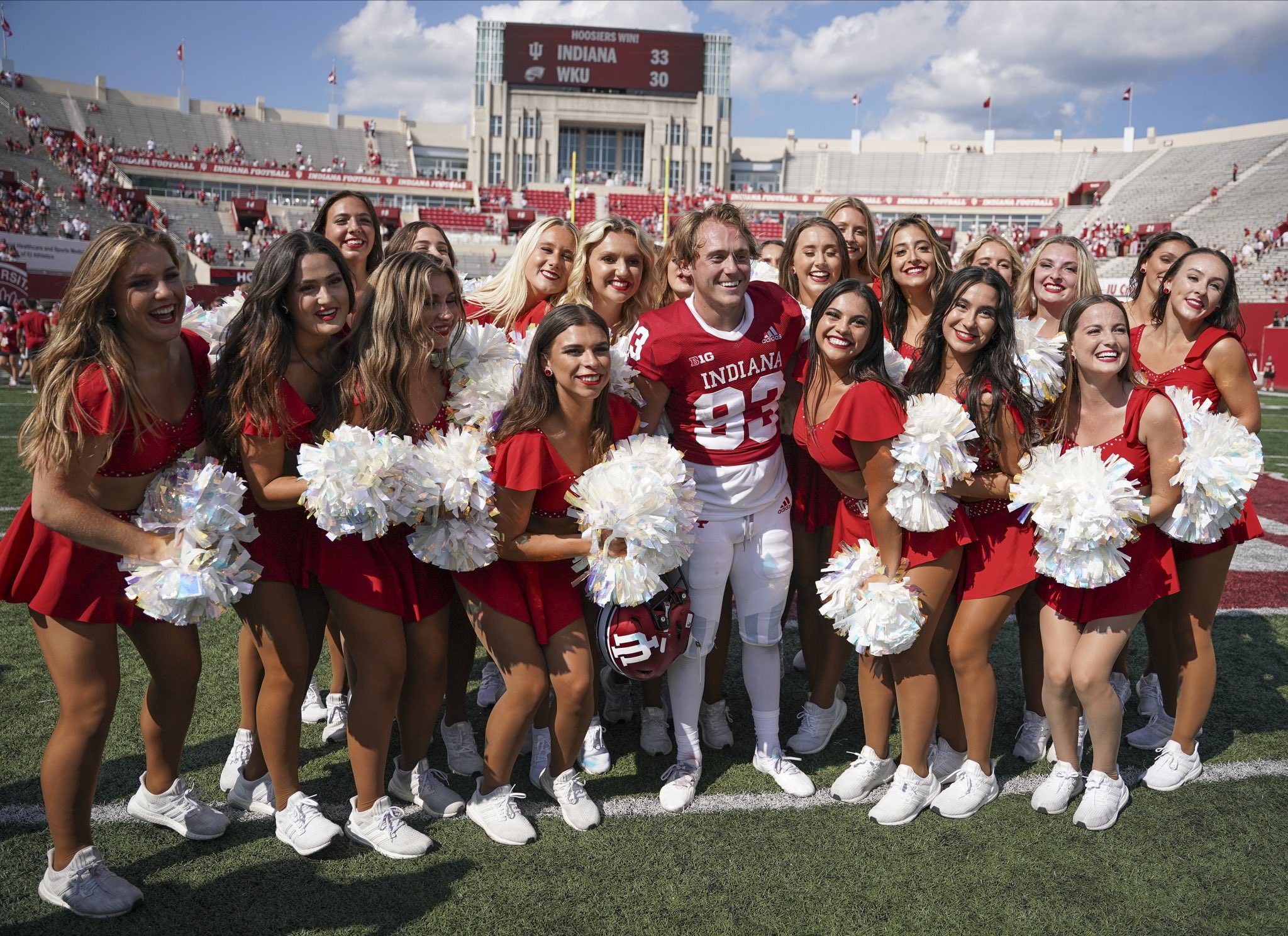 This time, Campbell delivered. The kicker split the uprights in clutch fashion, sending his team home victorious, 33-30 in overtime.
After the game, Campbell said that he relished the pressure of the moment.
"It's stressful for sure, but it's your job. You're supposed to go out there and kick in high-pressure scenarios," Campbell said. "It's what I train for, if I thought that the pressure wouldn't affect me, I wouldn't practice as hard. But that's why you go out and put all those hours in on the field, so you can have big moments like that."
Campbell's career-long field goal came in last season's loss against Maryland, a 55-yarder on the road, and had at least another four or more yards been necessary on his game-winner today, it likely would have been enough as the ball sailed through the uprights and into the net effortlessly.
The fifth-year kicker was impressed by the sheer amount of strength he got behind the ball, particularly in the stressful circumstances and kicking into the wind.
"I wanted to make sure I got it there, for sure, and just gave it a chance," Campbell said in a post-game radio interview. "It was into a pretty good breeze, and I just struck it really well. It's probably the best ball I've ever hit."
Campbell's game-winner was one of four kicks he made on the day – and one of four he attempted. Allen took notice of the kicker's prolific performance in Saturday's win and celebrated accordingly, losing his shoe in the bedlam of the moment.
The head coach was happy with his kicker's resilience, bouncing back after a tough week to make perhaps the most important kick of his career so far on an afternoon that he was perfect from the field.
"I'm proud of our team and proud of Chuck," Allen said after the game. "He's a great, great kicker because great kickers make kicks like that when the team needs him, so proud of that guy."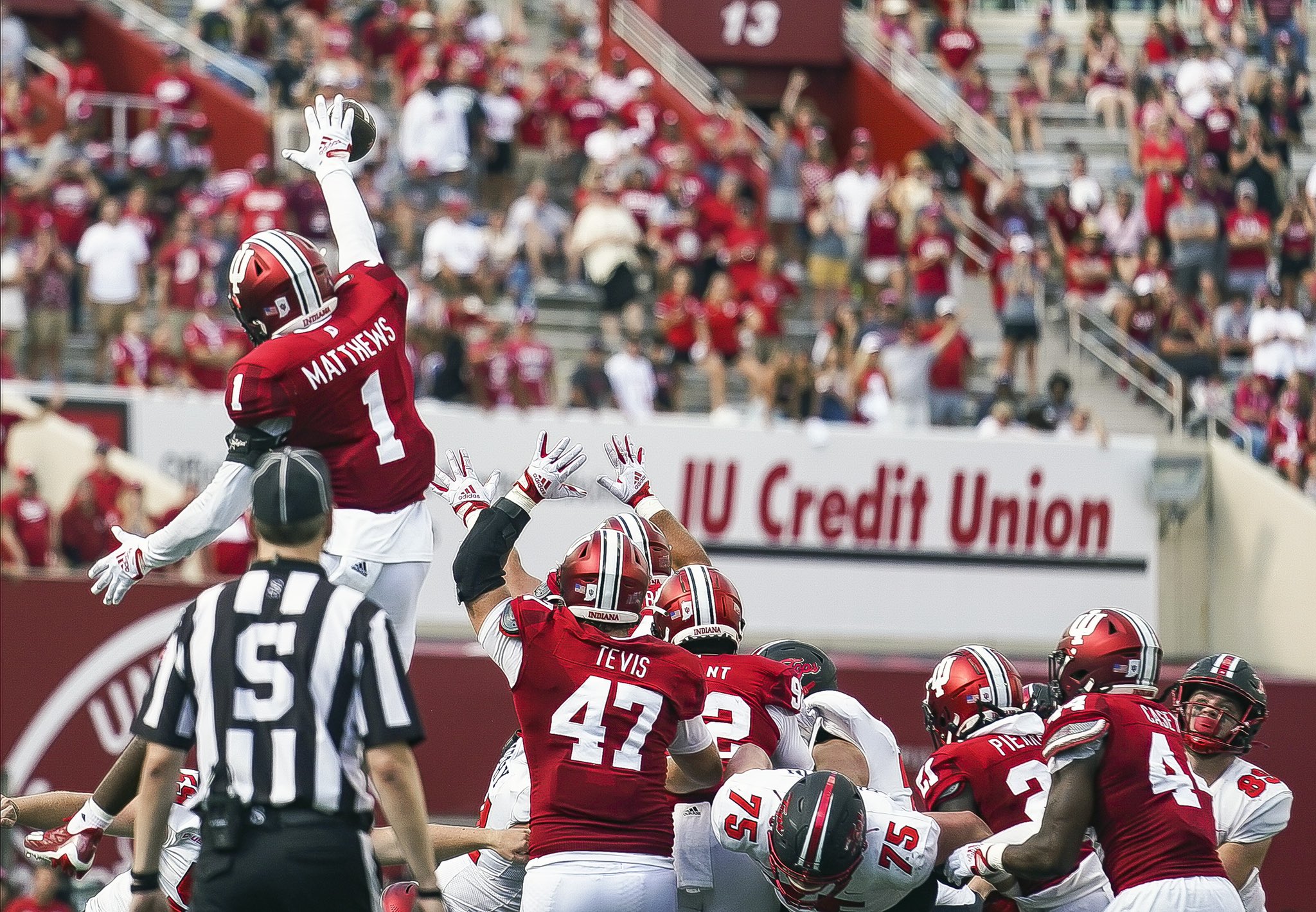 Indiana's kicking game wasn't the only part of its special teams that shined late in its win on Saturday.
Western Kentucky had two field goal attempts in the closing moments of regulation and overtime, the former to win the game and the latter to give the Hilltoppers a 33-30 lead. Indiana's kicking defense swarmed WKU kicker Brayden Narveson on both attempts, forcing a miss wide right on the first and cornerback Jaylin Williams blocked the second, which was returned by Bryant Fitzgerald for what was nearly a walk-off score.
After months of emphasizing blocking kicks and pressuring kickers in practice, it paid off for the Hoosiers in a big way, helping to seize victory from the jaws of defeat.
"We made a huge emphasis this whole spring and fall camp on blocking kicks, and Coach (Paul) Randolph, our new D-line coach, has brought a really good attitude about that," Allen said. "Our guys have bought into it, and you couldn't see a bigger one than you saw right there at the end."
See also:  Stats, highlights, Allen and Bazelak postgame
---
The Daily Hoosier –"Where Indiana fans assemble when they're not at Assembly"