Indiana's primary name, image and likeness collective announced another major deal with IU student athletes on Wednesday.
Hoosiers for Good has arranged deals with the 11 basketball players.  The deals total $425,000, the Daily Hoosier has learned.
The organization, operated in part by well known individuals such as Fred Glass and Calbert Cheaney, raises money to partner charitable organizations with student athletes who can use their influence and leadership to help Indiana communities thrive, according to its website.
Tyler Harris, director of HFG previously told The Daily Hoosier the allocations are not made equally, but instead based on factors such as a particular student athlete's reach and ability to impact their charity.
In April the organization allocated $470,000 to 14 athletes including Trayce Jackson-Davis and Race Thompson from the basketball team.
The latest allocation includes 10 more members of the IU men's basketball team and one member of the women's team, transfer and former Indiana Miss Basketball Sydney Parrish. 12 of 13 scholarship players on the men's team have now secured deals with HFG.
Of particular note, all four members of the IU men's basketball program's freshman class have now secured deals, a clear signal in the recruiting world that players in the program can secure meaningful NIL compensation early in their career.
The latest participants in the program are shown below, along with a full release on the latest allocation by HFG.
Fans who wish to donate to the 501(c)(3) HFG collective can do so here.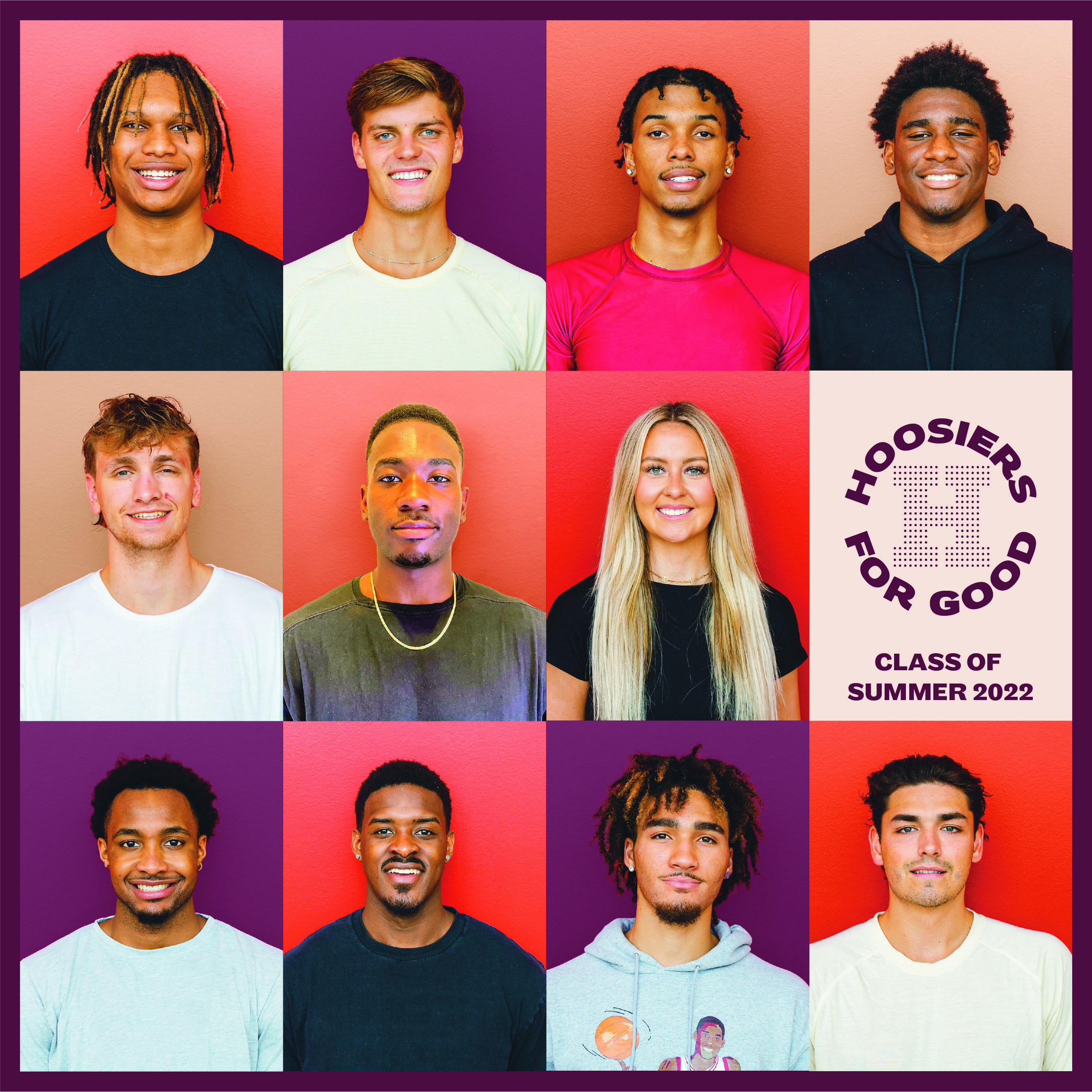 Hoosiers for Good signs summer class of 11 IU basketball athletes to make an impact for six additional Indiana charity partners
BLOOMINGTON, Ind.–(BUSINESS WIRE)–Hoosiers For Good Inc signed a basketball class of 11 community-minded Indiana University athletes who will use their platform and influence to raise awareness for six new Indiana charity partners.
"We've had new registrants for our Push, Paddle, Pedal Challenge that Trayce and Race are involved in, and even had a podcast create a team because they're fans of Trayce and Race."
Hoosiers For Good planned to announce its next class of athletes in the fall, but thanks to the generous contributions of supporters, 11 additional athletes will amplify the cause of their charity partners and receive the mentorship to grow into the next generation of community-minded leaders. The NIL compensation for the summer class totaled $425,000.
The summer class represents the IU men's and women's basketball programs, and each athlete is partnered with an Indiana-based charity to help raise awareness for its mission through in-person appearances and social media posts.
Under their agreements with Hoosiers For Good, each student athlete, among other responsibilities, provides a variety of NIL services to their paired charity including a number of in-person appearances (such as speaking, presentation of skills, autograph sessions, and the like) as well as social media posts promoting these appearances and their charity.
The Hoosiers For Good Summer 2022 Basketball Class

Charity

Athlete Partner(s)

Xavier Johnson

Big Brothers Big Sisters of Central Indiana

Jalen Hood-Schifino

Malik Reneau

Kaleb Banks

Logan Duncomb

Trey Galloway

Sydney Parrish

Jordan Geronimo

CJ Gunn

Miller Kopp

Tamar Bates
In April, Hoosiers For Good signed its inaugural spring class of 14 IU athletes, who are already making an impact for their eight Indiana charity partners. Indiana Wish, whose mission is to help Indiana children diagnosed with life-threatening illnesses to create lasting memories, saw a 500 percent jump in social media engagement after partnering with IU basketball athletes McKenzie Holmes and Grace Berger.
Similarly, Turnstone Center, a Fort Wayne-based charity that provides an array of services for people with disabilities to help them gain greater self sufficiency, functional independence and emotional well being, has seen increased participation in their summer fundraising campaign thanks to its Hoosiers For Good athlete partnership.
"To have Trayce Jackson-Davis and Race Thompson working as charity partners with Turnstone has been an absolute breath of fresh air as we see new people coming to our organization as a result of them using their name, image, and likeness to promote Turnstone," Rena Shown, Chief of Development and Strategic Partnerships at Turnstone Center, said. "We've had new registrants for our Push, Paddle, Pedal Challenge that Trayce and Race are involved in, and even had a podcast create a team because they're fans of Trayce and Race."
The incoming Hoosiers For Good summer class includes Sydney Parrish, who will use her 100,000+ social media following to amplify the mission of Riley Children's Foundation in a unique way, and Trey Galloway, who has a close personal connection to his charity partner of choice, LittleStar ABA Therapy, which provides Indiana families with care, advocacy, and progress in the treatment of autism spectrum disorder.
"I wanted to partner with LittleStar because my brother has high-functioning autism," Galloway said. "I'm thankful to be able to use my NIL to raise awareness and support for a cause that is so important to me."
"These basketball athletes have a significant reach," Tyler Harris, Executive Director of Hoosiers For Good, said. "Our goal in signing this group as a team is to coordinate efforts and even further amplify the mission of charity partners."
About Hoosiers For Good
The mission of Hoosiers For Good is to raise awareness for charitable causes throughout Indiana—by partnering local charities with community-minded IU student athletes who choose to use their platform and influence to amplify the philanthropic work that helps our community thrive. For more information, visit www.HoosiersForGood.org.
Follow on social: Facebook, Instagram and Twitter
Donate now: Hoosiers for Good Inc now has 501(c)3 status and all donations are tax deductible.
---
The Daily Hoosier –"Where Indiana fans assemble when they're not at Assembly"