Xavier Johnson waited just as restlessly as IU fans did to find out if he'd be able to play this coming season.
Johnson applied for a medical hardship waiver after last season ended, hoping for another year of eligibility after missing the last three months of the season after a mid-December injury. The waiver was approved in late April, giving IU a crucial piece back for 2023-24.
Johnson met with media last week at IU's annual event at Huber's Winery in Borden, Ind. — his first media availability since his injury in December. And the guard said learning the waiver was approved allowed him to exhale.
"Once I got it, a weight was off my shoulder," Johnson said. "Coach called me and asked me if I wanted to transfer. I was like, 'What do you mean do I want to transfer? Did I not get my waiver?' He was like, 'Yeah, you got your waiver. You want to come back and play for me?' I was like, 'Yeah.' It was stressful (until) I got my waiver done."
Johnson broke his foot against Kansas, and that started a long rehab process. He hoped to return late in the season, but his timeline was unclear. And at a certain point, it became clear to him that returning would do more harm than good for the team.
"It's been a long process, honestly, but I had to see it all through, talking to my coach and my family, that the best option was to come back to school just for the benefit of my health," Johnson said. "I thought I was going to come back in February, late February, but I think it was best for the team just to keep competing without me and I'd just be there to support."
Johnson added that he's back to full strength now.
The rising sixth-year senior played in 11 games, all starts, last season before his injury. He put up 9.9 points, 3.6 rebounds, 4.9 assists, and 1.2 steals in that incomplete season. Across his five-year college career split between IU and Pittsburgh, Johnson has averaged 13 points, five assists, 3.7 rebounds, and 1.4 steals per game, with 3.3 turnovers. He's shot 40.4 percent from the field and 34.9 percent from 3-point range in his career.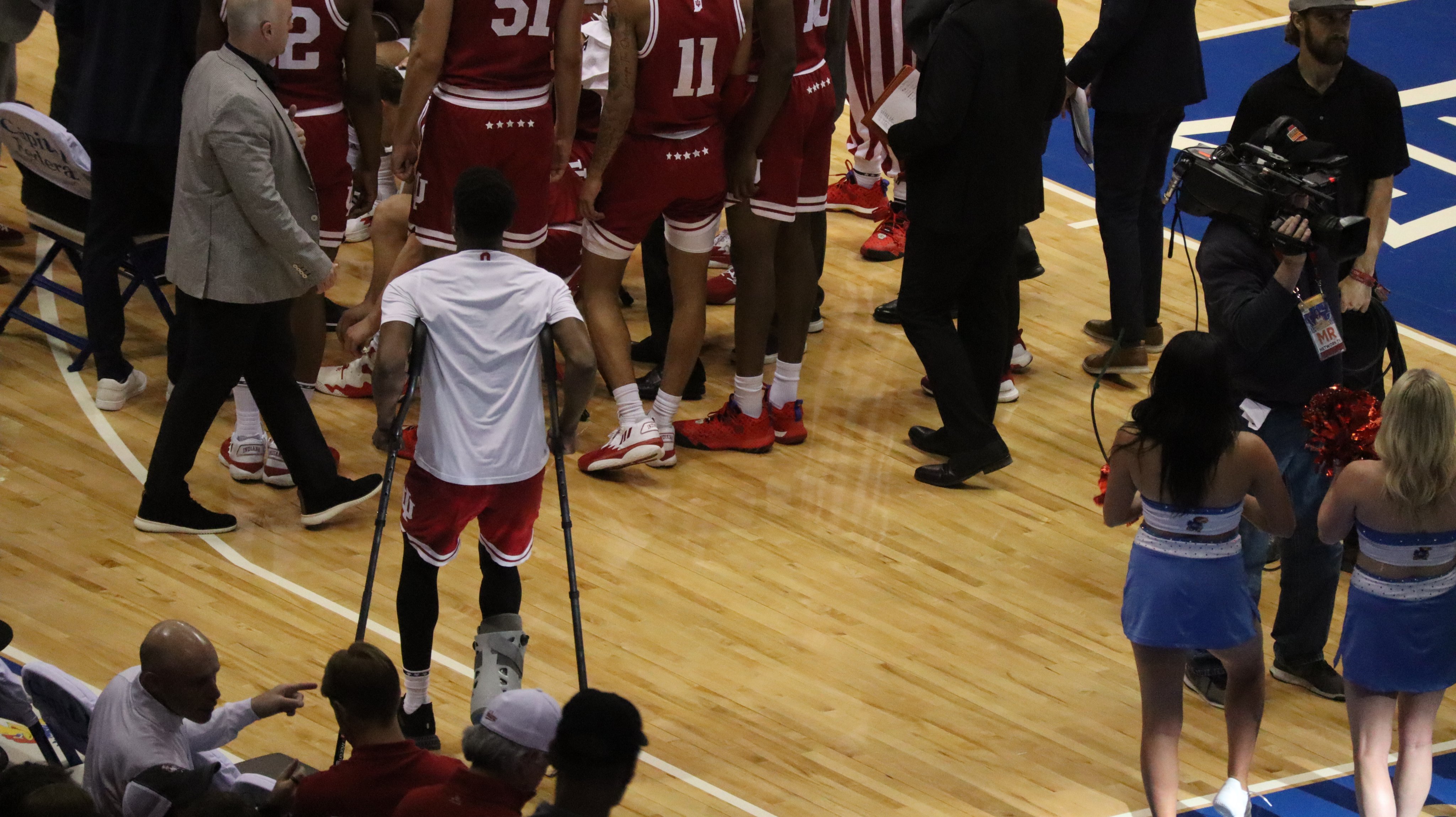 Consistency has been a trouble area for Johnson during his IU career. He has immense playmaking ability and can effectively dictate action on the floor at his best. But so often, he's alternated good and bad games, and good and bad moments within games.
That's something he's trying to work on ahead of next season — becoming more consistent and stepping into an even bigger role for the Hoosiers.
"I think I have to step my scoring ability up this year," Johnson said. "I would say I have to score the ball for my team when needed cause I think I will have to be one of the top scorers on my team. Even though I have to pass a lot too, I have to give my teammates the ball, that's my best attribute. I would say just scoring on a consistent basis."
Johnson will be Indiana's most experienced player next season, in his sixth year of college basketball. Anthony Walker comes in after four years at Miami, and Trey Galloway and Anthony Leal will be normal seniors (though each has tw0 years of eligibility remaining, including this year).
Head coach Mike Woodson asked Johnson about several players during the offseason and who he'd be interested in IU bringing in. And Johnson said the Hoosiers added a few of the players he recommended.
He hasn't seen all of IU's new players in person yet, but like many others within the program, Johnson is high on the new-look Hoosiers squad.
"From my watch, I think we have a pretty unique team. We'll be more athletic than last year's team," Johnson said. "I think we built a solid team coming in next week. Kel'el (Ware) can run the floor, athletic, can set screens, get off the ball. (Mackenzie) Mgbako can shoot. Trey's developing his 3-point shot as well, he'll be another combo guard to me. We've got all the freshmen coming in as well. I just think we have a really good team."
---
The Daily Hoosier –"Where Indiana fans assemble when they're not at Assembly"