Connor Bazelak is a man of routine.
After every drive, regardless of its result, Bazelak immediately gets on the phone to talk about it with offensive coordinator Walt Bell. It doesn't matter if he missed an open receiver, threw a superb touchdown pass, or if it was all running plays. Bazelak goes right to the phone.
It speaks to his consistent personality, something about him which teammates and coaches were quickly drawn to.
"Literally, sometimes he's calling before I've even had a chance to breathe for a second," Bell said Monday. "No matter what — good, bad, wrong, right, indifferent, wide-open guy we missed, something bad happens, something good happens — he's the exact same guy all the time."
Through IU's first two weeks, there have already been many different game situations when teammates have looked at Bazelak for direction. And that calm, poised attitude is reassuring in those moments.
Whether it's a two-minute drill with the game on the line against Illinois, or first-half struggles against Idaho, the Hoosiers know how Bazelak will react.
"There's a million different types of leadership. I think his strength is that he's very even-keeled," Bell said. "A mistake doesn't rattle him. Something good doesn't really change his demeanor."
Bazelak's first two games at Indiana have been extremely different. The Hoosiers threw far more passes against Illinois (52) than they did against Idaho (29), based on game plans, weather conditions, and game scenarios.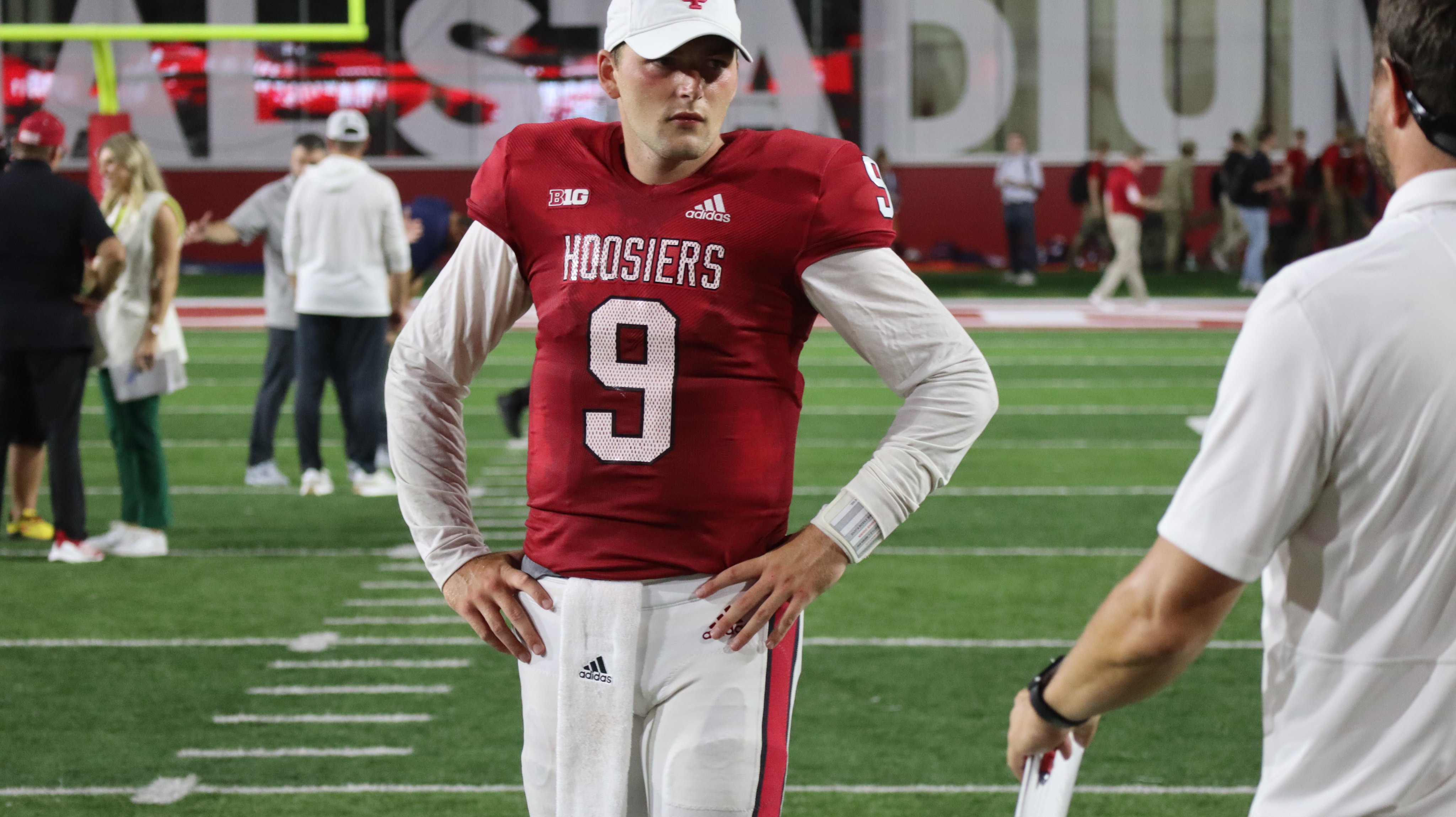 Against the Illini, Bazelak completed 53.8 percent of his attempts with one touchdown and one interception. Against the Vandals, he recorded a 55.2 completion percentage with two touchdowns and one pick.
Through those matchups and the varying situations they presented, Bazelak's teammates have seen his leadership style transition from practices to games. They're noticing what Bell pointed out — he's just consistent.
"I always call him 'Unfazed Baze,'" tight end AJ Barner said after the Idaho game. "He keeps a solid mindset the whole time. Never gets too high, never gets too low. He just remains confident."
"He's going to always be the same person," wide receiver D.J. Matthews said. "He's going to always be poised. He'll always be a leader. He's going to come talk to you on the sideline. He's not very vocal, like bringing the whole team together and shouting — that's not him. He's going to come to you and tell you what needs to be done to help us take the next step."
IU coaches had talked previously about Bazelak throwing a 'catchable' ball, a trait they liked. Bazelak attributed it to being mindful of his receivers when he makes the throws, and thinking about what would make it easiest for them to catch the balls.
Matthews described Bazelak's throws as being 'like tissue' in the way it hits receivers' hands softly. That touch is important for the quarterback-receiver connection.
It's just one more reason that the receiving corps has gravitated toward Bazelak. Matthews assured that they don't favor him over IU's other quarterbacks, that the receivers like playing with all of them. But Bazelak's attitude and demeanor, from the moment he arrived in Bloomington, showed his teammates the type of person they were getting at quarterback.
"He wasn't like a guy who came in and was like, 'I'm going to change the program,' or 'I'm going to change the offense,'" Matthews said. "He was a guy who was coming in (saying), 'I'm going to work. I'm going to let everything gradually come.' He didn't force-feed anything."
---
The Daily Hoosier –"Where Indiana fans assemble when they're not at Assembly"