Big Ten men's basketball regular season play concluded on Sunday night, and with that the field is set for the league's post-season tournament.
The 2020 Big Ten Tournament will be held at Bankers Life Fieldhouse in Indianapolis, Ind.
No. 11 seed Indiana will play No. 14 Nebraska at around 8:25 p.m. ET on Wednesday.  The game will air on the Big Ten Network.  Tickets for the Wednesday game are general admission and can be purchased here.
Nebraska starters Dachon Burke and Cam Mack are both suspended indefinitely.  Head coach Fred Hoiberg will announce early this week whether they will travel with the team to Indianapolis.
The Cornhuskers (7-24) have lost 16 straight games going back to a home win over Iowa on Jan. 7.  Indiana defeated Nebraska 96-90 in overtime in December at Bloomington, and the Hoosiers finished the season sweep 82-74 at Lincoln in January.
If Indiana wins on Wednesday night they would face No. 6 seed Penn State on Thursday.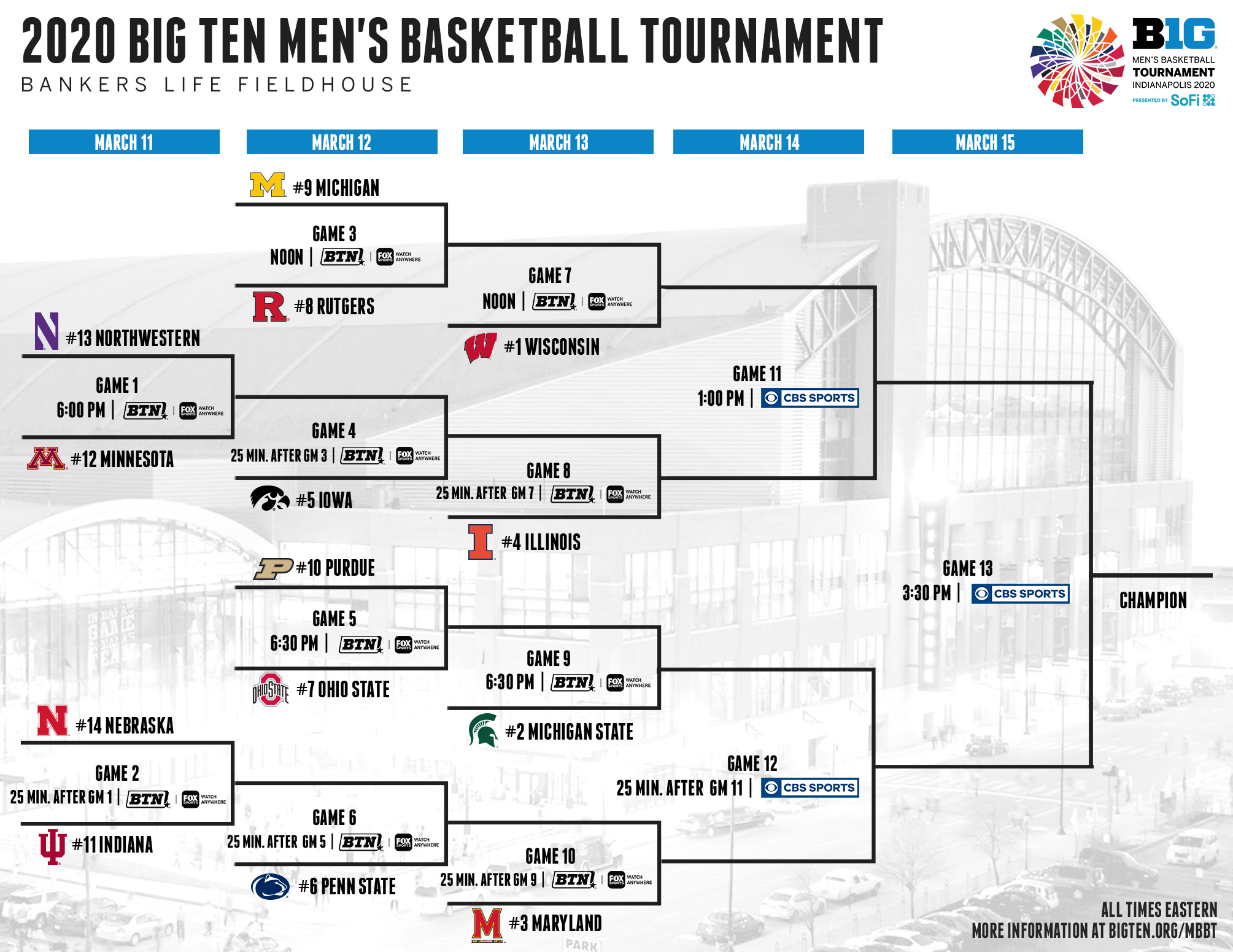 The release by the Big Ten follows.
ROSEMONT, Ill. – Wisconsin, Michigan State, Maryland and Illinois are the top four seeds in the 2020 Big Ten Men's Basketball Tournament, the conference office announced on Sunday evening. The 23rd annual event will be played March 11-15 at Bankers Life Fieldhouse in Indianapolis.
Wisconsin, Michigan State and Maryland finished with 14-6 conference records and shared the regular-season title. The Badgers earned the No. 1 seed thanks to their 2-1 record against the Terrapins and Spartans, while Michigan State claimed the No. 2 seed after going 2-2 against the other co-champions. The Badgers will play at noon on Friday, March 13, and the Spartans will play at 6:30 p.m. on Friday.
Maryland earned the No. 3 seed, while Illinois claimed the No. 4 seed and the final double-bye of the tournament after finishing 13-7 in the regular season.
The tournament begins at 6 p.m. on Wednesday, March 11, with two opening-round games as No. 12 Minnesota faces No. 13 Northwestern and No. 11 Indiana takes on No. 14 Nebraska. BTN will broadcast games on Wednesday, Thursday and Friday, with CBS set to televise the semifinals on Saturday and the championship game on Sunday.
---
You can follow us on Twitter:  @daily_hoosier
The Daily Hoosier –"Where Indiana fans assemble when they're not at Assembly"
Seven ways to support completely free IU coverage at no additional cost to you.