Update:  The Jazz have publicly confirmed what we originally reported in July below.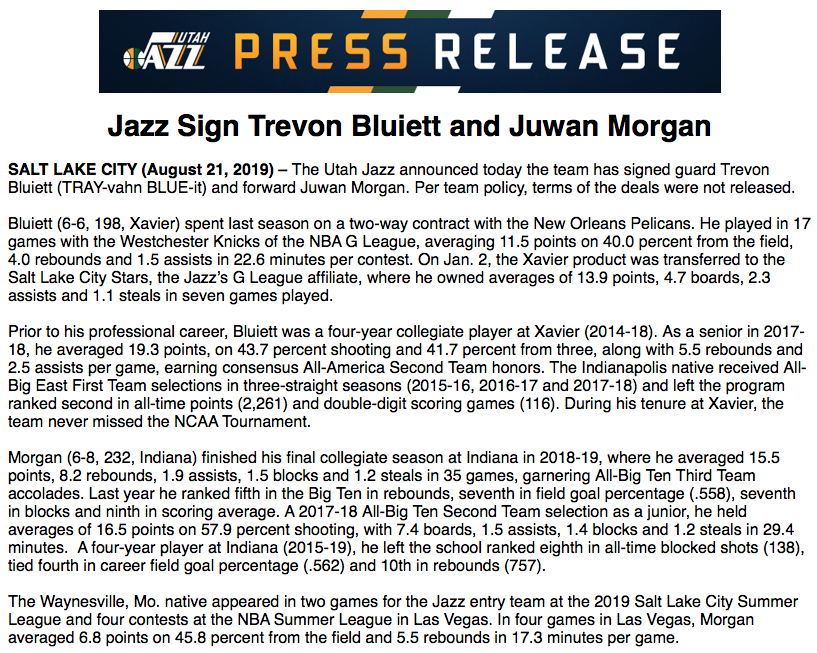 The original story follows.
---
Juwan Morgan's journey with the Utah Jazz will continue.
After signing a summer league deal and playing earlier this month with the team, Morgan now appears set to attend the Jazz training camp.
Michael Scotto of the Athletic reported the news on Twitter:
The Utah Jazz and Juwan Morgan (Indiana) have agreed to an Exhibit 10 contract, league sources told @TheAthleticNBA. Morgan played for the Jazz in Summer League.

— Michael Scotto (@MikeAScotto) July 29, 2019
An Exhibit 10 contract is a summer/training camp NBA contract for the NBA league minimum salary. It can be converted to a regular-season contract or a two-way deal, or it can expire at the conclusion of camp and a player becomes a free agent.
Contracts of this nature exist because teams are only allowed 15 NBA contracts plus two two-way contracts.  Teams fill out the remainder of their 20 man training camp rosters with Exhibit 10 contracts.
The contract provides some level of compensation protection for players like Morgan.
An Exhibit 10 bonus can pay the player from $5,000 to $50,000 if the player is waived by his NBA team, signs with the G-League, is assigned to the NBA team's G-League affiliate, and stays there at least 60 days.
Morgan put up the following numbers with Utah during the summer league:
NBA training camps open up in late September.
---
You can follow us on Twitter:  @daily_hoosier
Find us on Facebook:  thedailyhoosier
The Daily Hoosier –"Where Indiana fans assemble when they're not at Assembly"
Seven ways to support completely free IU coverage at no additional cost to you.