For the second year in a row, the Indiana football program will be paying the price for its success on the field.
The Hoosiers lost offensive coordinator Kalen DeBoer after the 2019 season.
Now IU will lose defensive coordinator Kane Wommack.  He confirmed earlier reports on Saturday afternoon, announcing that he is headed to South Alabama.
#NewProfilePic pic.twitter.com/6EdDHqaPg5

— Kane Wommack (@KaneWommack) December 12, 2020
The IU defense has been a central reason why the Hoosiers hold a 6-1 record and have been ranked in the top-20 for seven straight weeks.
The Hoosiers are No. 37 nationally in total defense, and No. 20 in scoring defense, the latter representing a 25 spot jump nationally from 2019.
The real headline with Wommack's defense has been its ability to create takeaways and sacks.  The unit is first in the Big Ten and No. 6 nationally with 20 forced turnovers.  The Hoosiers are also first in the Big Ten and No. 13 nationally with 3.3 sacks per game.
In its last three wins, the IU defense has only allowed one touchdown, a late desperation heave in the end zone by Maryland.
Set to become the youngest head coach in the FBS, Wommack confirmed today that he will finish out the 2020 season with Indiana.
"Thank you Coach Allen!  We are so honored to have come alongside you and Tracy to build something special. So excited to finish this season off right with you and the #SwarmD," Wommack said on his Twitter page.
Wommack was promoted to defensive coordinator in December, 2018 when Tom Allen decided to relinquish those duties to focus on his head coaching role.
It will be a return trip to South Alabama for Wommack.  He arrived in Bloomington from the school after the 2017 season.  Wommack served a two-year stint there as the defensive coordinator.
In the same 2016 season that saw Allen lead a stunning defensive turnaround at IU, Wommack engineered one of the top turnarounds in the country at South Alabama. The unit was the fifth-most improved nationally in scoring defense (-10.3), one spot behind IU, and ranked in the top 10 nationally in passing defense.
The 2017 South Alabama defense surrendered 22 points or fewer in regulation seven times in eight conference games.
Allen and Wommack worked under the latter's father Dave, the defensive coordinator at Ole Miss from 2012 through 2016.
UPDATE:  Indiana head coach Tom Allen released a statement —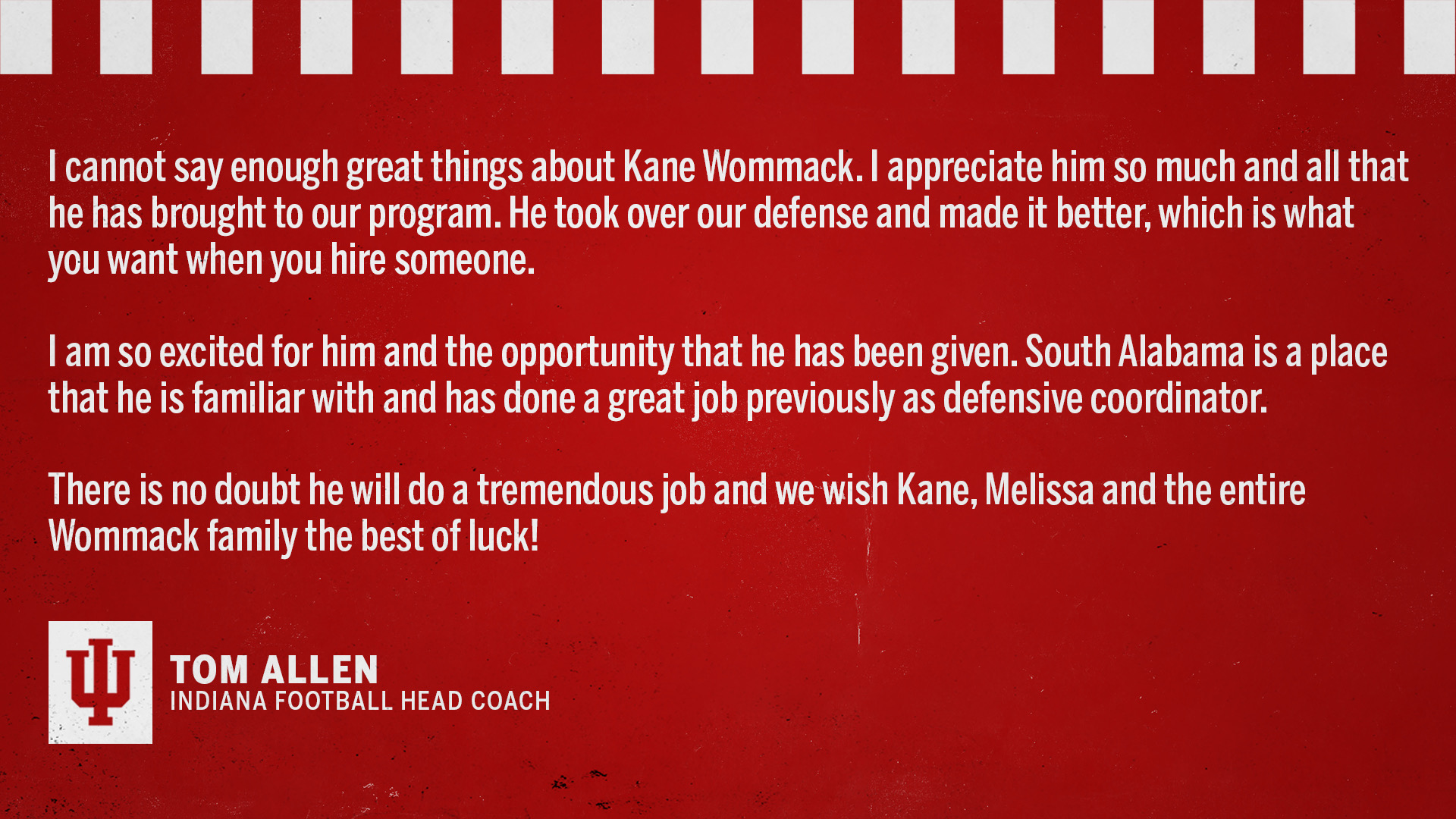 ---
Find us on Facebook:  thedailyhoosier
The Daily Hoosier –"Where Indiana fans assemble when they're not at Assembly"
Seven ways to support completely free IU coverage at no additional cost to you.